The Daughter Review
By David Kempler
Lame Duck
Australian actor Simon Stone has taken a turn to director, with his film adaptation of Ibsen's classic 1884 play, "Wild Duck" now renamed "The Daughter" for the cinematic version. The setting is in New South Wales. It's a small town where Christian (Paul Schneider) has returned to the place where he grew up, after being away for many years.

The occasion for his return is the marriage of his father, Henry (Geoffrey Rush), to his former housekeeper (Anna Tov), who is much, much younger than Henry. This is the event of the year because Henry is a very wealthy man who has run the area's largest logging company, for many years, but Henry is now in the process of shuttering his company.

Almost everyone in the area has worked for Henry or for another company that does business with Henry and Henry's closing will have an enormous negative impact on nearly the entire town. The prevailing mood hardly points to an overly jubilant wedding for many of the guests.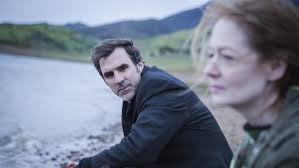 Christian finds his old friend Oliver (Ewen Leslie), who is now married and the three of them hang out together like old times. Oliver has a daughter, Hedvig (Odessa Young), who is bright and quite sure of herself. You get the feeling quickly that Hedvig is going to end up an important cog in the story. We discover this along with Christian, while we also learn the way many of the people in town interact with each other. Stone reveals most of it through the eyes of Christian.

"The Daughter" is all about building up to the moment where everyone learns the secret that will rip a family apart, with reverberations that will greatly effect many of the secondary characters. All of the actors hold up their end and Stone does a good enough job with the reins. Yet, somehow it falls flat. The tension never rises to anywhere near what it should be. In the end, this adaptation of "Wild Duck" is more of a Lame Duck.