The China Question Blu-ray Review
By Chris Chiarella
The Movie
The issue of United States/China trade relations is so gargantuan and labyrinthine, one hardly knows where to begin. Kudos then to gifted young filmmaker Brook Silva-Braga for opening his documentary The China Question with a context of American consumerism and its now familiar face, Black Friday. We want stuff, cheap, and as a society we don't always think beyond those terms. His mom however, also introduced, lives by a strict "Made in China" boycott, which practically begs debate.
Silva-Braga spent more than a year traveling between the U.S. and the People's Republic, always with an open mind in hopes of formulating possible answers to the query of the title, which might be summed up as "What does it mean to America to contribute to China's rise?" They now export a billion dollars worth of goods per day just to us, which is four times what we sell to them. The economic ripples are sufficiently profound, but there are also great personal, political, and vast cultural factors to consider.
A fascinating history lesson going back hundreds of years helps to explain how we reached this point, from the first textile factory in the 1700s through the widespread use of cost-saving cargo containers in the 1950s and all the way to the Chinese export boom of the 1990s. The allure of buying more for less money is universally understood, and so we delve deeper, learning how they do it--China's secret strength is its efficient labor-intensive final assembly, no matter where the materials and machinery come from--and hearing from a range of informed voices about the good and the bad of the situation, with reserved conjecture about the future.
The Picture
The documentary was shot on HD video but also assembled from disparate sources, including standard-definition news clips and such that are fraught with evident scan lines. The final product is presented here in 16:9 720p, with an exceptionally high bitrate at times exceeding 40 megabits-per-second. We soon figure out that the urban Chinese haze is environmental, not a flaw in the disc, although there is a fair amount of noise elsewhere, in addition to flickering, streaking and strobing in certain motion. As is the prevailing style in modern documentaries, The China Question combines handheld shots and talking heads with its share of bold visual elements for an engaging hour and a half.
The Sound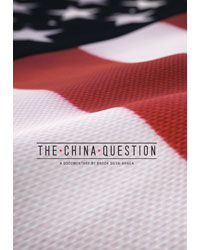 A subtle but effective original musical score is the prime beneficiary of the simple but well-executed Dolby Digital 2.0 soundtrack, at 48kHz/192kbps quality. The audio in any given scene is primarily folks talking either candidly or at the camera, clearly enough most of the time despite various accents, with oversized subtitles appearing as part of the movie itself when the dialogue becomes a bit obscure. There is no selectable subtitle track for this disc.
The Extras
As happens, the filmmaker had more good footage than would cling to the central spine of his story, and so we are treated here to more than an hour of still-compelling scenes that had to be dropped from the final cut, in addition to extended interviews from some of the movie's esteemed contributors.
Final Thoughts
The roots of China's current position, both its strength and possible weakness, lie in its famous, admitted lack of creativity. But they excel at following others' lead. For our part, we would be well-advised to continue our innovation, while no longer avoiding the difficult long-term decisions faced by the West. And that's all I'll say, as The China Question is one we should all address, ideally on Blu-ray, assuming you can find it.  We searched and were unable to find a retail outlet carrying it yet (not even the esteemed Amazon).  Conspiracy, or lack of distribution deal?  We'll update this review if/when we find a source.
Product Details
Participants: Brook Silva-Braga (narrator/host). Niall Ferguson, Susan Shirk, Orville Schell, Barry Naughton, Wu Jianmin, Cui Zhiyuan, Yasheng Huang, Yan Xuetong
Director: Brook Silva-Braga
Audio Format/Languages: Dolby Digital 2.0 (English)
Subtitles: none
Aspect Ratio: 1.77:1
Number of discs: 1
Rating: NR
Studio: Earthchild Productions
Release Date: June 28, 2011
Run Time:  86 minutes
List Price: $19.98
Extras:

Deleted Scenes
Extended Interview
More Information: