The Beguiled Review
By Lora Grady
Southern Harm
Quick, name your favorite Clint Eastwood movie. Is it one of his mid-60s spaghetti westerns, maybe "The Good, The Bad, and The Ugly?" A hardboiled 1970s crime drama like "The Enforcer?" Maybe you like your Clint on the lighter side, a la "Every Which Way But Loose." Or perhaps you're a fan of his work in the director's chair, so you'd give a shout-out to "Mystic River" or "Million Dollar Baby." If you've got a perverse sense of humor you might cite "Paint Your Wagon" (Clint sings!). But chances are good that you didn't pick Mr. Eastwood's 1971 outing, "The Beguiled." Most people have never even heard of it.
"The Beguiled" is an odd tale. Based on a book by Thomas Cullinan, it's a sour Southern gothic about a Civil War deserter who takes shelter at a girls' school deep in the Mississippi backwoods and inflames varying degrees of passion in the females he encounters there. It had a brief theatrical run then popped up on late-night television with some regularity in the 70s and 80s before sinking into relative oblivion (though apparently it's quite popular in France).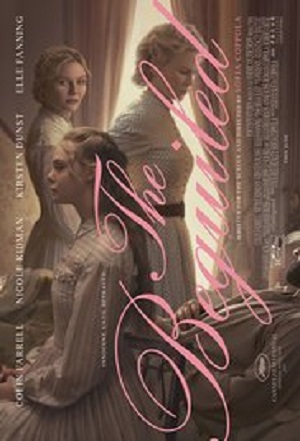 But "The Beguiled" has been resurrected, in the form of a tidy remake from director Sofia Coppola ("Lost in Translation"). In this case, "tidy" isn't a superlative. Ms. Coppola, who also wrote the screenplay, excises some of the seamier elements from the original, and the result provides a narrower view of sexual politics, to questionable benefit. Gone are the overt seductions, the traitorous motivations, the hints of incest that in the original signaled the occasionally ugly primal nature lurking behind such civilizing attempts as patriotism and manners. Ms. Coppola reframes the conflict with lovely contrasting shots - the pillared plantation house seen through layers of torpid mist, a young student's while linen skirts trailing languidly through swampy forest - but the bite just isn't there.
Still, it's an intriguing story: Irish soldier John McBurney (Colin Farrell, "Winter's Tale"), fighting for the Union, is wounded in a Civil War battle in the deep south and stumbles away from the front. He's discovered by young Amy (Oona Laurence, "Pete's Dragon"), a student at the nearby Farnsworth Academy. It's a school for young ladies where headmistress Martha Farnsworth (Nicole Kidman, "Stoker") maintains a firm control over the small group of girls under her care. She and head teacher Edwina (Kirsten Dunst, "Hidden Figures") attempt to train their young students in academics and household arts, while instilling the values of modesty, piety, and grace. They particularly have their hands full with sensual Alicia (Elle Fanning, "20th Century Women") and headstrong Jane (Angourie Rice, "The Nice Guys").
Corporal McBurney enters this bell jar of stifled Southern femininity and breathes some life into the rarefied circumstances. Jealousy and mischief arise as he cannily plays to the desires and vulnerabilities of each of the ladies. He becomes the beholden guest with Martha, and to preteen Amy he's an amiable father-figure. He sharpens his focus on Edwina; when she confesses that her fondest wish is "to be taken far away from here" he becomes the courtly suitor, praising her delicate beauty and averring that he fell in love the first moment he saw her. And he's more than willing to be the object of desire for Alicia, allowing her juvenile cat and mouse game of seduction because her burgeoning sexuality has caught his eye.
The darkly handsome Mr. Farrell is an ideal choice to play the duplicitous soldier who sets such a variety of hearts aflutter. He pours on the charm here and makes clever tactical use of his accent, shifting from polished speech when he's engaging the ladies in polite conversation or indulging in flirty banter to a rougher streetwise brogue when tempers flare and his true nature makes an appearance. Ms. Kidman is likewise in her element. The actress's innately regal bearing conveys the steely strength of a well-bred southern lady whose poise is a shield under all circumstances, whether she's imparting etiquette lessons to her charges at the dinner table, protecting her household from the curious inquiries of locally garrisoned troops, or grimly prepping for a bloody bout of impromptu surgery.
Ms. Dunst, in her third collaboration with Ms. Coppola, effectively conveys the romantic longing of a sheltered woman who suddenly dares to hope for love despite the peculiar circumstances under which it arrives. And Ms. Fanning, who has likewise worked with the director before, continues to add to an intriguing body of work (see "20th Century Women," "The Neon Demon," and "Live By Night") that creates a convincing case for this simultaneously sensual and ethereal, wise-beyond-her-years actress as one of the best of her generation.
Despite the power of these performances, in the end "The Beguiled" can't break free of its own mannered constraints. There are a number of valiant attempts: witness for instance the undertone of tense sensuality in the scene where Martha, who's every inch the lady but undeniably a woman as well, bathes an unconscious McBurney. She carefully uncovers his form inch by inch, pausing as she reaches his waist then turning away to breathe deeply and compose herself. It is, ultimately, the experience of the film itself: it plays at temptation, daring us to succumb, but in the end satisfaction remains just out of reach.