The Avengers Blu-ray and Blu-ray 3D Review
By Greg Robinson
The Film

Many superhero films make the fatal mistake of including everyone and everything but the kitchen sink. And they do it because more is better, right? More characters, more action, more scale - more must be the answer! With comic books offering such a long and rich history, it's easy to see why this misstep happens. With so many popular storylines and so many fan favorite characters to choose from, it's hard to settle on just one. So they don't. Instead they include a little of this and a little of that; they include everyone and please no one.

Although every once in a great while, we are graced with the brilliance of an X-Men 2, more often than not we're stuck with the supreme disappointment of a Spiderman 3, or a Fantastic Four, or (God help us) a Batman & Robin. Whether it's too many heroes, too many villains, or too big a story being told in too little time, it is almost impossible to make a big, ensemble superhero film that works.

Almost.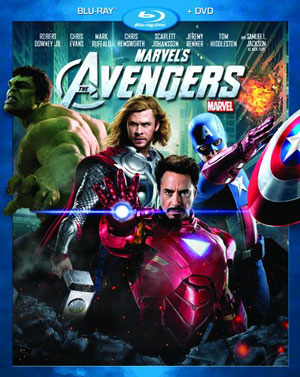 As you've probably surmised by now,
The Avengers
is the exception to the rule. In fact, it breaks every rule at every turn. Who knew a high octane, fate-of-the-world-hanging-in-the-balance action spectacle such as this could simultaneously be hilariously funny? And heartfelt? Check. Dramatic and compelling? Check and check. How is this possible? Two words: Joss Whedon. Speaking as a long time Joss fan, his brilliant directorial job on
The Avengers
is less surprising than it is inevitable. Fans of "Buffy" and "Firefly" are long used to his ability to weave together many different personalities and different genres into a delicious, riotously funny entertainment treat. And
The Avengers
is the ultimate example of the master at work.
What's it about?  Oh, come on.  Does it really matter?  The world is ending and only Iron Man, Captain America, Thor, Hulk, Black Widow, Hawkeye, and Nick Fury can save us.  If you're a comic book skeptic and you're rolling your eyes, watch it anyway and prepare to be surprised. Whether you watched one, some, or none of the Marvel films leading up to
The Avengers
, you're guaranteed to have a phenomenal movie night.
The Picture
From a technical standpoint, The Avengers on Blu-ray Disc offers everything a home theater fanatic could possibly ask for.  From the film's dark, subterranean opening at S.H.I.E.L.D. headquarters, to its bright, sun-lit, and explosive climax downtown,
The Avengers
exhibits crisp, beautifully colored, and richly textured 1080p visuals. Shadows are impressively dark, but never at the expense of picture detail. Skin tones look natural. Cap's reds, whites, and blues are vibrant and accurately rendered. Fine image detail, particularly when we get to take in the wonder that is Hulk, is truly jaw dropping at times.  Put simply, this disc is why Blu-ray was born.
Our editor Chris Boylan had this to add on the Blu-ray 3D combo pack: As Greg noted, the visuals of the film are stunning, leading to a gorgeous-looking Blu-ray Disc. The film was released in 3D in theaters, though the 3D effect was added in post-production, meaning it was not shot on 3D cameras. CGI effects were rendered in 3D but live action shots were upconverted from 2D to 3D. Even still, as with Titanic, the 3D conversion in The Avengers is actually quite good and is well represented on the Blu-ray 3D Disc.  Depth is subtly enhanced during interior shots and the final battle is intensified with deep cityscapes that really enhance the feeling of scale. If you're looking for a nice 3D demo disc or want to build up your Blu-ray 3D collection, we'd recommend opting for the Blu-ray 3D combo pack.  You'll also get the film on standard Blu-ray (2D), DVD and digital copy so you'll miss nothing from the 2D-only version.

The Sound

When your cast of characters features The God of Thunder, The Incredible Hulk, and an energy-blasting Iron Man, you can rest assured that your surround sound system is going to get a workout. And that's putting it mildly. Like the picture, The Avengers features a reference quality 7.1 channel DTS-HD Master Audio track that will huff and puff and blow your house down if given the opportunity. Just watch the dramatic opening sequence at S.H.I.E.L.D. headquarters for an explosive taste of what's to come. Dialogue is crystal clear throughout. Multi-channel panning is frequently used to great effect in the surround channels. And the bass? Like the desparate denizens of New York City during the film's epic third act, prepare to get low and stay low.

The Extras

Atop this review, you may have noticed the surprisingly absent "Biggie Award" logo. The film itself is phenomenal, so there's no problem there. This Blu-ray Disc's picture and sound quality are second to none, so that's not the problem. If there's one area where The Avengers falters on Blu-ray, it's in the extras department. And it's a complicated story. Let me explain.

No, there is too much. Let me sum up.

The frustrating and annoying trend of retailer exclusive packaging continues and The Avengers is one of the worst offenders to date. In addition to slightly different box art, Target shoppers get an exclusive bonus Blu-ray Disc featuring a 90-minute (!!!) collection of featurettes under the umbrella title, "Marvel Studios: Building a Cinematic Universe," with installments dedicated to each of their big screen heroes and their respective journey towards The Avengers. The bonus disc is slipped into the back of the 2D and 3D combo pack versions.  And here I was wondering why I couldn't find that sort of stuff on my (non-Target) disc. Grr. Argh. Hulk Smash!

If, like most people, you end up buying your 2D Blu-ray/DVD combo pack or the Blu-ray 3D combo pack from Amazon or some other non-Target retailer, there is still plenty of fun to be had when the movie ends... or even while it's still playing Two decent featurettes and a well-edited gag reel will probably be enough for the casual bonus viewer, as will some deleted and extended scenes.  But die-hard fans will definitely want to tune in for Joss Whedon's audio commentary. Dry, sarcastic, self-deprecating, and brilliantly witty, Whedon's talk track is commentary gold and it's hard evidence why The Avengers is so damned funny.
Also worth a look is "Item 47," the first in Marvel's new "One Shot" series of short films. It stars Lizzie Caplan and Jesse Bradford and it's a fun little epilogue.  For those who like even more trivia while the movie is playing, check out the "Second Screen" app that runs on your tablet or smart phone to give you additional information cued to what's on the big screen.
On the 4-Disc Blu-ray 3D combo pack, you'll get more extras such as the Avengers Assemble soundtrack album (in downloadable MP3 format) with 13 songs that are featured in or inspired by the film, a free digital comic book from Marvel and an offer for a free movie poster (for the cost of shipping).  You also get a digital copy of the film for iTunes or Windows Media Player.     

Final Thoughts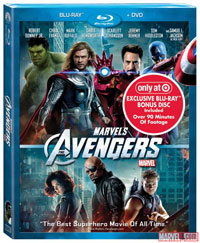 If Paramount and Disney hadn't thoroughly botched the special features offering on these non-Target Blu-ray editions, I'd be prepared to declare
The Avengers
my new favorite disc. Ever. The Blu-ray 3D combo pack is even more impressive with everything in the 2D pack plus the full soundtrack album and digital copy of the film included.  But I am annoyed that I'd have to order the set from Target to get that whole extra Blu-ray Disc full of extras. Still, perfect picture, perfect sound, a decent selection of extras and one of the most all-around entertaining films in recent history make this disc a must-have in any edition for anyone who enjoys grinning. Ear to ear. Highly recommended.
Features and Specifications:
Actors: Samuel L. Jackson, Robert Downey Jr., Chris Evans, Mark Ruffalo, Chris Hemsworth, Scarlett Johansson, Jeremy Renner, Tom Hiddleston, Cobie Smulders, and Clark Gregg
Director: Joss Whedon
Audio/Languages: English 7.1 DTS-HD Master Audio, English DVS 2.0 Dolby Digital, French 7.1 DTS-HD, Spanish 5.1 Dolby Digital
Subtitles: English SDH, French, Spanish
Aspect Ratio:1.78:1
Number of Discs: Blu-ray/DVD combo pack: 2 Discs; Blu-ray 3D/DVD/Digital Copy combo pack: 4 Discs
Rating: PG-13
Studio: Marvel/Paramount
Blu-ray Disc Release Date: September 25, 2012
Run Time: 143 minutes
List Prices: 

2-Disc Blu-ray/DVD Combo Pack: $39.99
4-Disc Blu-ray 3D/DVD/Digital Copy Combo Pack: $49.99

Extras (2-Disc Blu-ray/DVD Combo pack):

Second Screen: "The Avengers Initiative"
Short Film: Marvel One-Shot: "Item 47"
Featurette: "A Visual Journey"
Featurette: "Assembling the Ultimate Team"
Audio Commentary: Joss Whedon
Deleted and extended scenes
Gag Reel
Music Video: "Live to Rise"
Bonus DVD

Additional Extras (4-Disc Blu-ray 3D/DVD Combo Pack)

Digital Copy of the film (iTunes or Windows Media Video)
"Avengers Assemble: Music From and Inspired By the Motion Picture" (complete downloadable album with 13 tracks in MP3 format)
Digital Comic Book from Marvel.com
Free movie poster offer
Where to Buy:
Amazon.com
Target.com