The Site for Home Theater and Movie Reviews
The Amazing Spider-Man Blu-ray 3D Review
By Rachel Cericola
The Film
Stop me if you think that you've heard this one before: Outcast boy meets girl, outcast boy meets radioactive spider. Ah yes, 2002's Spider-Man was the film that launched the Sony franchise. However, we aren't recapping one of the biggest superhero movies ever made; we're talking about the brand-new blockbuster, The Amazing Spider-Man.
After a long 10 years, the studio decided to reboot/remake the franchise, which already spawned three movies. Call it whatever makes you feel better at the end of the day, but this is a repeat of the origin story. It's entertaining, but completely unnecessary.
This time, Andrew Garfield (The Social Network) squeezes himself into Spidey's incredibly form-fitting unitard. He wears it well, no doubt. He may even fit the Peter Parker mold a bit more than Tobey Maguire, and his interpretation of a loner who likes cool gadgets and knows how to fix things brings a little something extra to the character.
The franchise also ditched the Mary Jane love story (for now), instead going with Gwen Stacy (Emma Stone). The two play very well together and it's nice to see Spider-Man opting for more than a pretty face that's always in need of saving. Gwen also seems smart enough to stay out of the path of the mighty Lizard (Rhys Ifans). That's probably not too easy, either, considering his size, his penchant for ripping the city to shreds, and the fact that he's the alter ego of her mentor Dr. Curt Connors.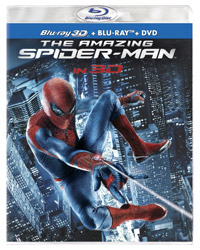 Let's be clear about something: The Amazing Spider-Man is an entertaining movie. That said, you could put Spider-Man into one of the Step Up movies and it would be a good film. He's just that good of a character. However, remaking the origin story was unnecessary and a waste of everyone's time. We already saw the bite, Uncle Ben's (now Martin Sheen!) demise, and Spidey's struggle with his newfound powers. Sure, this puts a different spin on things, but it was a spin that wasn't really needed. Replace everyone if you want to, but now, we have to wait another 2 years for a truly fresh installement. Amazing, indeed.
Want to see a different spin on this classic superhero? Check out Joe Lozito's theatrical review of The Amazing Spider-Man.

The Picture
Spider-Man is a cash-cow for Sony, which pretty much guarantees that it's going to be oozing with eye candy. Unfortunately, they really crapped up the 3D. There are some occasional pop-out effects, like when glass breaks or the webs are flying. Aerial shots also have a nice little layer to them. For the most part, though, it's hard to distinguish between the 2D and the 3D. In fact, I spent the first 20 minutes of the movie wondering if something was wrong with my glasses. A perfect example is the scene with Stan Lee (he's back!). Watch the scene in 2D and 3D and see if there's any noticable difference. Considering the budget, it's a real bummer. It also adds a teeny bit of darkness and pinchy glasses to an otherwise excellent 2D image. Overall though, it's a stunner, with great colors and details throughout. Check out Spider-Man's suit and the Lizard's scales for a true peek at how awesome the detail is on this 2.40:1 image. It's exactly the type of sharp transfer you'd expect to see on a big-budget superhero flick.
The Sound
It's sort of surprising that Sony didn't give this title the 7.1 treatment. With a $752 million haul, it certainly earned it. That said, this DTS-HD Master Audio 5.1 track uses every ounce of what it has to keep the viewer glued from beginning to end. The track features a bold soundtrack, a ton of ambient noises and clear dilaogue. Of course, it's the action that Spider-Man fans will be most interested in -- and action you shall receive, from just about every angle. The track does a great job with directionality when needed. The fights, the swinging through the streets, the slinging of the webs, the crunch of destruction, the machine guns, and more; it's absolutely everything a Spider-Man soundtrack should be.
The Extras
The Amazing Spider-Man is pretty amazing when it comes to its package of special features. The 3D disc has an audio commentary, as well as two 3D-specific featurettes -- a rare treat, for sure. A standout has director Marc Webb explaining 3D, showing off the cameras that were used for the filming of the movie, and how he incorporated the technology into the production. It's funny how this featurette seems to pack in more 3D effects in its 6.5 minutes than you'd find in 6.5 minutes of the main feature. It's a short that 3D fans will want to watch for sure.
The 2D disc has the same commentary and the option for a second-screen experience via a free app. That wasn't available in time for this review, but Sony promises plenty of storyboards, production tidbits and other distractions to accompany the film.
Most of the goodies, however, are located on a separate 2D Blu-ray. The disc is packed with extras, including deleted scenes, storyboards, stunts, and much more. However, the most impressive of the lot is the seven-part documentary titled, "The Rite of Passage: The Amazing Spider-Man Reborn." This includes everything and anything you'd want to know about this film, and even a little about the film franchise as a whole. Particularly interesting is how the "reboot" came about and is justified. The big explanation seemed to be that there's a generation of people that weren't alive in 2002 when the first movie came out. What the what? So, now we're making movies for people that couldn't grasp the film 10 years ago or buy the Blu-ray? I'm not buying it, but it's still a worthwhile peek to get all of the tidbits about this pricey production.
Final Thoughts
The Amazing Spider-Man absolutely wasn't necessary -- but that doesn't make it any less of an entertaining movie. If audiences can buy a whole new actor as Spider-Man, I'm not sure why we couldn't have just injected him into the existing series. Hey, it (sort of) worked for Bewitched, right? Even if you're still cranky about the recasting, the existence of Spider-Man 3 or just couldn't get into Sam Raimi's vision for the character, The Amazing Spider-Man is certainly worth look. The biggest disappointment of this release isn't the reboot factor, but is actually the 3D, which should have been a slam-dunk given the money involved and the subject matter. That said, a stellar image, audio and collection of 2D and 3D extras make this version worth adding to your arsenal of demo-worthy superhero Blu-rays.
Product Details
Actors: Andrew Garfield, Emma Stone, Rhys Ifans, Denis Leary, Campbell Scott, Irrfan Khan, Martin Sheen, Sally Field
Director: Marc Webb
Audio/Languages

3D: DTS-HD Master Audio 5.1 (English), Dolby Digital 5.1 (French, Spanish), DVS 2.0 (English)
2D: DTS-HD Master Audio 5.1 (English, French, Portuguese), Dolby Digital 5.1 (Chinese-Mandarin PRC, Spanish, Thai), DVS 2.0 (English)

Subtitles

3D: English, English SDH, French, Spanish
2D: English, English SDH, Chinese, French, Indonesian, Korean, Portuguese, Spanish, Thai
Special Features: English, Chinese, Czech, Dutch, French, German, Greek, Hungarian, Italian, Korean, Polish, Portuguese, Russian, Spanish, Thai, Turkish

Aspect Ratio: 2.40:1
Number of Discs: 4
Rating: PG-13
Studio: Sony Pictures Home Entertainment
Blu-ray Disc Release Date: November 9, 2012
Run Time: 136 minutes
List Price: $55.99
Extras: 

Blu-ray 3D:

Commentary with Marc Webb, Avi Arad and Matt Tolmach
3D 101 with Director Marc Webb
Iconic Poses and Digital Environments: 3D Image Progression Reel

2D Blu-ray:

Second Screen App
Commentary with Marc Webb, Avi Arad and Matt Tolmach
What is The Amazing Spider-Man Second Screen Experience?

Special Features Disc:

The Rite of Passage: The Amazing Spider-Man Reborn

The Drawing Board: Development and Direction
Friends and Enemies: Casting
Second Skins: Spidey Suit and the Lizard
Spidey Goes West: Production - Los Angeles
Safe Haven: Production - Sony Studios
Bright Tights, Big City: Production - New York
The Greatest Responsibility - Post Production and Release

Deleted Scenes
Pre-Visualization
The Oscorp Archives Production Art Gallery
Image Progression Reels
Stunt Rehearsals
Developing The Amazing Spider-Man Video Game

Standard-Def DVD
UltraViolet Digital Copy
What do you think?
| | |
| --- | --- |
| Overall | |
| Video | |
| Audio | |
| Movie | |
| Extras | |
Explore Big Picture Big Sound