The Adventures of Tintin Blu-ray 3D Review
By Chris Chiarella
The Movie
Popular the world over for generations, the intrepid young reporter Tintin was created by the Belgian writer/artist Georges Prosper Remi, working under the name Hergé. His quite cinematic graphic novels would become much-admired by filmmakers Steven Spielberg and Peter Jackson, who collaborated to bring us The Adventures of Tintin for the big screen.
The globetrotting journey begins when Tintin purchases a model of a long-lost sailing ship at a street market, and almost immediately strange men take a heated interest in it. It is soon stolen, but not before it accidentally surrenders its prize, a mysterious note that could unlock a deep, dark secret about the ship, its cargo, and the fate of its crew.
Tintin is joined by an eccentric sea captain as he embarks in search of his story. Well, "embarks" might be too friendly a word, as he is kidnapped, repeatedly knocked unconscious, beaten and threatened with broken bones and his very life, despite the fact that he is unofficially but 17 years old. And he lives alone and owns/uses a gun. This from the director who retro-edited his own movie, E.T., to remove the handguns, and then altered the trailer for Indiana Jones and the Kingdom of the Crystal Skull to delete the guns there too?
I have to wonder who this movie is for, because I considered it to be rather intense for youngsters yet fairly trifling for an adult audience. And it's hard for anyone to care about a hero whom we never really get to know, other than his fondness for finding trouble and an unnatural calm under pressure. The fights and chases have a same-old-ness to them, which great action never should, and most of the jokes are rather silly actually, despite the always-outstanding work of the wonderful Andy Serkis. Worth noting is that although Tintin is animated, the actors lent more than their voices, providing full motion-capture performances.
For a real adventure, check out Geoff Morrison's review of The Adventures of Tintin.
The Picture
The exquisitely designed and rendered animation--even the characters' uncanny eyes are a great improvement over computer-generated imagery past--is so dynamic and detailed, did this movie even need to be produced and released in 3D? That's not a knock at the 3D format, just at the execution on Tintin, which is remarkably, disappointingly timid, with many moments when I'd take my active shutter glasses off and then put them back on with little perceived difference beyond the drop in brightness. Don't get me wrong, there are a few nice uses of the 3D, but with this much time, money and talent, I was expecting more.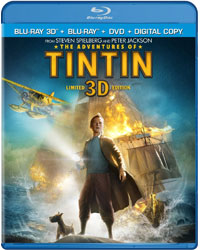 As I mentioned however, the 2.4:1 image itself is wonderfully detailed, but for the blacks, although the shadows do fare better on the 2D disc.
The Sound
The DTS-HD Master audio soundtrack is good... but why didn't they make it great? The speakers come to life with a variety of gunshots from time to time, and the surrounds offer occasional discrete cues such as a phone ringing or odds and ends tumbling about, and John Williams playful, Oscar-nominated score graces the rears. But with 7.1 channels available, I should have heard activity all around me, and I didn't, even when a commandeered prop plane flies directly into a storm cloud. Bass too is there I suppose, but could have been stronger: Where was the thrilling impact when that plane crashed? Isn't the word "adventure" in the title?
The Extras
On the 2D Blu-ray we are given a series of eleven straightforward featurettes of varying length, and we are invited to Play All, about 96 minutes total, in high definition. A lot of it, like the bit on the performance capture technology, is interesting even if we've seen it before, as when we went behind the scenes of Avatar and other cutting-edge flicks. This platter also supports BD-Live online functionality.
Disc Three is a DVD of Tintin with some trailers. Also included inside the package is a unique printed code to access an iTunes and an UltraViolet Digital Copy of the movie.
Final Thoughts
Of our four categories, The Adventures of Tintin doesn't really impress in any of them, a pity considering the technical quality of other 3D animated movies out there, and the pedigree of Mr. Spielberg.
Product Details
Actors: Jamie Bell, Andy Serkis, Daniel Craig, Nick Frost, Simon Pegg, Toby Jones
Director: Steven Spielberg
Audio Format/Languages: DTS-HD 7.1 (English). Dolby Digital 5.1 (French, Spanish, English Audio Description)
Subtitles: English, English SDH, French, Spanish
Aspect Ratio: 2.40:1
Number of discs: 3
Rating: PG
Studio: Paramount
Release Date: March 13, 2012
Run Time: 107 minutes
List Price: $54.99
Extras:

" Toasting Tintin: Part 1"
"The Journey to Tintin"
"The World of Tintin"
"The Who's Who of Tintin"
"Tintin: Conceptual Design"
"Tintin: In the Volume"
"Snowy: From Beginning to End"
"Animating Tintin"
"Tintin: The Score"
"Collecting Tintin"
"Toasting Tintin: Part 2"
DVD
Digital Copy
BD-Live