That's My Boy Blu-ray Review
By Rachel Cericola
The Film
What exactly is the deal with Adam Sandler? The guy seems to be testing our patience or something. After years of goofy, but lovable hits like Billy Madison and Happy Gilmore, Sandler actually started to receive some accolades as an actor with Punch-Drunk Love. Hey, maybe this Sandler guy isn't such an idiot after all.
Um, wrong. Since that 2002 film, Sandler has been cranking out one questionable movie after the other. Still, the guy seems to have the golden touch with audiences. The Longest Yard, Click, I Now Pronounce You Chuck and Larry, You Don't Mess with the Zohan, and Grown Ups all banked some serious coin. He must be doing something right -- well, most of the time.
This year, cinematic karma caught up to That's My Boy, which garnered a shockingly low $49 million at the box office. His previous "comedy" (see those quotes?) Jack and Jill made $149 million. That's the one that swept the 32nd Golden Raspberry Awards, with Sandler playing both title characters. It's also the one that should tell you what kind of shit-show That's My Boy is.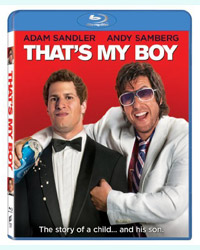 Sandler plays the grown-up version of Donny Berger, who knocks up his 22-year-old teacher (Eva Amurri Martino) at the age of 14. She goes to jail and he gets custody of the kid. Rightfully so, the kid takes off at the age of 18. Donny is left with a horrible Boston accent, an endless supply of beers, and Vanilla Ice for a best friend.
SNL
's Andy Samberg is the son, Han Solo Berger (yeah, you read that right), who changes his name to Todd, becomes successful, and is on the verge of getting married.
In search of a payday, Donny decides to track down his long-lost offspring and hilarity is supposed to ensue. Hello, hilarity? Are you there? Apparently, someone left it on the shelf, which is exactly where Sony should have left this movie.
Need to know a little more about this movie? Really? Then check out Mark Grady's theatrical review of That's My Boy.

The Picture
Assuming you can actually make it through this movie, at least know that the 2.40:1 image does look nice. Colors are are particularly awesome and there's nice texture on Donny's clothes and in his dated hairstyle. There's also great imagery on the film's myriad of guest stars. Real-life daughter and mother Eva Amurri Martino and Susan Sarandon play the same character with the same gorgeous red hair. Vanilla Ice has perfect stubble and a ton of detailed tattoos to ogle. That said, just because it looks nice doesn't mean you should actually take the time to watch it.
The Sound
As with all Sandler flicks, That's My Boy is littered with classic rock. In less than 8 minutes, we get a taste of Def Leppard and Rush and the DTS-HD Master Audio 5.1 track is ready to rock both. From there, the film features multiple Van Halen songs, as well as KISS, The Replacements, Vanilla Ice, and much more. It all sounds great and there's some atmospheric noise to round out the track. Dialogue also sounds good -- although good may be relative. Adam Sandler's Bah-stahn accent is clear, but cringe-worthy.
The Extras
In case you didn't torture yourself enough with the actual movie, this section includes a gag reel and deleted scenes -- you know, ones that weren't good enough to make it into the actual movie. There's also 5 minutes in the strip club, which says nothing about the real-life club or the filming of that scene. It does have some some additional nudity, though, so enjoy. The "Greetings From Cape Cod" will make you want to punch someone in the face, with about 7 or so minutes of cast and crew yelling "Whassup?" Yes, it's the same "whassup" from the late '90s beer commercial and the same one that's a running "joke" in the movie.
The best of the bunch is probably "Who Are These People?" This short spends a few minutes highlighting the cast, which is filled with famous cameos. A few of the faces are missing and it's noticeable. Maybe those celebrities didn't want to waste any additional time on this movie.
Final Thoughts
That's My Boy is a major waste of everyone's time; the cast, the audience, craft services, the people that pump gas into the trucks that bring the Blu-rays to the stores, and so on. The audio and video are fine. That said, just because a train wreck looks good, doesn't mean you should actually look. I wasted my time on this movie so you shouldn't have to. Seriously, I'm going to consider it a major slap in the face if you don't heed my warning and watch it anyway. You've been warned.
Product Details
Actors: Adam Sandler, Andy Samberg, Leighton Meester, Vanilla Ice, Susan Sarandon, James Caan
Director: Sean Anders
Audio/Languages: DTS-HD Master Audio 5.1 (English), Dolby Digital 5.1 (French)

Subtitles: English, English SDH, French, Spanish
Aspect Ratio: 2.40:1
Number of Discs: 2
Rating: R
Studio: Sony Pictures Home Entertainment
Blu-ray Disc Release Date: October 16, 2012
Run Time: 116 minutes
List Price: $35.99
Extras:

Gag Reel
Deleted Scenes
Who Are These People?
Greetings From Cape Cod
Classy Rick's Bacon and Leggs
Previews