Terminator 2: Judgment Day Skynet Edition on Blu-ray Disc Review
By Chris Chiarella
The Movie
Big-budget action "event" flicks didn't come much bigger or more eventful than Terminator 2. The sequel to writer/director James Cameron's taut, inspired 1984 Terminator built upon lessons learned from Aliens (1986) and The Abyss (1989), delivering elaborate thrills with visual effects that once again pushed the boundaries of the possible. Of course, the science fiction premise allowed for more imaginative shock-and-awe than the usual shoot-'em-up: When the first time-traveling robot-disguised-as-a-human failed to kill the mother of an as-yet-unborn hero of the future, another is sent to snuff him as a helpless pre-teen in (more or less) modern-day Los Angeles, with the fate of the entire planet hanging in the balance.
The number in the title could refer to the fact that this time a pair of highly sophisticated "Terminator" 'droids is duking it out on screen, with several prolonged wild, exhilirating setpieces. The disc contains both the 1991 original 137-minute theatrical cut and the 1993 Special Edition with sixteen minutes of additional footage via seamless branching. It's not all priceless and game-changing like the 16 minutes restored to Cameron's Aliens, but it does a very good job fleshing out the world that these characters inhabit and the challenges that they face, while filling in a couple of the many plotholes.
The Picture
Terminator 2 was shot with the Super 35 film process, and the many pervious home video versions revealed Cameron as a master technician. Working largely from a 2003 16:9 24 frames-per-second high-definition anamorphic video transfer, with additional HD editorial and digital restoration work in 2006 and again this year, this Blu-ray release is respectable but not as undeniably solid as its laserdisc and DVD predecessors. In fact, it is disappointingly similar to the 2006 Blu-ray release, although I still salute Lionsgate for embracing the format so early on with perhaps their single best title. Overall the 2.35:1 image can be frequently soft, with noticeable compression in smoke or in areas of imprecise focus. There are also occasional weird coloration anomalies, and blacks are okay, except in effects shots, when they tend to turn to mush. T2 might have benefited from a full-on 2009-quality digital transfer, if not a frame-by-frame restoration.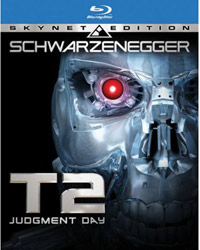 The Sound
The new DTS-HD Master Audio Lossless 6.1 track, however, is a killer, full and clear with power to spare, effortlessly recreating the amazingly complex and high-energy soundscsapes which captured Academy Awards for both Sound and Sound Effects Editing. When two titanium titans clash, or when a flying fortress crashes to the ground in a toxic fireball, of course the sub and all speakers are pushed hard to render the earth-shaking oomph. But pay attention to the delicate fidelity in the exaggerated resonance of the shotgun cocking, echoing throughout the service corridor, or even something as potentially mundane as a dog barking outside, executed here with a wonderful realism. Brilliant touches abound in this mix, and all are rendered with exquisite detail. But if you just need a quick demo scene, we still can't do much better than the iconic canal chase.
The Extras
Don't expect a vast quantity of new content per se, rather new ways, new techniques with which to access and enjoy all things Terminator 2. I don't want to give it away, but the BD-Live system does something user-specific along the lines of Sleeping Beauty when we first insert the disc, only far creepier. From there, we are offered quite a list of interactive modes. "Visual Implants" provides picture-in-picture with interviews, on-set footage and more, while "Linked Data Modules" branches out to behind-the-scenes slideshows. "Source Code" displays the original screenplay, continuously scrolling in precise synch with the movie, and "Schematics" superimposes storyboard art on the final image. "Production Data Overlay" explains how individual shots were achieved, "Trivia Data Overlay" is a bit broader in its text revelations, and "Query Mode" goes a step further, actively prodding our knowledge of T2 factoids as we watch. Lastly, "Processor Tests" is a variety of remote control mini-games occurring during the movie. All of these modes are available exclusively on the longer Special Edition, and multiple (not all) streams can be active simultaneously, although I encountered some difficulty getting some of them to work properly.
Ported over from previous home video versions, including the 2006 Blu-ray, is the audio commentary by director James Cameron with co-writer William Wisher (from 2003) and another from cast and crew, 26 participants total, circa 1993. Both of these include English, Spanish and French subtitles. The two "Terminated Data" deleted scenes are viewable with or without commentary, in near-identical HD audio/video quality to the main feature, totaling about three minutes.
Final Thoughts
Disc producer Van Ling is a legend in the industry and rightly so, as he has crafted yet another smorgasbord of supplements that will demand more of your hardware than any other BD you own. Terminator 2 is a perfect title for such interactive marvels, a tale of futuristic technology suddenly, excitingly thrust into our midst. The movie remains gripping and imaginative, and its benchmark audio is now better than ever, but too bad the video falls below such high standards.
Where to Buy:
Product Details
Actors: Arnold Schwarzenegger, Linda Hamilton, Robert Patrick, Edward Furlong, Joe Morton, S. Epatha Merkerson, Danny Cooksey, Castulo Guerra, Earl Boehm, Jenette Goldstein, Xander Berkeley
Director: James Cameron
Audio Format/Languages: DTS-HD Master Audio Lossless 6.1, Dolby Digital EX 5.1, Dolby Headphone 2.0 (English), Dolby Digital 2.0 (French), Dolby Digital 5.1 TheatreVision (audio description for the blind and visually impaired, featuring Nia Vardalos and Michael Biehn, English)
Dolby TrueHD 5.1 (English, French), Dolby Digital 5.1 (Spanish, Portuguese)
Subtitles: English, English SDH, Spanish, French (also English, Spanish and French subtitles on both Audio Commentaries)
Aspect Ratio: 2.35:1
Number of discs: 1
Rating: R
Studio: Lionsgate
Release Date: May 19, 2009
Run Time: 137 minutes
List Price: $29.99
Extras:

Audio commentary with James Cameron and William Wisher (2003)
Cast and crew audio commentary (1993)
"Visual Implants" picture-in-picture
"Trivia Data Overlay"
"Production Data Overlay"
"Linked Data Modules"
"Source Code" on-screen screenplay mode
"Schematics" on-screen storyboard mode
"Query Mode" in-movie trivia
"Processor Tests" mini-games
"Terminated Data" deleted scenes
THX Optimizer
D-Box Motion code
BD-Live