BPBS Sweepstakes: 1 Day Left to Win a Blu-ray Player and 31 Discs
By Chris Boylan
May has been an exciting month for Blu-ray lovers here at Big Picture Big Sound. We teamed up with Panasonic, Dolby Laboratories and top Hollywood studios to give away over $4,000 worth of Blu-ray Discs and a WiFi Blu-ray 3D Player with daily prize drawings in our Blu-ray a Day in May Sweepstakes on Facebook. There is still a little over a day to enter, with two days left of fabulous Blu-ray prizes.
Where to Enter:
Today's prize (Monday, May 30) is a seven-pack of hot Blu-ray releases from 20th Century Fox, mostly recent release titles with one classic catalog film, Dances with Wolves, available here in its 20th Anniversary release with an extended cut of the film. Also included in today's prize is Avatar Extended Collector's Edition.  This is the boxed set featuring hours and hours of bonus features and three complete versions of the film: the original theatrical cut, an extended theatrical cut and an even longer extended collector's cut.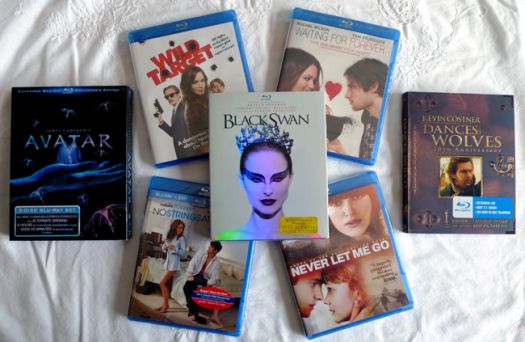 Also included are two completely different sides of Natalie Portman: No Strings Attached (technically a Dreamworks film, but distributed by Fox on Blu-ray) and Darren Aronovsky's Oscar-nominated Black Swan.  Rounding out the set is Waiting for Forever, Wild Target (with Rupert Gint) and Never Let Me Go. Total retail value of this prize is $264.93.  All of these Blu-rays will go to one lucky winner as our featured daily prize for Monday, May 30th.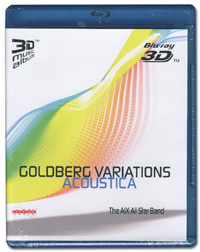 In addition to the seven-pack of Fox titles, we're giving away a copy of
Goldberg Variations Acoustica
from AIX Records.  This disc features a live recording of an all-star jazz ensemble performing the music of Johann Sebastian Bach.  This Blu-ray 3D Disc (playable on standard Blu-ray players) features separate stage and audience perspective mixes of the performance in fully lossless Dolby TrueHD 5.1 channel surround sound as well as a high-quality stereo PCM mix.  When our own Ian White recently reviewed this title, he said, "it's one of those rare discs that will genuinely drop your jaw," and "this lossless recording is amazingly clear and spacious sounding; one of the best you'll ever hear."  You can read more in his
Goldberg Variations Acoustica review
.
You can enter the Blu-ray a Day in May sweepstakes on Big Picture Big Sound's facebook page at
www.facebook.com/bigpicturebigsound
(click on the
Sweepstakes
tab if you're already a fan of the page).  One entry is all you need to be eligible for the two remaining drawings.
The grand prize is a Panasonic Blu-ray 3D Player with wired or wireless network streaming (model DMP-BDT210), along with a collection of 31 Blu-ray Discs,  one for each day in May. This WiFi-enabled Blu-ray player features exceptional video and audio performance on Blu-ray Discs, Blu-ray 3D Discs, CDs and DVDs.  It also includes Panasonic's VIERA Cast feature which provides access to audio and video streaming services such as Netflix, VUDU, Pandora, YouTube, Amazon VOD and CinemaNow.  There's even Skype on board which can turn your existing TV into a big screen high definition video phone complete with video voice mail (requires optional Skype wireless camera, not included).  The retail value of the grand prize is $1,261.28.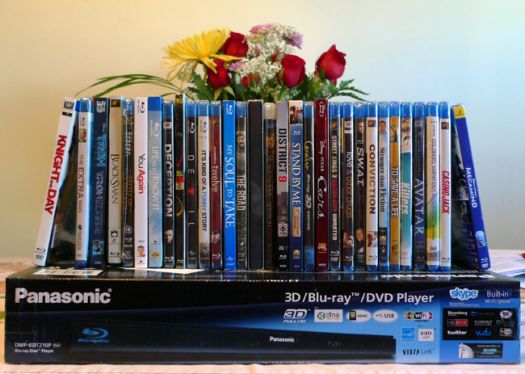 Titles included in the Grand Prize:
The Social Network
Black Swan
District 9
Goldberg Variations Acoustica (3D)
Casino Jack
MEGAMIND
My Soul to Take
twelve
It's Kind of a Funny Story
Devil
All About Eve (Blu-ray Book)
Deception
Life as We Know It
You Again
Battle of the Warriors
The Road
Resident Evil Afterlife 3D
Stand By Me
Coraline 3D (Panasonic promo)
Cars
Street Kings 2: Motor City
Love and Other Drugs
SWAT Firefight
Conviction
Killers
To Save a Life
Knight and Day
The Extra Man
Stranger than Fiction
Tron Legacy 3D/Tron 5-Disc 2-Movie Set
Avatar Blu-ray 3D Disc (Panasonic promo)
The sweepstakes is open to residents of the U.S. and Canada over 18 with active Facebook accounts.  See the full terms and conditions for details.  A complete list of prizes and winners will be posted on the main Blu-ray a Day in May sweepstakes page.
Where to Enter: