Survey Says Consumers Prefer 3D TV to Regular TV 2 to 1
By Rachel Cericola
Most consumers either love or hate 3D. However, Panasonic still seems to think that most consumers really love the stuff and now they have survey results to back up that belief.
The company commissioned Frank N. Magid Associates to do a study of consumer preferences when it comes to 2D vs. 3D TV. The end result found that most consumers secretly (and not-so-secretly) enjoy watching 3D content, and prefer it to watching regular 2D TV.
The face-to-face survey was completed last month, during Disney's D23 Expo in Anaheim. The expo is the ultimate Disney fan event. During the show, more than 500 attendees were asked to participate in the TV study. After the tally, the research firm came to the conclusion that most consumers believe that 3D TV significantly improves their television viewing experience.
"We've always said that, just as with HDTV, once consumers experience 3D TV, they will want it," said Eisuke Tsuyuzaki, Panasonic Corporation of North America's Chief Technology Officer. "This survey proves it. We couldn't be happier with the results."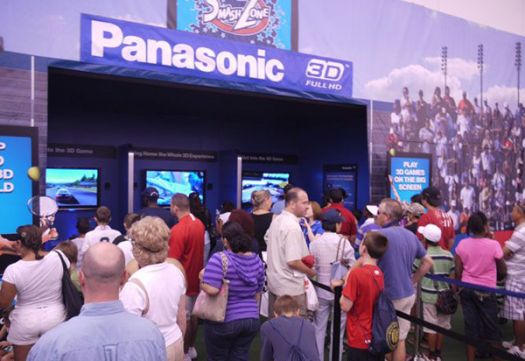 Some of the survey results are truly surprising. A whopping 99 percent of survey participants said that they think 3D TV is at least "somewhat better" than 2D TV. But more interestingly, about 71 percent said that 3D TV is "much better" or "dramatically better" than the 2D stuff, meaning more than 2 out of 3 people greatly preferred the 3D viewing experience to 2D.  And this is with those active shutter 3D glasses that are currently required to watch Full HD 3D at home.
Other results showed that 50 percent said, "I wish I had this in my home." Another 34 percent thought that the 3D effect "brings things alive in a way I've never seen before." Last, but certainly not least, 27 percent could sum up the 3D experience in one word: "fabulous."
"These are very positive and impressive responses," said Mike Vorhaus, president of Magid Advisors, a unit of Frank N. Magid Associates. "When it comes to 3D TV, consumers clearly like what they see. Their feelings are very reminiscent of the public's response to HDTV in its early days."
Of course, the survey results should be taken with a grain of salt, considering how strong a supporter of 3D TV the sponsor Panasonic is.  But the survey and results were all overseen and tabulated by this independent third party research firm.
Where to Buy:
For More Information:
Also Check Out: