Summit and Aperion Audio Show Off Wireless Speakers That Actually Sound Good
By Chris Boylan
At CEDIA Expo in Atlanta this year, Aperion Audio and Summit Semiconductor demonstrated the Intimus 4T Summit Wireless 5.1 Home Theater System, the first production product to include Summit's proprietary wireless audio technology, known simply as Summit WirelessTM.  More than just a set of speakers, the complete system actually replaces an audio/video receiver and speakers via an HDMI-based wireless hub, and wireless-enabled speakers, each with its own built-in power amplifiers.
Yes, I said amplifiers (plural): each speaker includes its own digital crossover and power amps with one amp dedicated to the low frequencies and another dedicated to mid and high frequencies.  Aperion president Jim Hillman raved about the new design which he says is able to surpass the wired version of the Intimus 4T system due to the improved crossover, DSP and bi-amping. A live demo of the system, featuring a mix of movies and music, backed up that claim.  Even difficult classical music was reproduced cleanly and effortlessly, without the brittle highs, limited dynamic range and congestion that you hear with lower quality wireless systems.
The control center features three HDMI inputs as well as digital and analog audio inputs, and one HDMI output.  It offers on-board decoders for the latest lossless audio codecs, including Dolby TrueHD and DTS-HD Master Audio.  A wireless transceiver, built into the control center then broadcasts the audio signals out to the waiting speakers.  Summit says their system is capable of delivering 24-bit/96 KHz uncompressed digital audio from the source to each of the speakers.
"One of the key contributing factors to audio quality is that the Summit Wireless system operates in a new wireless spectrum away from WiFi, Bluetooth, cordless phones, security systems and baby monitors. That makes it free from interference from other wireless devices and not an interferer to them," says Summit Semiconductor's VP of Marketing Tony Parker.  Considering the fact that Summit had three independent systems all on display, all functioning smoothly and without interruption in the wireless cacaphony of CEDIA Expo was a strong testament to that fact.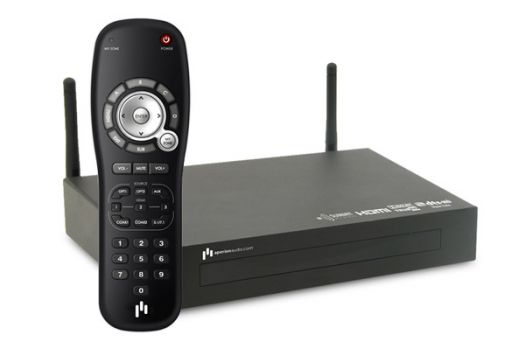 The new Aperion system also uses Summit Wireless' automatic optimization capability that includes the SpeakerFinderTM instant setup wizard and MyZoneTM audio sweet spot calibration feature.   Based on ultrasonic technology, SpeakerFinder sends out a unique identifying tone from each loudspeaker in the system, outside the range of human hearing (at about 40 Khz), which allows the system to pinpoint each speaker's location with an accuracy of about two inches.  These signals are used by the control unit to set speaker levels and distances automatically so there is no need for manual speaker calibration. The MyZone feature allows a listener who may not be in the "sweet spot" to hit a button on the remote control which re-optimizes the system for that specific location.  Summit reps demonstrated this feature at CEDIA Expo and it was quite effective, not to mention quick: the whole process only took a few seconds to readjust itself to any location in the room.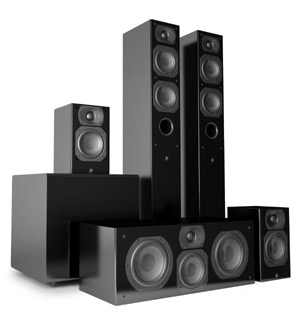 Although the Aperion Audio Intimus 4T Summit Wireless system on display was designed around a 5.1-channel speaker configuration, Summit Wireless is designed to support anywhere from 2.0 (2 speakers, no subwoofer) to 7.1 (7 speakers plus subwoofer) so that consumers can add speakers at their convenience, as their system expands.  Aperion also plans to offer a 7.1-channel version.
"Our Home Theater Gurus are often asked by customers if there is a reliable, easy to install, high resolution wireless home theater system available that sounds as good as today's wired speakers, and until now there wasn't," said Ed de la Fuente, vice president of marketing, Aperion Audio. "It is exciting to be first to market with a robust wireless solution, giving customers the superior audio fidelity they deserve and the instant optimization they probably didn't know was even possible."
The Aperion Intimus 4T Summit Wireless Home Theater System will be available for pre-order on the Aperion web site later this month for $2,499 in a 5.1-channel configuration or $2999 for a 7.1-channel version.  It is expected to begin shippjng "before the end of the year" according to company reps. Each system includes a Summit Wireless-enabled digital audio hub, two Intimus 4T wireless tower speakers for front left and right duties, an Intimus 5C wireless center speaker, a pair of Intimus 4B wireless satellite surround speakers (2 pairs of these for the 7.1 system) and a Bravus 8A wireless powered subwoofer.   Each speaker requires only a power connection to provide electricity to the internal wireless receiver and digital crossovers and amplifiers.
The wireless hub provides simple connectivity to digital televisions, Blu-ray players, game consoles, iPods or other source components through HDMI, coax, optical and analog inputs. The only thing lacking in the wireless hub is any type of analog video input, so devices like a Wii or VCR would need to have their video outputs connected directly to the TV instead of routed through the hub.
If the demo of this near-final prototype was any indication of what customers can expect from the final production system, then they're in for a treat.  Wireless speakers that don't suck?  What a concept!
More Information:
Where to Buy Aperion Audio Speakers:
www.AperionAudio.com (note: Intimus 4T Wireless System will be available for pre-order later in October)