Suicide Squad: Extended Cut Blu-ray 3D Review Review
By Rachel Cericola
The Film
For the first half of the year, I waited for Suicide Squad with bated breath. I loved the trailer (still do), the casting, and even the hype that followed. Then the film was actually released.
Suicide Squad was a critical disaster, scoring just 26 percent on Rotten Tomatoes. Fans didn't listen, so the movie made a nice $745 million at the box office. Although some would argue it should have done better, it's not exactly what I'd call a flop. The movie isn't all that bad, either.
The action picks up shortly after Batman v Superman, with the world in a shambles and intelligence officer Amanda Waller (Viola Davis) looking to form an army of supervillains. She gets Colonel Rick Flag (Joel Kinnaman) to babysit a group known as Task Force X, but you probably know them as the Suicide Squad. The group includes killers and thieves Deadshot (Will Smith), Harley Quinn (Margot Robbie), Captain Boomerang (Jai Courtney), and Slipknot (Adam Beach), as well as "meta-humans" Killer Croc (Adewale Akinnuoye-Agbaje) and El Diablo (Jay Hernandez). Joining the group is Katana (Karen Fukuhara), a martial arts master, who traps the souls of her victims in the same sword that killed her husband.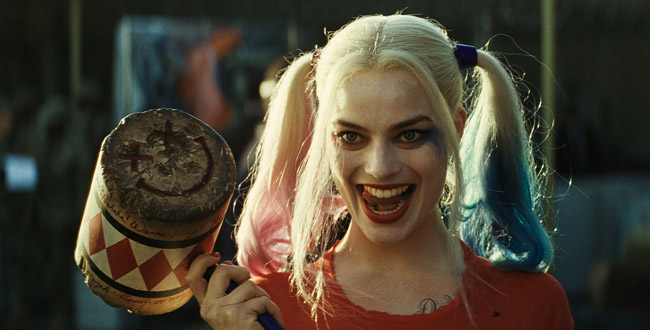 The group has an impressive and often scary collection of talents. Sadly, one of them is not focusing on one movie plot.
The main mission is for the crew to keep the witch Enchantress (Cara Delevingne) from unleashing a monster army and destroying all mankind. Despite her powers and various quirks (her alter-ego is Flag's lover), Enchantress isn't all that enchanting as a villain. She dances and prances, but there isn't much of a backstory. And the addition of her brother Incubus (Alain Chanoine) just makes things more confusing.
The best part about Enchantress is actually her heart -- or at least the fact that Waller has it in a box and uses it as leverage. How she got it and how Enchantress functions without it is top-secret info, apparently. However, it does add to the list of Waller's superpowers. Despite being a "good guy," she's really the more interesting villain here. Part of that is because Davis is so damn captivating and has an icy cold way of dealing with her supervillain army. Can you blame her? It's not like you wouldn't have your finger over the button that could blow these guys' heads off. And really, the movie doesn't give us much of a reason to want her to do otherwise.
In fact, in 123 minutes (135 for the Extended Cut), we don't learn much about Task Force X. No one gets a whole lot of backstory. We see El Diablo at home, but never find out how he got that way (or got a wife and kids!). There's even less on Katana (who seems like she deserves her own movie) and Killer Croc. Captain Boomerang gets some laughs in the beginning, but quickly gets shafted. Deadshot and Harley are the main focus here. We know he doesn't kill women or kids and loves doing math with his daughter, but does that make an assassin someone we should be cheering on? Harley isn't even that likeable, but she is hot and has dreams of a normal life with her man.
That brings us to the Joker (Jared Leto), one of the most famous DC villains and a drain on this film. Suicide Squad doesn't give the Joker enough screentime to do anything interesting, but it's not really his movie. He gets a few extra minutes in the extended edition, but it does him and this film no good. He's just another subplot -- and a bit of a boring one, at that. He should have been a blip, like a few other DC characters that cameo here.
Suicide Squad had so much hype, it would be impossible to not be a little disappointed. However, there was just so much potential here. The film had interesting characters, a budget, and a boatload of acting talent. It does have a few fun moments, but the number of plots, a boring villain, and an overblown runtime ultimately doom the group's initial outing.
Need to know more about these anti-heroes? Check out Matthew Passantino's theatrical review of Suicide Squad.
The Picture
Suicide Squad may have some lighthearted moments, but it's a really dark movie from an image standpoint. There are a lot of jail cells, basements, and basement jail cells. Even when the film moves beyond those padded walls, the action is at night, in dark clubs, or just during some eerily overcast weather. Thankfully, this 2.40:1 image is up to the task, sporting some deep black levels and sharp details. All of that dark imagery looks good, but this is a cartoony superhero movie, so you can expect some bright colors to peek through on occasion. Most of that comes courtesy of Harley Quinn and the Joker, but there are other bursts here and there as well.
The cartoony characters and crazy action would seem like perfect fodder for 3D. However, the film wasn't really made for those effects, getting added in the post-production process. There is a bit of depth and a few pop-out effects, but for the most part, the 3D tones down some of the imagery that looks so great on the standard Blu-ray. Because this review is on the 3D Combo Pack, I did knock the picture's score down an extra 1/2 star. However, I would rate the 2D Blu-ray a solid 3.5.
The Sound
Suicide Squad is a bit like a superhero movie wrapped in a music video, so there's a lot of familiar songs in this soundtrack. All of that sounds great, but Warner Bros. gave this Blu-ray a boost by including Dolby Atmos. It's definitely not the best use of the immersive format, but the track does have plenty to keep you looking over your shoulder throughout the film. Planes and helicopters fly overhead, there's crazy chatter from every angle, rain falls from above, and gunfire surrounds the listener. Even during all of the mayhem, which is most of the movie, the track delivers plenty of surround sound and crystal-clear dialogue, too.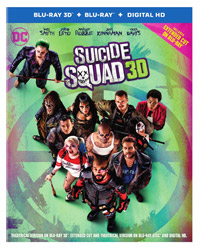 The Extras
As with a lot of 3D releases, Suicide Squad doesn't have any actual 3D extras. All of the special features are packed into the standard Blu-ray disc. In this case, there are two of those, one for the Theatrical version of the film and one for the Extended Cut. Both have the exact same collection of extras, including a 23-minute featurette on bringing the comic to the big screen, a little over 9 minutes on effects, 9 minutes on stunts, and another 11 minutes on fight scenes. Of course, the Joker and Harley get their own 14.5-minute short as well. Otherwise, there are another two blips on weapons, a Gag Reel, and a few DC-related movie trailers.
Final Thoughts
Warner Bros. had a tough task bringing Suicide Squad to the big screen. There are some fun moments here, but the movie is definitely a disappointment. It's an origin movie that doesn't spend enough time on the origin of each character.  At 135 minutes for the Extended Cut, they certainly had the time. Instead, they opted to focus on too many plot points. Superhero fans will still want to indulge -- and they'll want to do that with this Blu-ray. The 3D may not be essential, but the Blu-ray's sharp image, immersive soundtrack, and decent collection of extras pack the type of punch you'd expect from anything else in the superhero genre.
Product Details
Actors: Will Smith, Jared Leto, Margot Robbie, Joel Kinnaman, Viola Davis, Jai Courtney, Jay Hernandez, Adewale Akinnuoye-Agbaje, Ike Barinholtz, Scott Eastwood, Cara Delevingne
Director: David Ayer
Audio/Languages: Dolby Atmos/Dolby TrueHD 7.1 (English), Dolby Digital 5.1 (French 3D and Theatrical only), Dolby Digital 5.1 Portuguese (3D and Theatrical only), Dolby Digital 5.1 Spanish (3D and Theatrical only), Dolby Digital 5.1 Thai (3D only), DVS 5.1 (3D and Theatrical only),
Subtitles: English SDH, Cantonese (3D only), French, Mandarin (3D only), Portuguese, Spanish, Thai (3D only)
Aspect Ratio: 2.40:1
Number of Discs: 3
Rating: PG-13
Studio: Warner Bros.
Blu-ray Disc Release Date: December 13, 2016
Run Time: 123 minutes (Theatrical Version), 135 minutes (Extended Edition)
List Price: $44.95
Extras:

2D Blu-ray (Theatrical and Extended Cut):

Task Force X: One Team, One Mission
Chasing the Real
Joker & Harley: "It" Couple of the Underworld
Squad Strength and Skills
Armed to the Teeth
This is Gonna Get Loud: The Epic Battles of Suicide Squad
The Squad Declassified
Gag Reel

UltraViolet Digital Copy
Where to Buy: