Stone Temple Pilots: Alive in the Windy City Blu-ray Review
By Rachel Cericola
The Film
Stone Temple Pilots are one of the bigger acts from the grunge era to make it out with all of its members intact -- despite singer Scott Weiland's best efforts, of course.
The band broke up in 2002 and its members quickly moved on to side projects. Most notably, Weiland went on to helm the super-group Velvet Revolver, with former Guns N' Roses members Slash, Matt Sorum and Duff McKagan, as well as former Wasted Youth guitarist Dave Kushner. In 2008, STP got back together for various live performances and its sixth studio album, 2009's self-titled Stone Temple Pilots.
As part of the process, the band toured the following year and Eagle Rock captured Stone Temple Pilots: Alive in the Windy City. The 2010 show includes the band's original lineup (Weiland, Robert DeLeo, Dean DeLeo and Eric Kretz), performing live from Chicago's Riviera Theater like there had never been a lapse or bad blood between any of them.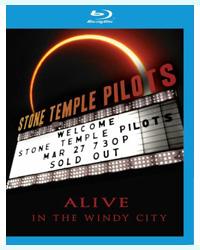 This 18-song set is a fun little blast from the past. It also serves as a reminder that STP had a ton of hits. Listen in for songs such as "Vasoline," "Crackerman, "Sex Type Thing," "Creep," and countless others.
The Picture
This 1080i/1.78:1 transfer will have you feeling like you're crowd surfing -- and not necessarily in a good way. There are so many quick cuts and flashing lights, it's like being inside the mosh pit. Ever try to focus in on something in one of those? That said, the colors are nice and there are a few details, mostly on singer Scott Weiland's weathered face,
The Sound
Like most of Eagle Rock's releases, this one defaults to the LPCM Stereo track, with options for Dolby Digital 5.1 and DTS-HD Master Audio. And like most of those releases, you should opt for the DTS-HD MA here. It's a much fuller experience. The guitars are a nice stanout, and never overwhelm Weiland's voice. It's a nice balanced track, and one that sounds great at loud volumes.
The Extras
Considering the band's many hits and checkered past, it's hard to believe that Eagle Rock could only squeeze out a 15-minute interview as this release's lone extra. Don't expect any gossip here; STP is all business during this brief piece, as they talk up the new album only.
Final Thoughts
Alive in the Windy City isn't just STP's first live Blu-ray release, but it's the band's first live video release ever. That alone will have fans from the past and present ready to devour every single note. Those fans shouldn't be disappointed, either. Despite the lack of extras, this show was worth the wait. It rocks.
Product Details
Featuring: Scott Weiland, Robert DeLeo, Dean DeLeo, Eric Kretz
Director: Chapman Baehler
Audio/Languages: DTS-HD Master Audio 5.1 (English), LPCM Stereo (English)
Subtitles: English, German, French, Spanish
Aspect Ratio: 1.78:1
Number of Discs: 1
Rating: NR
Studio: Eagle Rock Entertainment
Blu-ray Disc Release Date: June 26, 2012
Run Time: 92 minutes
List Price: $19.98
Extras: