Step Up Revolution Blu-ray 3D Review
By Rachel Cericola
The Film
Back in 2006, Step Up was a fairly forgettable movie except that it had incredible dancing and an incredible looking guy named Channing Tatum. Now, the franchise is a freight train that cannot be stopped or apparently, improved upon.
No matter how hard you try, those films just keep on coming -- and now they're coming in 3D. Step Up Revolution is the latest installment, which holds very few surprises except for the fact that a lot of people can contort their bodies to do crazy things.
Ryan Guzman stars are Sean, a part-time waiter, part-time flashmobber and full-time dreamer. He comes across Emily (So You Think You Dance finalist Kathryn McCormick), who has a hot body and knows how to use it -- to dance, of course. She also has dreams of dancing, much to her daddy's (Peter Gallagher) disgust.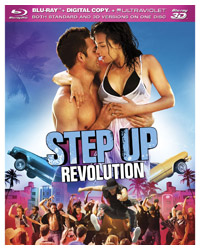 The story is predictable, but it is sort of interesting to see the inner-workings of a flash mob. That said, we never find out much of the nitty gritty and the motivation is a $100,000 YouTube contest, which must average out to about $50 per dancer. There's a lot of people and parts to every production. Even more interesting is that this troupe is like the James Gang of dancing. People apparently have a love/hate thing with spontaneous outbursts of dancing. They jail people for this? In the world of
Step Up
, absolutely. However, they do get away with the acting thing.
If that were any kind of real crime, McCormick would be doing some real time. Her performance is solid wood, but it doesn't really matter because her dancing is phenomenal. And frankly, dancing is the only reason someone would watch Step Up Revolution, and that certainly won't disappoint. The plot, however, is a whole other story.
The Picture
The 3D on this latest flick isn't quite as awesome as 2010's Step Up 3D, which was a surprisingly cool viewing experience. However, there's nice depth throughout and the film manages to squeeze in some pop-out effects via flying sand, falling dollar bills, and plenty of sparks. Overall, the finale packs in the most fly-out effects. However, the rest of the film has plenty to ogle with the Miami backdrop. There's stunning scenery, tons of bikinis, gorgeous colors and sharp beach scenery. It's a good looking film.
The Sound
It's important to note that this is the second title Lionsgate has released with support for the 11.1 Neo:X format. Yes, it's just the DTS-HD 7.1 track with encoding for those extra height and width channels, but it's still very cool. However, considering that probably very few of you (including yours truly) has access to this equipment yet, know that the 7.1 track is still pretty darn phenomenal. There are a few things you can count on in a Step Up movie: the same recycled plotline, insane dancing, and a bumping soundtrack.
The Extras
For those two people out there frothing for more info about Step Up Revolution, this disc includes a surprising amount of extras. There's a commentary track with director Scott Speer and stars Kathryn McCormick and Ryan Guzman, as well as two music videos and an index that will take you directly to the flash mob scenes. There's also a series of four featurettes, which should probably fill your quota for what you'd want to know about this movie.
Final Thoughts
Without a doubt, Kathryn McCormick can dance. Acting is a whole other story, as evidenced in Step Up Revolution. It doesn't really matter, though. This movie is another horrible, predictable entry into a pointless franchise. OK, there's the money thing. These movies apparently make enough of it that recurgitating the plot every few years doesn't seem to matter. If 3D and dancing trumps things like a plot and acting in your movies, then have at it and enjoy.
Product Details
Actors: Ryan Guzman, Kathryn McCormick, Misha Gabriel, Cleopatra Coleman, Stephen "tWitch" Boss, Tommy Dewey, Peter Gallagher
Director: Scott Speer
Audio/Languages: DTS-HD Master Audio 7.1 (English), Dolby Digital 5.1 (Spanish), Dolby Digital 2.0 (English)
Subtitles: English, English SDH, Spanish
Aspect Ratio: 2.40:1
Number of Discs: 1
Rating: PG-13
Studio: Lionsgate
Blu-ray Disc Release Date: November 27, 2012
Run Time: 99 minutes
List Price: $39.99
Extras:

2D Version
Director and Cast Commentary
Becoming a Star
Choreography
Dancing on Their Own
Making the Mob
Flash Mob Index
"Going In" Music Video by Jennifer Lopez and Flo Rida
"Hands in the Air" Music Video by Timbaland featuring Ne-Yo
Deleted Scenes
Also from Lionsgate
Digital Copy
UltraViolet Digital Copy