Star Trek: The Next Generation: Season One Blu-ray Review
By Rachel Cericola
The Film
Back in the '60s, Gene Roddenberry decided to boldly go where no man had gone before -- into the offices of CBS to pitch a little sci-fi series about the crew of the Starship Enterprise. The original Star Trek received only three seasons, but a ton of accolades and legions of fans. A franchise was born.
Nearly 20 years after the cult hit, lightning actually managed to strike twice, and Roddenberry created Star Trek: The Next Generation. Sure, there were Trekkies that didn't really appreciate the new journey, but plenty of them did and the show went on to be a bigger hit than its predecessor. There were new characters, a new cast and a whole new storyline -- and all in the vast wasteland that was syndication!
Picking up about 100 years after TOS, TNG follows the travels of the Enterprise-D, headed up by the stern, but suave Captain Jean-Luc Picard (Patrick Stewart). There was also a shipload of supporting characters to help fuel all seven seasons, including Commander William Riker (Jonathan Frakes), Lt. Commander Geordi La Forge (LeVar Burton), Lt. Commander Data (Brent Spiner), Lieutenant Worf (Michael Dorn), Deanna Troi (Marina Sirtis), Dr. Beverly Crusher (Gates McFadden), her son Wesley Crusher (Wil Wheaton), and much more.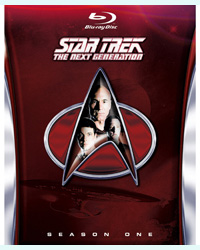 Star Trek: The Next Generation: Season One
is a nice introduction to the characters and the mega-hit that followed. The sheer number of characters in each episode sometimes makes it a little hard to keep up. Sometimes, it's just the acting that makes that a tough task. That said, it's fun to watch the crew, their interactions, and how they work together to make it through every episode unscathed.
Season One
isn't the best season of
TNG
, but even a non-Trekkie should consider it money well spent.
The Picture
If you swore to never feast your eyes on Wesley Crusher again, you may want to make an exception. Paramount didn't just dust off a bunch of old videotapes here. Star Trek: The Next Generation: Season One has been retransferred from original film elements. The studio put a lot of time, money and manpower into this one, and it absolutely shows in every single scene. It's like a brand new show, with familiar characters and storylines. Some of the special effects aren't all that great, but the cast looks wonderful throughout this 26-episode set. There is a little soft imagery in spots, but uniform colors, fleshtones, facial details and costume textures are a real treat. It's a wonderful presentation.
The Sound
Paramount didn't spend a ton on the image to cheap out on audio. They've given this release a DTS-HD Master Audio 7.1 track, and it's quite awesome. There are a few tinny spots, but it certainly won't spoil this ride. There is solid dialogue throughout, but it's an overall immersive experience. The surrounds are where the action is at -- literally. Plan to hear plenty of goodies fill the soundfield, from the whoosh of the Enterprise to a variety of fun (and sometimes cheesy) sound effects to the show's theme.
The Extras
Each of the six discs has a little something, in the form of episode promos. Discs one and six pack in a few other extras -- including a promo for the second season set. Yes, a second season is on its way; start saving. Also, it looks like that collection will have a cast roundtable, which I was hoping to see included in this set! Seriously though, it's hard to complain.
Disc one has additional promos and a featurette titled, "Energized! Taking The Next Generation to the Next Level." This is about 24 minutes of how the high-def set was put together. It's like the best guided tour ever, with a lot of behind the scenes tidbits. It's the must-see of the set.
Disc six has more promos, a gag reel, the "Archival Mission Logs" from the DVD release, and a three-part featurette titled, "Stardate Revisited: The Origin of Star Trek: The Next Generation." It's another excellent collection of material, with cast and crew covering the show's inception and casting, the sets, the fans, and much more.
Final Thoughts
Resistance is futile! No seriously, if you aren't a fan of TNG, it's going to be hard to get into Star Trek: The Next Generation: Season One. That said, you should really try. It's a great introduction to a great point in the Star Trek empire. It's also some incredibly stunning work by Paramount and CBS. The image and audio work alone are worth the price to put this one on your shelf.
Editor's Note: According to The Digital Bits, there is a bit of an audio issue on some of the episodes included in Star Trek: The Next Generation: Season One. CBS has issued the following response:
"Dear Star Trek Fans,
We have discovered an anomaly in the English 7.1 DTS Master Audio track in our Star Trek: The Next Generation Season 1 Blu-ray Box set. There are some episodes that inadvertently had their front channel designations incorrectly mapped, resulting in an undesired playback experience when listening to them in a 7.1 or 5.1 Surround Sound environment.
We are quickly working to remedy the situation. Replacement discs (Disc 1, 3 and 4) will be made available free of charge. Please email phe.stng@bydeluxe.com for details regarding the replacement program. You may also call 877-DELUXE6 (877-335-8936) between 8am to 6pm Pacific, Monday-Friday.
We strive to provide our fans the best Blu-ray experience possible and sincerely apologize for this inconvenience."
Product Details
Actors: Patrick Stewart, Jonathan Frakes, LeVar Burton, Marina Sirtis, Brent Spiner, Michael Dorn, Gates McFadden, Wil Wheaton
Directors: Corey Allen, Paul Lynch, Russ Mayberry, Richard Colla, Rob Bowman, Cliff Bole, James L. Conway, Richard Compton, Joseph L. Scanlan, Michael Rhodes, Kim Manners, Mike Vejar, Les Landau, Win Phelps, Robert Becker
Audio/Languages: DTS-HD Master Audio 7.1 (English), Dolby Digital 2.0 (English, French, German, Italian, Japanese, Spanish)
Subtitles: English SDH, Danish, Dutch, Finnish, French, German, Italian, Japanese, Norwegian, Spanish
Aspect Ratio: 1.33:1
Number of Discs: 6
Rating: NR
Studio: Paramount Pictures
Blu-ray Disc Release Date: July 24, 2012
Run Time: 1184 minutes
List Price: $129.99
Extras:

Disc 1:

Episodic Promos
Energized! Taking The Next Generation to the Next Level
Star Trek: The Next Generation Archive: The Launch
Introduction to the Series (1987)
Promo #1
Promo #2
Promo #3
Season One Promo

Disc 2:
Disc 3:
Disc 4:
Disc 5:
Disc 6:

Episodic Promos
Stardate Revisited: The Origin of Star Trek: The Next Generation

Part 1: Inception
Part 2: Launch
Part 3: The Continuing Mission

Gag Reel
Archival Mission Logs

The Beginning
Selected Crew Analysis
The Making of a Legend
Memorable Missions