Soundmatters Cranks Out foxLv2 aptX Bluetooth Speaker
By Rachel Cericola
A year after Soundmatters first introduced its foxLv2 speaker, the company is giving the pint-sized portable a little upgrade. Soundmatters just announced the foxLv2 aptX.
The hook on this small speaker is that it builds upon the foxLv2, but adds in CSR aptX's advanced streamed Bluetooth technology. The end result boasts wireless CD-quality music and sound/picture sync for movies and gaming available delivered through aptX-equipped devices. Some of those portables include recent Samsung smartphones and tablets, as well as Apple computers.
Other features include foxL's patented 1-inch "Twoofers," "BassBattery" and other technologies, which all promise 80Hz-20kHz sound and an "open and airy" listening experience. In other words, it should give those tablets, smartphones and other devices a very nice audio boost. It also has a built-in noise-canceling mic and the promise of up to 12 hours of play on a single charge.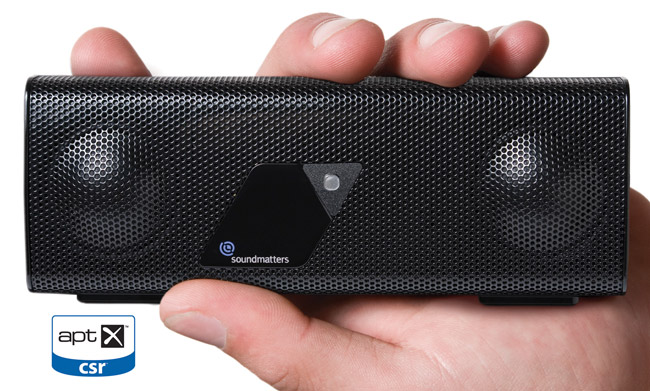 If those bragging rights aren't enough, know that Soundmatters was founded by former NASA engineer/audio legend Dr. Godehard Guenther.
Soundmatters says that the foxLv2 aptX is available right now. Expect the entry-level aptX Bluetooth-equipped model to be priced at $199. That price includes a rechargeable built-in woofer/battery, a universal AC power charger, a USB computer charging cable, a stereo 3.5mm audio cable, a wrist strap, a travel pouch, an anti-slip mat and a manual. The package also comes with four international charger adapters for use in the U.S., Japan, Europe/China, UK/Hong Kong, and Austrailia/New Zealand.
There's also a wired version of the foxLv2, available now for $149.
Where to Buy: