Sony X Series Walkman Digital Media Player Model NWZ-X1051 Review
By Chris Chiarella
Sony X Series Walkman Review
Wi-Fine
In the bottom of some box, somewhere, I still have my first Walkman portable cassette player, the first model ever made by Sony, with the Hotline microphone and separate left and right volume controls. It doesn't work anymore, but I just can't bring myself to toss it, out of respect: Some might have forgotten just how revolutionary the Walkman was, an older generation's iPod, allowing us to take exactly the music we wanted wherever we dared. The trademarked name soon became generic for the entire product category on the order of "Kleenex" or "Band-Aids" in the American vernacular. And yet the brand slipped into irrelevance as the world transitioned to MP3s, a decline blamed in part upon Sony's perceived conflict between its record label and its hardware division in an age of often-pirated digital music..
A few years later and the venerable Walkman name has been incorporated into Sony Ericsson music-enabled phones (some damned good ones, actually) and reborn on a series of newfangled digital media devices. Some were better than others, although none took much of a bite out of Apple's market share. But now, leveraging Sony's renowned video prowess, a new generation has landed, the Sony X Series Walkman Digital Media Player (Model NWZ-X1051).
Walkman 2.0?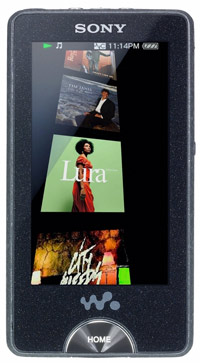 The X Series Walkman can't claim to be the thinnest or the smallest or possessing the biggest screen of any portable audio/video player, but its design does offer a solid heft in the hand, with a unique textured metal border. The selection and location of the controls take a little getting used to, but first things first. Connecting via the proprietary USB cable was as simple as plug, wait a second, and play.  The hardware drivers were automatically installed and ready to use on my computer.
It shows up as an accurate little icon with the name "WALKMAN," and I'm free to just drag and drop MP3s and other non-DRM files into the appropriate sub-folders. Compatible DRM-protected content can be managed by common PC applications such as Windows Media Center, Amazon Unbox, and this Walkman can be one of the three devices synched to a Napster To Go account.(be on the lookout for the "set up a device partnership" prompt).
Sony also bundles a CD-ROM of helpful software, most impressive of which is Content Transfer 1.1, which parks a small translucent window on the desktop that allows us to drag and drop non-DRM music, videos, playlists and podcasts from iTunes directly onto the Walkman, as well as entire folders from Windows Explorer. It automatically sorts files by media type, which is of course easier than searching through folders to find what we want. The iTunes feature is just wild, I don't think I've ever been able to drag tracks out of my iTunes library to another application, and details like the accompanying cover art are maintained. Also included are the instructions to download Sony's more product-specific Media Manager for Walkman, another way to get our goods into the player's 16 or 32 gigabytes of flash storage space.
Radio Boosts a Video Star
Loading content is all well and good, but Sony smartly figured out that in the streaming age, entertainment-hungry consumers would want more. To that end, they have integrated both YouTube and Slacker Radio technologies, and therefore Wi-Fi connectivity. The Wi-Fi setup and scanning for available networks should be intuitive for anyone who has ever used such a device, computer or gadget, and the player is wonderfully quick and responsive in this regard. Despite Sony's inclusion of predictive text, searching for YouTube videos with only the virtual alphanumeric keypad is painfully tedious, and counter to the fun we should be having with this feature.
Slacker on the other hand is a bonus-packed internet radio function that works beautifully with whatever it's given. Ideally we synch the Walkman (via its unique ID number) with our free Slacker account on the PC to play and refresh up to three favorite stations (organized by genre, artist, etc.) with a Wi-Fi connection, although cached music can also be played back when we don't have Wi-Fi available. Basic Slacker can also work right out of the box without an account or any set up, is fairly idiot-proof in its operation, offers a wealth of its own nifty features, loads quickly and sounds terrific.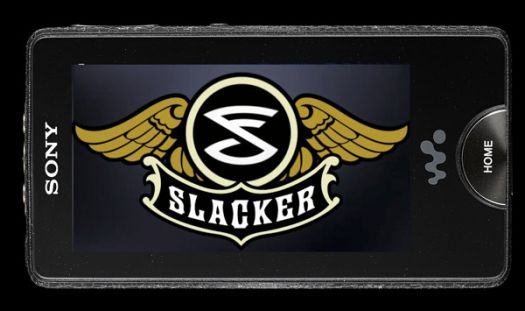 A "Related Links" function is accessible when playing our music, using the embedded metadata for most songs to enable quick searches for similar YouTube videos, as well as broader Yahoo! searches. These are frankly a far superior means to get onto the internet that the Walkman's own WWW feature, a browser which supports JavaScript but not Flash or any sort of streaming media. In general I found Sony's browser, combined with the aforementioned limitations of the alphanumeric keypad, to be a disappointment.
Sights and Sounds
The bundled headphones were a little awkward at first but the sound quality is quite good. They also contain a microphone necessary to take advantage of a very special feature of the X Series Walkman, namely a noise-cancellation software engine inside the player, the first video/MP3 player to offer such technology. This is the real deal, actively blocking ambient noise, with three different filters in the digital signal processor for distinct environments: Airplane, Bus/Train and Office.
I was in my office when I first tried this noise cancellation feature, and had a moment of mild panic as it sounded like my PC was abruptly powering off, when in fact the non-stop whir of its fans was simply phased out by an inverted sound wave created by the Walkman. The cancellation was equally effective on a crowded commuter train. The headphone cable also doubles as an effective FM radio antenna. To further customize the audio, the player provides four EQ presets plus two custom (five-band) modes and six virtual surround modes in addition to the DSEE Sound Enhancer.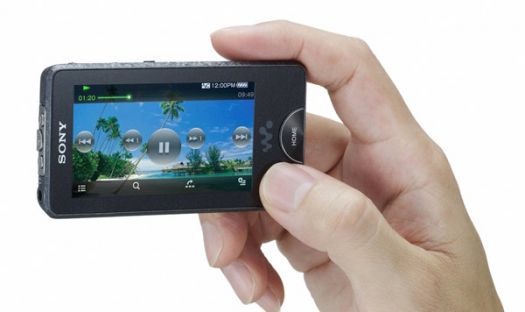 Video-wise, it's all good news. The three-inch widescreen OLED (Organic Light Emitting Diode, a Sony specialty on
a very pricey little TV
) screen is officially capable of displaying 262,144 colors, but I would have guessed even more than that as the image is luscious, viewable in all its glory from a broad 180 degrees, for assorted videos and JPEG photos. This touch-screen is also essential to the user interface, a hybrid of hard and "soft" controls all over the unit which, while distinctive, will seem somewhat familiar to
iPod touch
users, right down to the occasional frustration at a non-responsive tap.
Vexing in a different way are the frequent few-second delays with the "Please wait." graphic when we enter or exit one of the Walkman's applications. I can understand waiting for an internet connection, but the idea that a simple application request was overwhelming the player's resources was a bit surprising.
Turn-Ons:
GORGEOUS (albeit tiny) OLED touch-screen
Exceptional styling, plus it feels good in the hand
Terrific complement of the latest entertainment technologies built-in
Turn-Offs:
The waiting is the hardest part
Final Thoughts
There's an undeniable refinement to the X Series Walkman, from the obvious build quality the first time we hold it on down to the many precise settings at our disposal. The FM and internet radio options are more than welcome, YouTube and the internet browser are unfortunately limited, but the noise-cancellation stands alone while the OLED screen gives us a glimpse of the future. And I like what I see.
Where to Buy:
Features/Specifications of the Sony X Series Walkman Digital Media Player:
Dimensions: 3.9" H x W 2.1" W x 0.4" D
Weight: 3.5 ounces
Screen: 3-inch (diagonal) 16:9 touch-screen OLED
Resolution: 432 x 240 (WQVGA)
Input: Analog Stereo (3.5mm mini-jack) via proprietary adapter
Output: 3.5mm stereo headphone mini-jack
Other: Proprietary connector port (USB adapter cable included)
Wireless: 802.11b/g
Compatible Video Formats: AVC(H.264), MPEG-4, WMV
Compatible Audio Formats: MP3, WMA, AAC, HE-ACC, Linear PCM
Storage capacity: 16 gigabytes (tested) or 32 GB
Battery: Built-in rechargeable lithium ion
Available Finishes: Black
Warranty: One year, Limited
MSRP: $299.95 (16GB), $399.95 (32GB)
What's in the Box:
Digital Media Player
Stereo Headphones
USB Cable
External Input Cable (for dedicated noise-canceling headphone use)
Airplane Adapter
Base/Stand
CD-ROM
Manufacturer's Contact Information:

Sony Electronics, Inc.
16450 W. Bernardo Drive
San Diego, CA 92127
Phone: 800-222-SONY (7669)
On the Web: SonyStyle.com