Sony Video Unlimited and Music Unlimited Rock the Home Theater and Beyond
By Chris Chiarella
Sony swung through New York City to offer a hands-on/eyes-on/ears-on demonstration of the functionality of their Video Unlimited and Music Unlimited entertainment streaming services. The services are easy and intuitive to use across the manufacturer's 2010 and 2011 network-enabled devices including BRAVIA TVs, Blu-ray Disc players, Blu-ray home theater systems and The Streaming Player in addition to the PlayStation3 console, and personal computers including Sony's VAIO brand, naturally.
Video Unlimited debuted in the U.S. in February 2010 and now delivers a virtual movie store across connected Sony devices. Leveraging the same technology behind the PlayStation Network, it allows consumers to use their existing PlayStation Network ID and wallet for Sony Entertainment Network services, or, when they sign up initially, the ID and wallet will be ready for use on PlayStation Network.
From the sofa, via the remote control, viewers can browse, preview and immediately rent new releases (in some cases before they hit disc) and classic movies from Sony Pictures Entertainment, Twentieth Century Fox, Universal, Paramount, Disney, Warner Bros. and other studios. SD content rents at $2.99 catalog/$3.99 new-release, HD for $3.99/$4.99, with 30 days to begin watching a movie and then 24-48 hours to watch the film as many times as we like. 3D content is also available.

Music Unlimited meanwhile is Sony's new Cloud-based streaming digital music service backed by Universal Music Group, Sony, Warner, EMI and others. There are currently over ten millions songs available in the global Music Unlimited catalog, with thousands of new tracks added weekly.
Users can also sync their current personal music library from the computer to The Cloud, making it available on Sony's network-connected devices for a consistent listening experience right down to our specified playlists. Emphasizing an all-you-can-eat, stream-from-The-Cloud business model, the Basic service costs $3.99 monthly, although PS3 users are invited to try an extremely generous 180-day Basic Service free trial. Basic subscribers can enjoy uninterrupted, ad-free music across multiple channels and genres, with access to about seven million songs from all of the major labels.

Premium service is $9.99 per month, with a 30-day free trial. Premies can search the entire database for any music and play that music at will, and create new playlists too. Sony compares the cost of a month's all-access pass to that of a mere ten iTunes downloads. As users Like/Dislike the music they listen to, Music Unlimited learns the habits and tastes of the user, offering targeted recommendations.
Like Video Unlimited, Music Unlimited is available across Sony's 2010 and 2011 models of network-enabled BRAVIA TVs, Blu-ray players and home theater systems in addition to the PlayStation3 and personal computers. Android-based tablets including the Sony Tablet and Sony Ericsson's Android-based mobile devices including assorted Xperia models and third-party devices are also supported, as well as Sony's PlayStation Portable handheld game unit.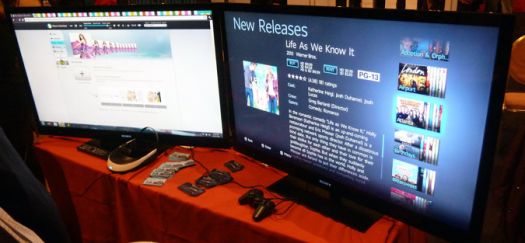 We found the Search functions to be nimble, powerful and broad, with unexpected suggestions based not only upon the same artist, genres and actors but on themes, locales and more. The depth of content is staggering, assuring an enjoyable viewing/listening experience for just about any taste.
Where to Buy:
More Information: