Sony Unveils STR-DN1030 - First A/V Receiver with Built-in WiFi Networking
By Enid Burns
Sony Electronics recently introduced its STR-DN1030 audio/video receiver, which boasts a number of built-in wireless protocols. The STR-DN1030 receiver packs Wi-Fi (802.11b/g) networking, AirPlay and Bluetooth under its housing to make it easier to stream music content from the internet and from local sources such as an iPad, iPhone, Android phone or other portable device.  Also, DLNA support enables you to access audio and video content from virtually anywhere in your home network.
Connectivity through Wi-Fi facilitates simple wireless access to media sources such as a PC, Squeeze Box, Sonos or other Wi-Fi-enabled device. Wi-Fi also makes it simple to access streaming sources such as Internet radio stations, Pandora and other integrated applications including Sony Entertainment Network's Music Unlimited, Slacker and vTuner.
Another benefit Wi-Fi allows is connectivity to wireless networked multi-room audio speakers. Sony offers its own HomeShare line, but other systems are able to connect via Wi-Fi.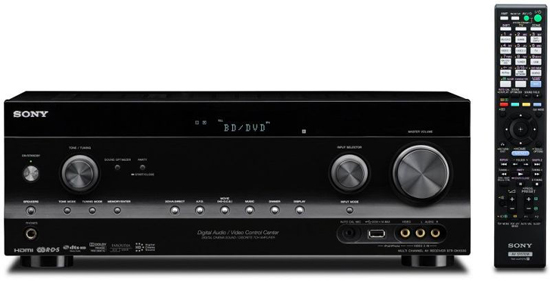 Sony offers two other options to connect to the STR-DN1030 audio/video receiver. Built-in AirPlay means your main audio rig can now be its own iTunes zone. AirPlay lets users stream music from an iPad, iPhone, iPod or iTunes through the home theater system. A third wireless option, Bluetooth, connects all other devices within range. With Bluetooth, content from devices such as Android tablets and phones, Windows Phone tablets and phones, and other sources using Bluetooth can connect and share audio files. Sony also offers a free Media Remote app for iPhones and Android phones, so users can operate their home theater system from a touchscreen phone.
Whether it's streaming or plugged in, sound delivered through the Sony STR-DN1030 comes through up to 7.2 channels with a total of 1015 Watts (145 W x 7) of on-board power. With all its power, the receiver's Sound Optimizer feature brings out all the nuances in the sound field, even with the volume turned low so you don't disturb other family members sleeping in the next room.
Sony also built the system using its High Definition Digital Cinema Sound (HD DCS), which adds auditory depth for dramatic cinematic sound. Sony says the HD DCS faithfully reproduces the movie theater experience by recreating the sound fields that movie producers use when creating the audio for movies. The STR-DN1030 receiver supports Dolby TrueHD, Dolby Pro Logic llz and DTS HD Master Audio enhanced audio codecs.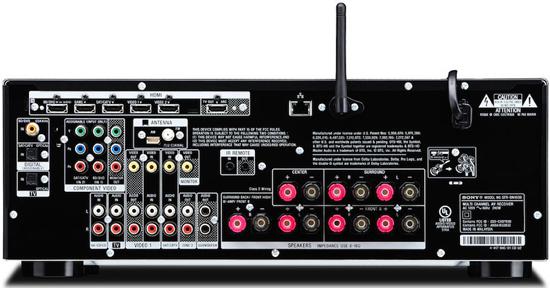 On the video side, the Sony STR-DN1030 is 3D compatible with a 3D pass-through that allows for Blu-ray 3D movies, video games and other 3D content to be played from a 3D Blu-ray player, cable box, game console or other source. The receiver also supports 24p True Cinema as a pass-through, which means Blu-ray movies and console games can be watched in their native frame rate of 24 frames per second.
Source components and others can be plugged into the seven HD inputs. The receiver has five HDMI inputs that support up to 1080/24p resolution.
Where to Buy: