Sony Shows Off 9 New BRAVIA HDTVs for 2014
By Rachel Cericola
The new TVs are almost here! Sony Electronics was one of the many manufacturers showing off sets for 2014 this week. The company is planning to have a hearty collection of Ultra HD TVs this year. However, they certainly haven't forgotten all of the customers that just want a really nice 1080p HDTV.
Sony plans to release a total of nine HD sets under its BRAVIA Series, with sizes ranging from 40 to 70 inches.
Like some of the UHD models, all of these sets will come packing the X-Reality PRO picture engine, which is designed to deliver lifelike images. It analyzes, cleans and refines. It even makes fries! Well, maybe not, but it does promise to deliver awesome images from almost any source.
Also new for this year is "Social Viewing," which can tie video messaging into the whole user experience. That means you can share must-see moments using the built-in or add-on camera, as well as Twitter integration.
The last of this year's standard features is the "Football Mode," which can automatically adjust picture and sound settings so viewers will feel like they're getting an authentic stadium experience -- without the loud crowd and expensive beer, of course.
Available this spring, the BRAVIA W950B Series LED HDTV is this year's flagship model. Both the 55-inch KDL-55W950B and the 65-inch KDL-65W950B has a full 1080p HD image with X-tended Dynamic Range and Edge LED arrays for deep blacks, more detailed gradation and higher peaks. This one is a standout, thanks to the TRILUMINOS Display, which can clean and refine the image from any source.
Also unique to the W950B is the new Wedge design, which can pack larger speakers inside the TV bezel. Hooray for better sound! The audio gets a nice additional boost from ClearAudio+ digital sound processing with S-Force Front Surround. Sony is also making an optional subwoofer (the SWF-BR100) available.
Another interesting perk is the One-Flick Entertainment feature, which allows viewers to select favorite content or browse across nearly any source in the home. Each set comes with the One-Flick Remote Control, which can tap into broadcast, DVR, local/personal files and online content. From there, the system will store preferences and personal habits and even make suggestions. Users can also touch an NFC-enabled smartphone or tablet to the One-Flick Remote Control to put stored photos, websites, music and movies up on the big screen.
Other features across the W950B Series will include Motionflow XR 480 and built-in Wi-Fi with access to the Sony Entertainment Network. Users are also encouraged to break out those smartphones and tablets, since these sets have tons of screen mirroring features. That comes in the form of NFC OneTouch Mirroring and MHL support. Sony is also giving both sets 3D features, which can be used out of the box with the two pairs of included 3D glasses.
Coming this winter, the BRAVIA W850B Series LED HDTV line has a pair of 1080p HDTVs with the ClearAudio+ DSP, the Wi-Fi and web features, and the Wedge design. Both the 60-inch KDL-60W850B and the 70-inch KDL-70W850B also have 3D features (and two pairs of 3D glasses), as well as Motionflow XR 480 for smoother action sequences.
The BRAVIA W800B Series will arrive this spring, with the 50-inch KDL-50W800B and the 55-inch KDL-55W800B. Both LED sets have a 1080p image, the X-Reality PRO picture engine, and built-in Wi-Fi with web features. Also important to note is that this series does support 3D, with two pairs of the 3D glasses for each set. Each one also has Motionflow XR 480 technology.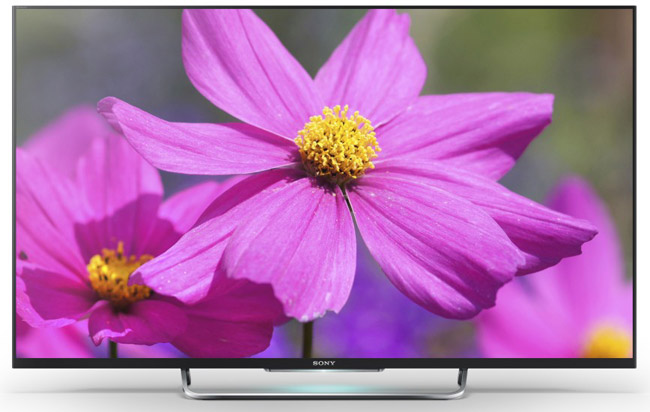 The BRAVIA W630B Series is basically the lone 60-inch KDL-60W630B LED, which will be out this spring. It does have a 1080p image, the X-Reality PRO picture engine, and built-in Wi-Fi. The noticable difference here is that this 60-incher does not have 3D features, but it does have Motionflow XR 480 and the ClearAudio+ sound processing.
The last of this year's LED models falls into the BRAVIA W600B Series. The 40-inch KDL-40W600B and the 48-inch KDL-48W600B will be out this spring, with 1080p images for all. Other features include the X-Reality PRO picture engine, Motionflow XR 240, and the Wi-Fi for streaming from the Sony Entertainment Network.
For More Information:
More News from CES: