Sony Introduces Walkman Portable Media Players Powered by Android 4.0
By Rachel Cericola
The Walkman is still going strong -- and we're not talking about the one that you have collecting dust in a box somewhere. Sony is putting a new spin on the Walkman, with the newly announced F800 Series and E470 Series.
The hook on the F800 Series is that it packs in Android 4.0, better known as Ice Cream Sandwich. Having that delicious technology built in means that the F800 Series can access a slew of pre-installed apps, including email, maps, games, and much more. Other features include a 3.5-inch multi-touchscreen and the NVIDIA Tegra 2 dual-core processor.
This model also includes Bluetooth support. With that perk, users can stream stored content and music apps to any compatible speakers, headphones or other audio component.
One other nifty feature is the "dedicated W. button," which allows users to jump to the music app while gaming or web surfing. Of course, it also offers access to the Sony Entertainment Network's cloud-based Music Unlimited Service, which provides on-demand music and ad-free radio for $9.99 per month.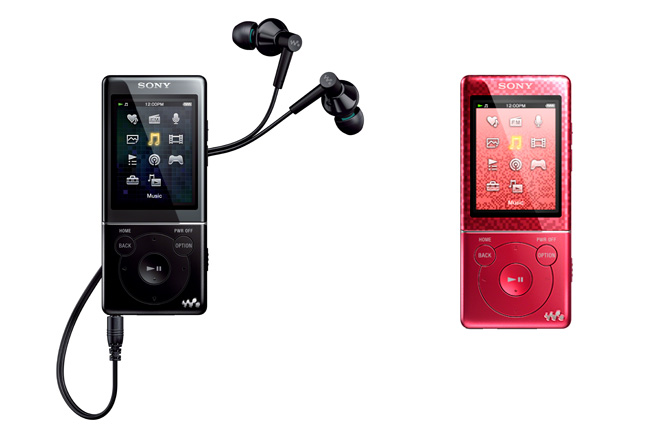 Sony is making the Walkman E470 Series a standout with a slim package. At 7-millimeters thin, it's actually the slimmest Walkman to date. Available in a metallic red or black finish, this model features a 2-inch LCD screen, a karaoke mode, the option for synchronized lyrics, Puyo Pop Fever and NUMBER PLACE, and knock-offs of Tetris and Sudoku games.
Both models have Sony's Clear Audio technologies, which boast detailed, deep sound, even from compressed digital music. The F800 Series also adds in the S-Master Digital Amplifier, to reduce noise levels and distortion.
All Walkman F800 and E470 Series models come packing soft hybrid silicone premium ear bud headphones. Sony expects both lines to start selling in August 2012. The F800 Series will come in 16GB and 32GB models, with the 16G F800 Series priced at $269.99 and the 32G going for $299.99. The E470 Series will have models ranging from 4GB to 16GB. The 4G E470 Series has an MSRP of $79.99, with the 8G going for $89.99, and the 16G priced at $109.99.
Where to Buy: