Sony BDP-S470 Blu-ray Player Review
By Geoff Morrison
Doesn't play well with others
Holy crap this thing is infuriating. It's rare that I get annoyed with a product I'm reviewing. OK, this annoyed. But after spending hours trying to diagnose the problem, I'm left just as perplexed as when I started.
Let me back up. The BDP-S470 is Sony's least expensive Blu-ray 3D player. Not that you'd know it from the feature list.  In addition to supporting Blu-ray 3D playback, the player is wireless ready and has a ton on streaming video options.
The interface is Sony's well known Xross Media Bar (XMB), as seen on the PSP, PS3, and pretty much every other Sony product lately. Personally, I love it. It's easy to navigate, looks good, and did I mention easy to navigate? Everything after that last point is a distant second in my book.
Navigating over to the Internet Video tab, you'll see an nearly endless list of options. The big ones, Netflix, Amazon Video on Demand, Hulu Plus and YouTube are all here. There's also content from Epicurious (a decent recipe site), Wired, Style.com along with Sony concerts, trailers, and their Qriocity service.

Some of this additional content is merely filler. The kind of thing you may check out once, and never again. Like the surround modes on a receiver or the manual shift function on your automatic transmission. I did check a few out though, like "Yoga for Everyone by Tara Styles" video podcasts. I am now an expert at the "Dead Turtle," "Wounded Sloth," and "Agonizing Joint Pain" poses. Clearly "Everyone" doesn't include the sedentary A/V reviewer demographic.
Come on, WTF?
Unlike every other Netflix streaming device, Sony requires you to sign up with SonyStyle.com first. THEN you register and activate the device with Netflix. Thanks for trying to steal my email address Sony. The joke's on you, it's fake. For every streaming service you sign up for (i.e. Pandora, Slacker, etc) you have to register through SonyStyle first, then access the service itself to activate. This is intrusive, cumbersome, and staggeringly unnecessary. Anyone remember having to convert their MP3s to ATRAC to work on the Sony portables? Of course not, no one bought those either.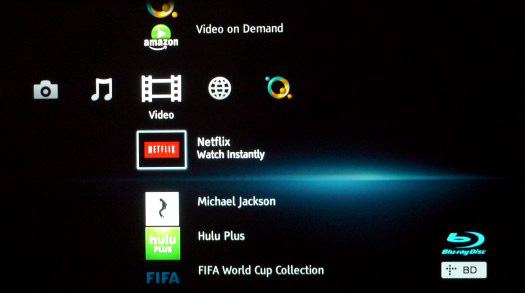 I'm sure Sony's argument is that they're providing a web portal for all the various content, and list it all for you. I guess I don't understand why Sony needs to know what services I want to sign up for.
The overall Netflix interface is aesthetically similar to the new PS3 Netflix interface, with cover art 6x3 across the screen. Unlike the PS3 and the Apple TV, there is no way to search to find new content. You need to log into Netflix from a web browser to add titles to your Instant Queue, which then show up on the BDP-S470. This is the case with pretty much every Blu-ray player, unfortunately. Thankfully there doesn't seem to be any trace of the chroma upsampling error (the so-called Chroma Bug) like what we found with the Panasonic Blu-ray 3D player. Overall Netflix video quality is average. Not quite as sharp as some other devices, but not as soft or as noisy as others.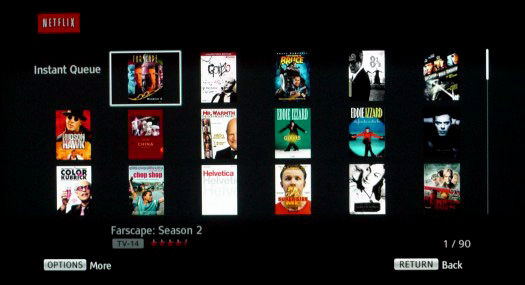 Hulu Plus was added just before this review was posted. Hulu Plus is similar to Netflix in that you stream content at will, but it has the added bonus of having all the latest episodes of TV shows. It also has advertisements, which is a little weird to me for a pay service. Current price of a Hulu Plus subsctiption is $7.99 a month (recently lowered from $9.99/month). HD content looks ok, somewhat soft and very lightly washed out. This is likely the content and not specifically the Sony. Control in the interface is sluggish.
Performance

Moving on to video testing, I started with the Spears and Munsil Benchmark Blu-ray. Using this disc, I found the BDP-S470 is able to pick up the 3:2 sequence with 1080i content and correctly deinterlace.  This means that it handles film-based content on Blu-ray Disc properly.
The rotating bar pattern tests how well a processor is able to deinterlace video content while keeping diagonal lines looking diagonal and not stairstepped, with what are colloquially known as "jaggies." The test pattern on this disc has the added component of fine black and white lines that the bar rotates through. These high frequency details make the processor's job a lot harder. On the Sony, even though the rotating bar is almost totally free of jaggies (excellent), there are significant artifacts and flashing in the black and white lines (not excellent). This didn't seem to have an effect on actual video material, but shows that Sony's video processor could be adding in other artifacts. Again, without seeing it in a real world test, it's not a huge deal. Other devices pass this test no problem, so it's worth mentioning.
Given the mostly excellent results with the synthetic rotating bar test, I was expecting a good result with the HD Ship test clip. This is a short clip of an old sailing ship. The result wasn't quite as good. There were small but noticeable jaggies on the diagonal rigging. The SD clip Bridge had a similar result, with a fair amount of jaggies on the cables.
Next up was the HQV Benchmark DVD. The rotating bar pattern on this disc (SD, no high frequencies) started showing jaggies at around the 20 degree mark, which is the beginning of the yellow area. Not great, but not bad. The flag pattern on this disc, a waving flag in front of a brick building, had some small jaggies in the flag and some moving noise in the background. The 3:2 sequence is picked no problem with 480i, showing that the player properly supports film-based content on DVD.
Using my favorite test clip from Gladiator, the end of chapter 12, the rooftops looked pretty good. There were few jaggies and very little noise in the image. This is better than the tests would indicate. With The Fifth Element (chapter 2), there were some small jaggies, but nothing major. The detail was good and the noise was minimal. I give more weight to real video tests than synthetic, so I'll say that it's likely the BDP-S470 does a better job upconverting 480i than your TV.
In all the processing was about average. There was no place where the Sony faltered, but it didn't excel in any one place either.
The BDP-S470 is a reasonably speedy player. It takes less than 15 seconds to get from powered off to the home XMB menu where you can start doing stuff. Also, from powered off with no disc inserted to the opening splash screen, a non-Java Blu-ray like Resident Evil: Apocalypse takes 25 seconds to load. A Java title like Pirates of the Caribbean: Curse of the Black Pearl takes 30. The Java and BD-Live-heavy Inglourious Basterds takes an impressive 44 seconds to load (many players take over a minute to load this one). Not the fastest player overall, but well above average and nothing to worry about.
The player's 3D performance, through a Panasonic TC-P50VT25 full HD 3D TV (Sony is going to LOVE reading this review) is great. Coraline has all the depth inherent in that movie and minimal crosstalk.
I watched a bunch of movies on DVD and Blu-ray Disc through this player, most notably Aliens on Blu-ray Disc (from the recent Alien Anthology boxed set). The Sony created a detailed image with lots of great shadow detail and no additional noise. It was also able to play the discs in this set without problems, unlike some older players with less modern firmware.
Doesn't play well with others
Not only is this something my mother had to read on many report cards (shocker!), it's also how I feel about this player. This is frustration I mentioned 1,000 words ago, and what had me beating my head into the ottoman.
I should first explain my setup. I don't own a TV. I use a projector for everything. So in normal use, a source (be it my U-Verse box, an Apple TV, or a BD player) gets plugged into my receiver, and then a single HDMI goes out to the projector. When I'm testing video (like all the above tests), I plug directly into the projector.
But I like to use whatever product I'm reviewing in my main system for a bit, to get a feel for it. With the BDP-S470 I had intermittent, but infuriating, problems getting it to play nice-nice with my projector. Unless the 470 was turned on last (as in, the projector and receiver are already running) it will not send out audio via HDMI. Unlike every other HDMI device I've tested (including several other Blu-ray players, my U-verse box, and more), a simple unplug-replug of the HDMI cable does nothing. Even worse, it's next to impossible to get the audio back once it's lost. Even turning the player off and on again doesn't solve the problem. Even unplugging it doesn't guarantee anything. The only way I got it to come back was by plugging the end of the cable into a TV, then turn it off, turning it back on while the projector is running.
Now, I hate HDMI. I feel that anything that doesn't have a 100% success rate is just asking for trouble in the hands of the average consumer. But at least most of the time you can unplug and replug the HDMI and it will pull a "Oh that's what you wanted. Duh, ok." Not the case here.
Now, I know what you're thinking. The vast majority of people reading this review don't use a projector. OK, if that's your deal, skip this part and forget about it. The BDP-S470's a solid player with lots of streaming options and a decent interface. But even though perhaps less than 1% of you out there give a crap, 100% of the people in my house think this is a major problem.

I had this audio problem with two of the four projectors in my house. With the other two, the player behaved properly. So it's possible you may not have a problem. But... if you do, this issue is extremely frustrating and in my book a fatal flaw for projector owners. Honestly, it matters less which projectors work and which don't. The burden is on the BDP-S470, seeing as every other HDMI device I've reviewed hasn't had this issue. So if you use a projector, skip the 470. There's plenty of other BD players that offer the same or better performance that don't drop the audio if you accidentally turn it on too soon. If Sony fixes this with a firmware update, I'll be happy to change my opinion (and will update this review as necessary).
Turn-Ons:
Excellent interface and ease of use
Tons of streaming options
Crazy slim form factor
Turn-Offs:
Silence is not the best audio option with projectors
Forced registration with Sony for any streaming option
Final Thoughts

For TV owners, the BDP-S470 is a solid Blu-ray player. It has a slick and reasonably fast operation, tons of streaming options, and has a tiny attractive form factor. The prices I've seen on Amazon also show it to be a great deal. But if you have a projector... skip it.
Where to Buy:
Features and Specifications
Video Upconversion: 720p/1080i/1080p
Precision Cinema HD Upscale
Supported Audio Formats: Dolby Digital, Dolby Digital Plus, Dolby True HD, DTS, DTS HD, MP3, SA-CD, LPCM
Convenience: BD-Live (Profile 2.0), BonusView
Wi-Fi Ready
BRAVIA Internet Video streaming: Netflix, Amazon Video on Demand, HULU Plus, Pandora, YouTube
Unit Dimensions: 1.42" x 16.93" x 8.11" inches
Unit Weight: 4.4 lbs.
Warranty: 90-day limited parts and labor
MSRP: $199.99
Connectivity:
HDMI
Component Video Output
Composite
Analog Stereo
Optical Digital Audio Out
Coax Digital Out
Ethernet Port
USB Port (1 front, 1 rear)
Manufacturer's Contact Information:
Sony Electronics Inc
16530 Via Esprillo
San Diego, CA 92127
Phone: 877-865-7669
Web: SonyStyle.com