Sonos ZonePlayer S5 (aka PLAY:5) Review
By Dennis Burger
Edited by Chris Boylan
Look Ma. No Wires.
The Times They Have A-Changed
If you dig back through the internet archives and read reviews of the original Sonos Digital Music System from 2005, you'd think it would have taken the audio world by storm. Finally, multiroom audio distribution was easy, elegant, and although not necessarily cheap (assuming you don't consider a cool grand cheap), it was certainly an economical alternative to full-fledged custom-installed solutions. Its elegant controller beautifully mimicked the familiar iPod interface, and the player's built-in 50 watt amp and line-level audio outputs made it a flexible little performer capable of plugging into an existing audio system or driving a pair of bookshelf speakers with ease.

Let's face it, though: it ain't exactly 2005 anymore. These days, if your toaster doesn't wirelessly steam your iTunes library to the kitchen, it's time for a new toaster.
Sonos hasn't taken the commoditization of streaming music lying down, though. In addition to a metric buttload of new streaming audio services (more on those in a bit; and yes, the metric buttload is the official unit of measurement for streaming audio services), the company has also updated its control mechanism to bring it from the old-school click-wheel era into the fully modern touchscreen age (with both the standalone Sonos Controller 200 and a free downloadable iPhone/iPod touch app), and introduced the ZonePlayer S5, a fully integrated, portable audio player with built-in speakers and amplification, at a price point less than the beloved (and amplified, but speaker-less) ZonePlayer 120.
[editor's note: the ZonePlayer S5 is now called the PLAY:5]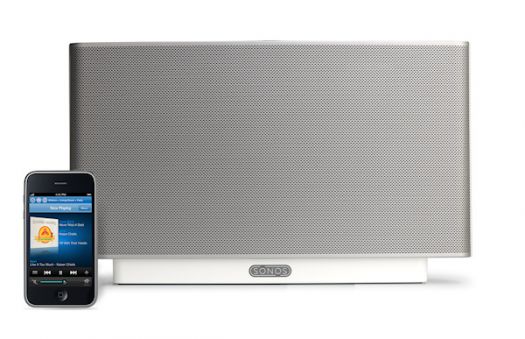 The More Things Stay the Same, the More They Change
Despite the hardware updates and the fancier-schmancier control, a Sonos system built around the ZonePlayer S5 is just as easy to setup as I remember the original being back in the old days, when the adjective "social" was still more apt to be applied to diseases and drinking than media and it was still okay to make fun of Michael Jackson. It's really as simple as installing the software on your computer, connecting the Sonos ZoneBridge (sold separately) to your router, pressing a couple of buttons, and saying "Bob's your uncle" or "Weeeell doggies," depending upon which side of which pond you live on, and whether or not it's cement.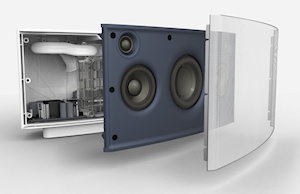 From the time I started ripping tape off of the shipping box, I had a fully featured and pretty sweet-sounding portable multiroom audio system up and running in well under an hour (with only a few minor hiccups; more on those in a bit, too [I'm all about the delayed gratification today, huh?]).
But yes, the ZonePlayer S5 does sound sweet. Surprisingly so, given its size. The S5's 3.5-inch woofer, pair of 3-inch mid drivers, and two tweeters -- each backed by its own Class D amplifier -- deliver an aural experience that, while certainly not on par with a pair of MartinLogans and a Anthem amp hooked up to a Micromega AirStream DAC, is to these ears unquestionably superior to a [redacted by the Big Picture Big Sound Legal Department. Let's just say it rhymes with "Joe's Cave Radio"].
Granted, such small drivers aren't going to sound superb with everything you throw at them. I find that the S5 sounds better with softer, mid-rangier music: your Alison Krausses and Joanna Newsoms and Andrew Birds and Sara Watkinses. Needless to say, with only three and a half inches of woofage behind the grill, the S5 doesn't exactly pump out the big bass, though. Kudos to Sonos for not applying ridiculous EQ curves to the bottom end (I'm looking at you [Joe's]), but with something like the Beastie Boys' Paul's Boutique, you definitely miss out on the oomph, even if the unit's shockingly sumptuous stereo imaging does render the funky phase shift at the beginning of "Hey Ladies" with more authority than it has any right to.
That's a very minor, beef, though, more than made up for by the portability of the system. I can't count the number of times over the past month that I've unplugged the S5, dragged it into a new room, or even out of doors, and plugged it back in, only to have streaming audio at my fingertips in mere seconds. It's perfect for a musical fix whenever and wherever you can find a mains outlet, whether you're working on repairs in the master bath or sipping a glass of Hennepin on the back porch at sunset, and for a heck of a lot less money than it would cost to have a full-blown dedicated multiroom audio system running to all of those places. And while the S5 isn't exactly crank-worthy, it plays at more-than-acceptable listening levels without any significant distortion.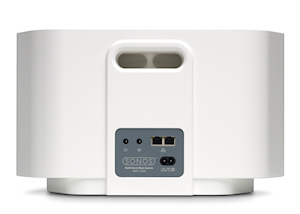 A Few Minor Concerns Before We Return to the Rah-Rahs
I did mention a slight hiccup in the setup process, though, didn't I? In my case, at least, I found it impossible to sync my iTunes music folder directly with the device, something you're supposed to be able to do. After two hours on the phone with Sonos tech support, the agent who answered my call wrote it off as "spyware or something" on my computer, and suggested that I try using my laptop. One clean install of Windows 7 and a switch to a completely different PC, though, with firewalls disabled and security software disengaged, and I can only assume my router is the problem.
Because while the Sonos system does have its own proprietary mesh network, it ultimately requires you to connect either a ZoneBridge or another ZonePlayer directly to your home network (which, incidentally, adds at least $99 to the cost of the $399 ZonePlayer S5 if you want to use it wirelessly. And who doesnt?).

It Ain't No Big Thing
You'd think being unable to sync my iTunes music folder directly with the system would be a big deal. Really, it's not. I already have Windows Media Player set to monitor my music folders for use with various DLNA systems that waft through my home from time to time, and the Sonos System recognized that and added a direct link to it on the main page of the controller without any effort on my part. So it's one extra button press to access everything iTunes has to offer throughout the home. I believe the phrase is "No big whoop," in the parlance of our times. There isn't a music file on my hard drive that I haven't been able to access quickly and easily via the system, despite the various formats and file types that comprise said collection.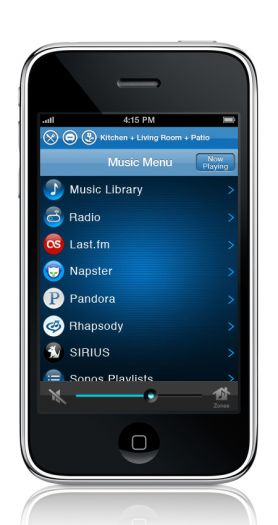 Truth be told, I don't spend a lot of time with my iTunes library when using the S5, anyway. Not that it's cumbersome to dig through -- the Sonos Control app delivers the same sexy, slippery navigational experience as an iPhone -- but there's just so much more to play with on the Sonos that I find myself gravitating toward other shiny things, like Pandora Radio (ridiculously easy to choose stations or even create new ones), Sirius Radio (so worth the subscription if you've got a Sonos System, even if you're sans automobile), internet radio stations galore (no parenthetical needed), and the latest addition to Sonos' ever-growing list of audio distractions, Wolfgang's Vault (which can only be described as "crack for your ears, with sprinkles," unless you're looking for a more concise explanation, in which case you could call it the largest online collection of restored and archived live concert recordings from artist ranging from A Flock of Seagulls to Zappa).
And the truly amazing thing is that Sonos' user interface is so slick, so intuitive, that you'll never get lost digging through this massive amount of music (or talk radio, for that matter, from ESPN to National Public Radio, if you're not into the whole brevity thing). Seriously, if you don't instinctively know how to use this thing the instant it hits your hand, I doubt you have a digital music library anyway.

Turn Ons
Easy setup
Surprisingly good sound quality
Loads, loads, and more loads of music services available
Free Sonos Controller iPhone/iPod touch app is the cat's pajamas with bees' knees printed on them
Turn Offs
The S5 isn't quite as "all-in-one" as its name implies, since the proprietary network makes two ZonePlayers or a ZoneBridge necessary for wireless access, adding to the cost
While setup is easy, if you run into any snags they're hard to fix
Sonos wants the thing back when I'm finished reviewing it
Final Thoughts

Whether you're considering the ZonePlayer S5 as an addition to an existing Sonos system, or simply as a portable standalone audio system, it's a smart, compact device with sound quality that belies its small size. That, combined with its plethora of available streaming audio services (forgive me, El Guapo) make it hard to resist.
Manufacturer's Specifications:
Audio
Amplifier: Five Class-D digital amplifiers
Speakers: Five driver speaker system -- two tweeters, two 3" mid-range drivers, and one 3.5" woofer. Each driver of the product is individually powered by a dedicated amplifier.
Headphone: Auto-detecting 3.5 mm headphone connection. The S5's integrated speakers mute when headphones are inserted.
Audio line-in: Auto-detecting 3.5mm audio line-in connection
Stereo Pair setting: Allows you to group two S5s in the same room with one S5 serving as the left channel and the other as the right channel.
Music
Audio formats supported

Support for compressed MP3, iTunes Plus, WMA (including purchased Windows Media downloads), AAC (MPEG4), Ogg Vorbis, Audible (format 4), Apple Lossless, Flac (lossless) music files, as well as uncompressed WAV and AIFF files.
Native support for 44.1kHz sample rates. Additional support for 48kHz, 32kHz, 24kHz, 22kHz, 16kHz, 11kHz, and 8kHz sample rates.
Note: Apple "Fairplay", AAC Enhanced and WMA Lossless formats not currently supported. Previously purchased Apple "Fairplay" DRM-protected songs may be upgraded. See Apple for details.



Music services supported: Deezer, iheartradio, Last.fm, Napster®, Pandora®, Rhapsody®, SIRIUS® Internet Radio, Wolfgang's Vault and downloads from any service offering DRM-free tracks. (Service availability varies by region. Click here to see the music services that work with Sonos in your area.)
Operating systems (for stored files): Windows® XP SP2 and higher; Mac OS X v10.4 and higher; NAS (Network Attached Storage) devices supporting CIFS
Internet radio supported: Streaming MP3, WMA
Album art supported: JPEG, PNG, BMP, GIF
Playlists supported: iTunes®, Rhapsody, WinAmp®, Windows Media Player®, and MusicMatchTM (.m3u, .pls, .wpl)
Playback modes:Crossfade, shuffle, repeat
Networking
Wireless connectivity: SonosNet 2.0, a secure AES encrypted, peer-to-peer wireless mesh network
Network bridging: 2-port switch (10/100Mbps, auto MDI/MDIX) allows Ethernet devices to connect through SonosNet
General
Power Supply: AC 120/240V, 50-60Hz, auto-switchable
Top-panel buttons: Volume and Mute
Top-panel lights: Indicate ZonePlayer status and Mute status
Dimensions (H x W x D): 8.50 x 14.40 x 4.80 in. (217 x 365 x 123 mm)
Weight: 9.15 lb (4.15 kg)
Operating temperature: 32°F to 104°F (0°C to 40°C)
Storage temperature: 4°F to 158°F (-20°C to 70°C)
Product finish: White with light metallic grille; black with graphite grille
Multi-language support: Sonos System Software supports Dutch, English, French, German, Italian, Japanese, Simplified Chinese, Spanish, and Swedish
Package contents: Sonos ZonePlayer S5, power cord, line-in audio cable, flat Ethernet cable, Sonos System Setup software CD-ROM, Product Guide, and Setup Poster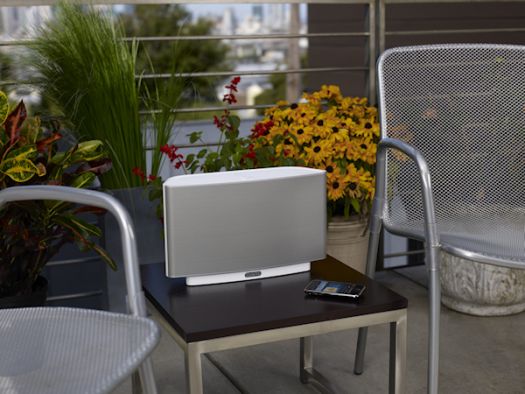 Manufacturer's Contact Information:

Sonos, Inc.
223 E. De La Guerra
Santa Barbara, CA 93101
ph: +1.805.965.3001; Toll-free (US): 1.800.680.2345
On the web: sonos.com