Sonos Wireless Speakers On Sale This Month
By Rachel Cericola
Didn't get the chance to do any Black Friday/Cyber Monday weekend shopping? All is not lost. You can still save on Sonos wireless speakers.
The manufacturer says that from now through December 31, you can save up to $50 on select Sonos speakers. More specifically, you can save $30 on all PLAY:1, PLAY:3, and PLAY:5 speakers, or $50 off the price of the PLAYBAR or SUB.
The PLAY:1 is the least expensive speaker in the Sonos lineup. It's also the most compact, making it perfect for anywhere in the home. That small size can crank out a lot of different music. Just connect it to your Wi-Fi network and experience all of your personal music or up to 30 different streaming services anywhere in the house. Our own Greg Robinson said that "the PLAY:1 is a versatile, attractive, and great-sounding speaker that extends (or begins) your Sonos system in brilliant fashion." Read more in his Sonos PLAY:1 Review or check out this speaker on Amazon: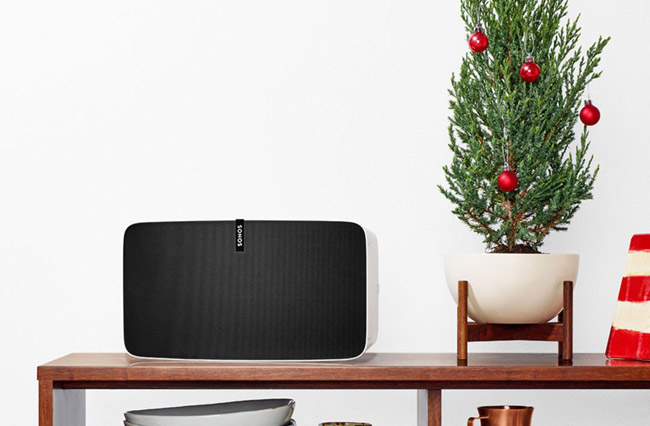 If you want something slightly larger, opt for the PLAY:3 or the PLAY:5. Both are on sale! The PLAY:3 is a mid-sized speaker that can be used in a vertical or horizontal fashion. It has three Class-D digital amplifiers, one tweeter, two mid-woofers, and a bass radiator. The largest of this lot is the PLAY:5, which has three tweeters and three mid-woofers in a phased speaker array, as well as six Class-D digital amplifiers. You can find out more about that larger model in our Sonos PLAY:5 Review or check out Amazon:
For those looking to outfit an entire room, Sonos is also discounting the PLAYBAR and the Sonos SUB. The PLAYBAR is a wireless soundbar-style speaker that works alone or with other Sonos speakers. For instance, you can pair two PLAY:3 speakers with the PLAYBAR and a SUB for a fully discrete 5.1 surround system. For more about how that works (and sounds), check out our SONOS PlayBar, Sub and Play:3 Wireless 5.1 Surround Sound System Review.
If you already have the PLAYBAR (which we also reviewed as a stand-alone item), now is the time to add in the Sonos SUB. This slim subwoofer works with every Sonos product. It features two force-cancelling speaker drivers and a form factor that's slim enough to stand up out of the way or slide right under the couch. But it's also cool enough looking (and wireless) so you might just want to leave it in plain sight. Find out more about both the PlayBar and the Sonos Sub on Amazon: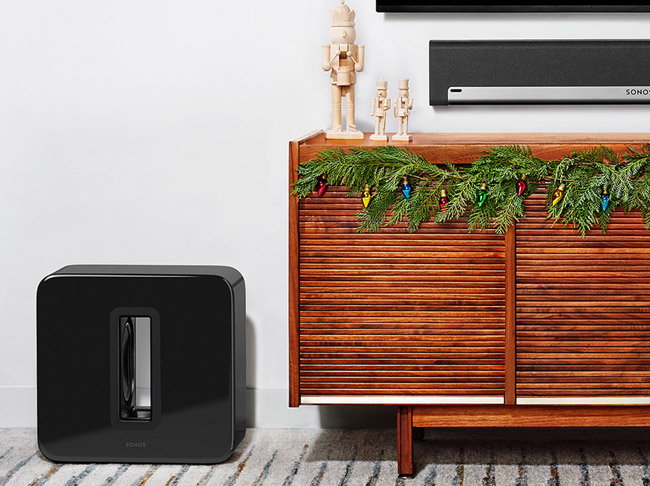 When ordering these products, remember to order from Amazon -- and not one of the retailer's third-party products. Amazon is offering the discounted prices and free shipping. This offer ends on December 31, 2016, but may be subject to stock on hand.
Please note: all deals posted on Big Picture Big Sound are current as of the posting date and time. These deals are frequently time- or stock-limited and generally do not last. Final pricing and stock are determined by the individual deal provider, not by Big Picture Big Sound so you will need to click through on the offer link to see if it is still available. Through our affiliate relationships with many online vendors, Big Picture Big Sound may earn a small commission on any referred sale.