Sonos PLAY:3 Review
By Rachel Cericola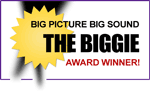 The Super Simple Streamer
Sonos has been cooking up drool-worthy streaming audio options since 2002. The only problem with the company's various ways of streaming wireless music is that there didn't seem to be a solution that was all that affordable for the masses. Now, the company has introduced the PLAY:3 Wireless Music System, an all-in-one amplified, networked speaker system powered by Sonos and priced at just $299 (MSRP).
Boasting Sonos HiFi sound, the PLAY:3 is a compact, all-in-one package. It has three integrated speakers and three Class-D digital amplifiers under one chassis. Another nifty perk is that the PLAY:3 works both vertically and horizontally, meaning you really can squeeze it into the most compact spot.
Despite being an all-in-one player, the PLAY:3 doesn't really work alone. Aha! Well, you don't really need an engineering degree to know that to stream music from the web or from your home network, you will need a web connection... and music! The PLAY:3 easily hooks into any router to blast music via a hardwired connection. If you want to make the system wireless, you're going to need the $49 Sonos Bridge add-on, which used to be known as the ZoneBridge 100.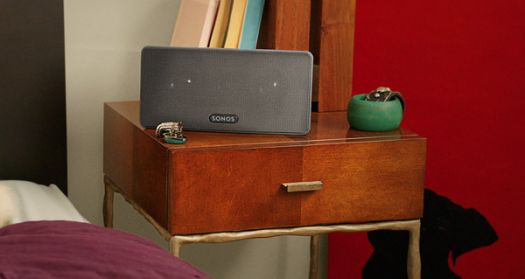 Next, you'll also need a music source to blast out of the PLAY:3. This is where the selection gets almost overwhelming. Sonos can stream whatever audio goodies you have on your home computer, as well as a networked hard drive. Supported file formats include MP3, iTunes Plus, WMA, AAC, Ogg Vorbis, Audible, Apple Lossless, Flac and uncompressed WAV and AIFF. Yes, you can even stream your iTunes library, including the items you actually paid for. If that collection isn't all that massive, you can tap into about 100,000 different web radio stations, shows and podcasts, as well as services such as Napster, Last.fm, Pandora, and the newly launched Spotify.
Sonos was kind enough to send us the Bridge, as well as two of the PLAY:3 units for review. Combining the three allowed us to have wireless music in up to two different rooms in the house. Those two units can also be paired together for some killer stereo sound (more on that in a bit). If you have more rooms and more money, you can have up to 32 (!) PLAY:3 units going at once.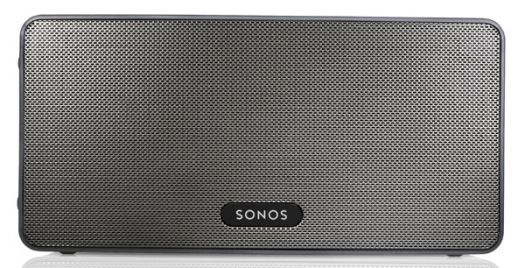 Unboxing the Box
The PLAY:3 is easy to set up, as evidenced by the package's few components. Besides the actual PLAY:3 unit, the box includes the power cord, an Ethernet cord, a quick start guide, and a set-up CD.
The PLAY:3 box is about the size of a typical tabletop radio. Available in black or white, the unit has a shiny speaker grille on the front, surrounded by a satin finish. On top, there are controls for volume and muting functions. Inside, there's one tweeter, two mid-range drivers, and one bass radiator, which are powered by three class D amplifiers. On the back, there's a spot for the power cord, an Ethernet port, and a hole in case you want to mount this thing. If that doesn't make placement easy, perhaps you'd like to flip the unit vertically -- because as we mentioned before, it can do that, too.
Like the PLAY:3 unit, the Sonos Bridge doesn't come packing much, either. Sold separately for $49, the box includes the actual Bridge unit, a power cord, an Ethernet cable, and the quick start guide. One single button on the top of the Bridge is what you'll use to sync the system with the included Sonos Desktop Software.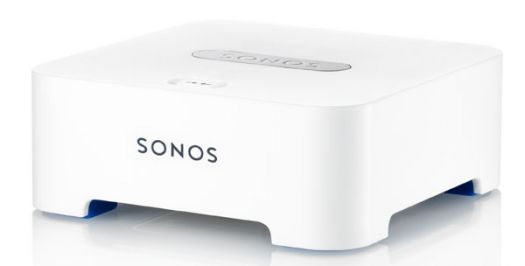 Push and Play
If you want to make this setup wireless (and you will want that unless you have to have network ports in every room), you first need to connect the Bridge to your router. Find a free Ethernet slot on the router, connect the Bridge, and then plug the Bridge's power cord into an available power outlet. From there, it's as easy as pressing the one button on top of the Bridge to sync everything up.
Now that the Bridge is hooked up, you'll have to add in the actual PLAY:3 device to the server software, which is included in the box on a software CD. Loading the Sonos Desktop Controller off the CD took approximately 2 minutes on our hardwired, Vista desktop PC. Once installed, open up the Sonos Desktop Controller, and click on the left-hand column. This will allow you to add in as many PLAY:3 boxes as your heart desires (and your budget allows), up to the aforementioned 32 zones. It also allows you to label each box for the bedroom, kitchen, or you can even name it Fred, if that makes it easier for you to find it in the Controller menu, as well as on the free Sonos app (more on that later as well).
Click that column to add the PLAY:3 device, and you'll get an on-screen prompt that you have 2 minutes to go to the PLAY:3 box and push the volume and mute buttons simultaneously. You'll need to do this for each box, but it's a pretty quick and pain-free process, depending on the size of your home.
Once everything is connected and configured, you'll be asked to register your product. This consists of an email and the option to receive Sonos updates through that email.
Playing with the PLAY:3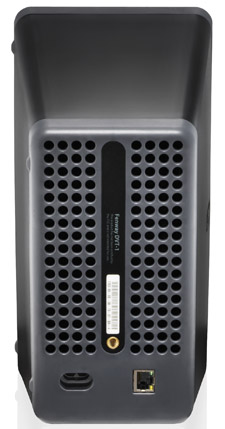 Now comes the musical portion of our program. First, you'll need to select the music that you actually want to play through the Sonos system. Now, this may take a while because the options are plentiful! To navigate through the thousands upon thousands of options offered, there are five tabs at the top of the Sonos Desktop Controller, which is that software installed on your computer.
The first option is the Library, which provides access to all of the music that you have stored (and are sharing) on your connected computer. That includes everything you've amassed in iTunes, if you have it (of course you do). The next tab over has Music Services. This is where Sonos keeps all of those fee- or subscription-based services, such as SiriusXM, Rhapsody, Napster, Pandora, and the newly launched Spotify service. The third option is the Sonos Playlist. If you want to make a playlist for a party, exercising, cleaning, or any other reason, this is where it will live for playback later. Next is the Web Radio option, which provides plenty of freebie options for music, talk, sports, and more. Don't be intimidated, but it seems like there are about a billion web radio stations out there. Type in your zip code to get local options, or you can search by genre, shows, hosts and stations. Once you find stations you like, you can save those as well. The last entry on the menu is the Line-In option, which allows you to add in something like an iPod.
How's It Sound?
The PLAY:3 provides some pretty decent sound, particularly considering its size. Overall, it's on par with, or a little better than many of the tabletop radios we've heard and reviewed. The entertainment selection is certainly the main perk, so most likely you're going to be willing to overlook some of the box's minor sound issues. Now, don't get me wrong; the box does produce some very nice sound. On its own, however, you can't expect it to reach insanely loud volumes. For those who want a little extra oomph, Sonos offers the slightly larger PLAY:5 (formerly known as "ZonePlayer S5") which our own Dennis Burger reviewed.  You can read his PLAY:5 review for more details.
According to Sonos, the PLAY:3 plays music in stereo when it is oriented horizontally. When flipped to a vertical position, the embedded accelerometer switches the two mid-range drivers to play in mono. That said, we really didn't see (well, hear) much of a difference, no matter how many times we flipped and flopped the unit.  Considering that there is only one tweeter (which handles left and right high frequency duties), this is not too surprising.  Only the woofer/midrange units play as discrete left and right channels when the unit is placed horizontally.
Using one PLAY:3 unit on its own, we tried a variety of music from The Beatles to Van Halen to The Bloodhound Gang to Barry White, and beyond. Once the sound level went over 75 percent, it just didn't sound as good. In most cases, it got a little congested and distorted. That said, there are probably few instances where you're going to need the volume that high, and it sounds quite nice and well-blanced at more reasonable volumes.
The PLAY:3 is designed to move wherever you want it to move. You never have to blast it across the house or even across the room, for that matter. Unless you have one unit and a massive keg party or something where people are screaming, the PLAY:3 should perform just fine. For those moments, it's a shame that Sonos didn't add in the option to hook this unit up to a larger system (via a line output).
However, you can opt to add in a second PLAY:3 unit to create a true stereo pair and doing so takes the sound quality up a big notch. This is a setting on the Sonos Desktop Controller, which allows you to link two PLAY:3 boxes into a pair of speakers that play back the selected music source in stereo.  Under the Zones tab, click on ZonePlayer Settings. From there, it has the option to link two units as a stereo pair. This is where things get interesting, and also can get pretty loud. We didn't need to crank the volume any higher, but got a much fuller, more enveloping sound with the two boxes cranking all of our music. This provided the soundstage and dynamics we were hoping for; it just took two PLAY:3 boxes to get there.
Cool Control
Thankfully, you don't have to go running to your computer every time you want to flip sources or rooms. Sonos offers a free app for the iPhone, iPod touch and iPad, as well as Android devices. We used our trusty iPod touch for this review and found ourselves insanely addicted to cranking out music in various parts of the house.  Ah, the power of being able to change music in the den, the kitchen, even the bathroom, all from our iPod.  Did the unrated version of a Black Eyed Peas song just show up in your 5-year-old kid's bedroom? Whoops! Next track!
Once the Sonos app was loaded onto our iPod touch, it immediately found our two zones, as well as everything in our Music Library. That included our stored music, our Sirius subscription, and our Pandora stations. Using the app allows users to play the same or different music in each zone, which means we could start something in our home office and continue it upstairs in the bedroom, without missing a beat.
Finding tracks from our personal music collection was easy, as this app allows you to choose tracks by artist, album, and more. It also provides a search feature. The one thing that was a bit frustrating was getting around all of those areas alphabetically. The app does feature a list of letters to the side, but it's so teeny tiny (at least on an iPod) that even our dainty fingers had problems punching in. If you have a ton of tracks, scrolling could get frustrating if you're not using an iPad, a computer or an Android tablet.
Other app features include volume control, alarms, and a sleep timer.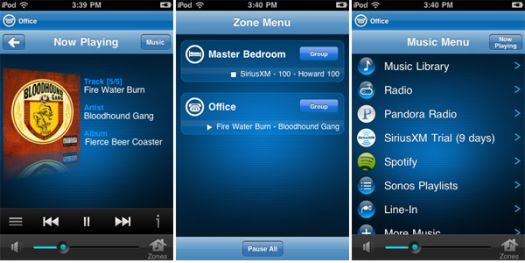 Turn-Ons:
Insane amount of music options
Very affordable for Sonos
Wireless is an option
Free app makes control easy and portable
Two boxes make a nice (and loud) "stereo pair"
Turn-Offs:
Sound gets distorted at high volumes
No option to hook to a larger AV setup
Needs hardwired connection or $50 more for wireless
Final Thoughts
The PLAY:3 isn't the best-sounding product that Sonos makes, but it's certainly the most compact, the simplest to use and configure, and the most affordable. On its own, in a single speaker configuration it doesn't quite belt out the music at high volumes, but it does provide solid sound for smaller spaces.  When you consider that it comes complete with its own internal amplifier, Sonos music server software, iOS and Android control apps and networking capability, you realize just how much value you're getting for your money.  But the real treat comes when you link two PLAY:3 boxes as a stereo pair - then this little system gets really interesting (and loud!). If the company could shave a little off the price or package two units up together at a discount, we could really see this product putting Sonos into a lot more homes. But even at $299 each, we expect it will sell well to those who want to explore wireless multi-room sound without high expense or complicated set-up.
Having thousands of musical options at your fingertips isn't always cheap, but it's definitely fun. So if you want to start with something simple, the PLAY:3 is a nice way to get acquainted with what Sonos has to offer.
Manufacturer's Specs:
Manufacturer's Contact Information:
Sonos, Inc.
223 E. De La Guerra
Santa Barbara, CA 93101
Phone: 800-680-2345
On the Web: www.sonos.com