Sling TV Review
By Vincent Lam
Edited by Chris Boylan
Cable TV... without the Cable?
We all know the story. Every month you look at your cable or satellite bill and discover you're subsidizing the 200+ channels you don't watch for the handful of channels that you do watch. In fact, because of this, a growing number of folks (aka "cord cutters") have decided to get rid of cable TV altogether. Why pay for channels that you don't watch?
Here's the problem. There are channels that you do watch... and you can't get them anywhere else without a cable TV subscription. The newly released Sling TV aims to fix that.
Yes. ESPN.
Sling Television (Sling TV) is a prepaid $20/month online streaming service from DISH Network that provides live and on-demand content to your TV, computer, phone, or tablet. Currently, there are 12 channels offered in the "The Best of Live TV" package, including: AMC, ESPN, ESPN2, TNT, TBS, Food Network, HGTV, Travel Channel, Adult Swim, Cartoon Network, Disney Channel, ABC Family and CNN. On February 9th, Sling announced the addition of Spanish-language Univision stations El Rey and Galavision to the basic package as well. Also, subscribers to Sling TV's basic package are able to use the WatchESPN app at no extra charge.
Sling TV also offers Add-On packs ($5/month): a "Kids Extra" package (Disney Junior, Disney XD, Boomerang, Baby TV, Duck TV), a "News and Info Extra" package (HLN, Cooking Channel, DIY and Bloomberg) and a "Sports Extra" pack (SEC Network, ESPNEWS, ESPNU, Universal Sports, Univision Deportes, beIN Sports, ESPN Buzzer Beater, ESPN Bases Loaded, and ESPN Goal Line).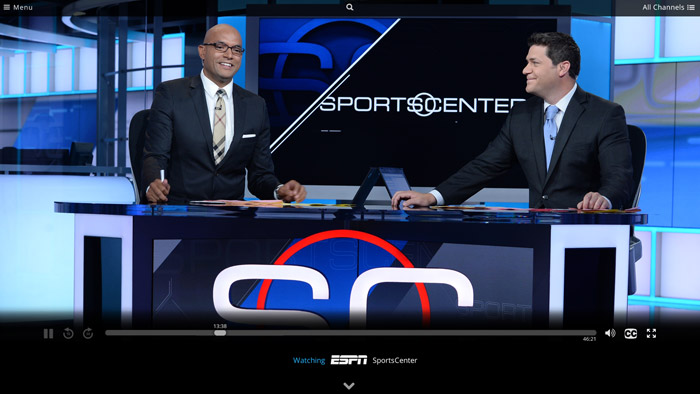 Take a look at that list carefully, and you'll see some popular live channels are there. Ask most folks what they miss about cable, and ESPN and CNN are frequently at the top of most lists. This is the first time we've seen these channels available streamed without a cable or satellite TV subscription.
In terms of playback devices and platforms, Sling TV supports:
Android Tablet and Phone
iOS Devices - iPhone, iPad and iPod Touch
PC and Mac
Roku boxes and Streaming Stick
Amazon Fire TV and Stick
Roku TV models
How Well Does it Work?
For testing, I used a Roku 3, iPhone 5, and iPad Air with the service. Setting up the service is pretty simple. Set up an account, download the app, and login. The quality of the streaming is very good. All the channels provide high definition content with consistent picture quality across channels. There are some compression artifacts, but most laypeople will not notice these or if they do will not find them too objectionable. If you've experienced HD content from other providers like Hulu or Netflix, the quality here is comparable. A lot of it depends on your internet bandwith.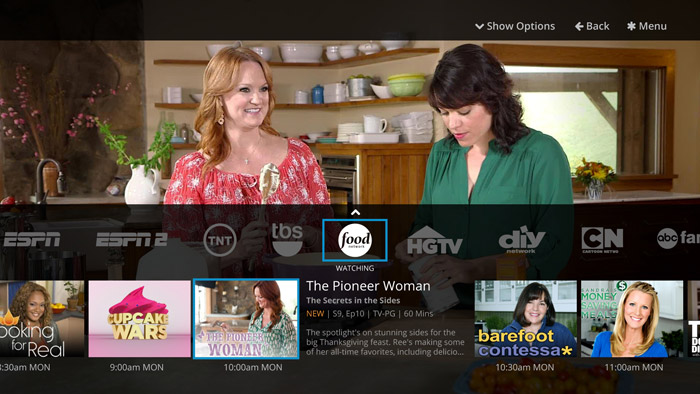 On the iPhone with a good LTE connection, the quality is comparable as well. As expected, if the connection is congested or drops to 3G, quality suffers accordingly. For those with data caps on cellular, the mobile Sling TV app allows you to cap the stream bitrate so you can throttle your consumption. When possible, use WiFi.
Among these devices, Sling TV is pretty consistent. In other words, the features and look/feel are consistent from one platform to the next. The interface allows you to watch a TV program while an overlay provides menu options and channel browsing. You can view each channel's channel guide to see what programs are coming up. Optionally, you can also access on-demand programming for certain channels. There are also some simple DVR like controls available.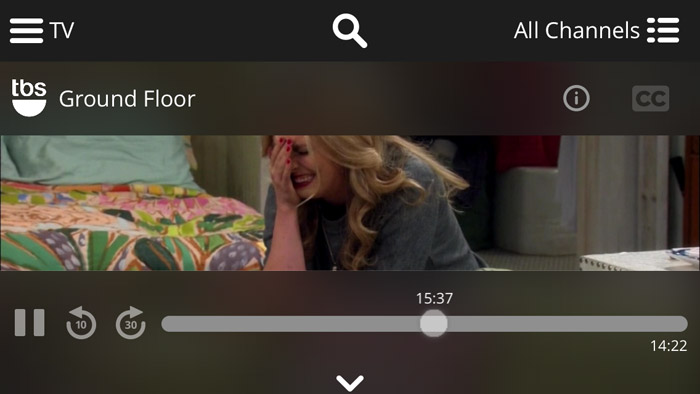 Herein lies one of the areas for improvement for Sling TV. The interface implies that you can do things like pause, rewind, or view on-demand content for every channel. The problem is you can't. Only a small subset of the channels supports these features. As a user, you don't know what's actually supported until you press the button and a message pops up that says this feature is not supported for the channel. When looking for on-demand content, you discover some channels have content and others have an empty library. It's a guessing game and it shouldn't be.
I've asked Sling about this and they plan to "roll this feature out to additional channels in the future." Hopefully, they'll update the User Interface as well so disabled features don't show for every channel.
Popcorn Anyone?
Sling TV also offers on-demand movies for rent with an additional fee per rental. The library of movies is somewhat small and is not as large as competitors, but it's a welcome addition to the package. Each rental is available as an SD or HD rental, with the HD being more expensive. The rental is available for a 24 hour period after it is first streamed.
When I tested this on the iOS devices, the rental process was very cumbersome. I suspect it's a work around for Apple's app rules requiring transactions to go through the App Store. To rent a move in iOS, you cannot actually rent the move within the app. You must save (bookmark) the movie and then go to another device or website to do the transaction. The Roku 3 did not have this restriction: the rental process there was much more seamless and straightforward.
Any Gotchas?
One major restriction is that SlingTV is a single-stream service. That means only one device can be active at a time per an account. You can use the account across multiple devices, but only ONE can be in use at any given time. If you're planning to use Sling TV across multiple TV's in your household simultaneously, you'll need multiple accounts. When you compare this to cable things aren't that different. In most cases to watch ESPN on a second TV requires a cable box on that other set, which means an additional rental fee for the secondary cable box.
From a channels perspective, Sling TV is not a fully a-la-carte situation. Many channels (notably premium channels like HBO and Cinemax, and the local broadcast networks) are not yet available and those additional channels that are available (e.g. Disney Junior and Disney XD) are bundled into packs. If you're looking for certain channels that exist across packs, you'll have to buy each pack (at $5/month). It would be great if you could select a custom channel list at a small fee per channel to build your own custom service package. In general channels are pretty limited right now, but Sling has plans to add more over time.
For those who want to get access to the local networks, for things like the Oscars, the Grammy Awards, the Super Bowl, network series and more, we'd recommend a local antenna and the HD tuner built into your TV. If you want to get a little fancier, try something like Tablo TV which gives you full DVR functionality for live local broadcasts and can stream channels to any TV in your house using the very same Roku or Fire TV box you use for Sling TV.
If you do use an antenna for over-the-air broadcasts, or other streaming services such as Hulu, it can be cumbersome if you want to "channel surf" through all your available channels or streaming options. Jumping between different sources to see what's on TV is not particularly enjoyable. This is an area where a single cable/satellite box may be preferred.
Turn-Ons:
Finally. ESPN without a cable subscription!
No contracts. Month to month.
Reasonably priced ($20/month)
Supports most popular devices
Turn-Offs:
Single stream (only one active device at a time)
Can't choose individual channels a la carte: still have "bundles" of channels
Inconsistent/missing features across channels
Cumbersome movie rental process on iOS devices
Final Thoughts
Overall, Sling TV is a great service. It does what it advertises while avoiding the baggage of traditional cable TV. It's month to month (no contract or credit check required), with no equipment rental fees, no crazy taxes, and is reasonably priced. It is ideal for those who are looking for a standalone ESPN/ESPN2 package along with CNN and other popular channels that cannot be received over the air, without having to deal with the hassle and expense of having cable.
For all you sports- and news-deprived "cord cutters" out there, this could be the answer you're looking for.
More Information:
note: Updated on 2/9/15 to add AMC to the list of available networks in the basic package. Also, the service has moved from beta test to general availability.