Sixteen Candles Blu-ray Review
By Rachel Cericola
The Film
For an entire generation of movie fans, John Hughes was a poet. The late writer/director had a way with words, characters and soundtracks. There will never be another filmmaker like him, and there will certainly never be another Sixteen Candles.
Note to Hollywood: Don't even think about remaking this classic. It's doubtful that would happen, anyway. A good portion of the movie would be considered anti-PC by today's standards. Also, despite having all four Beethoven movies amongst his writing credits, Hughes was pretty protective of his work -- and especially protective of his muse, Molly Ringwald.
This was the first of Ringwald's three collaborations with the director. However, Sixteen Candles was by far the funniest. It was also the film that launched Hughes as a director and Ringwald as one of the greatest teen stars of all time.
That's probably because audiences can identify with Samantha Baker (Ringwald). Awkward adolescent years, goofy grandparents, an annoying little brother and pining over teen love are things we can all identify with. Of course, Sam has bigger problems. Instead of celebrating her Sweet Sixteen, her family completely spaces on her birthday. That's because everyone is completely preoccupied with sister Ginny (Blanche Baker) and her upcoming nuptials to an "oily bohunk."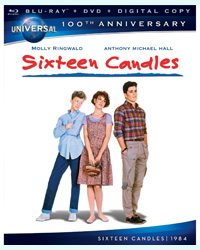 Sure Sixteen Candles is dated. Besides the fashions, the prize for gaining Sam's underpants is a dozen floppy disks. Remember those? Probably not, but this movie is one you'll never forget and will quote often. Even after (get ready to feel old) 28 years, Sixteen Candles is a true classic. It also has an insanely awesome supporting cast, including Anthony Michael Hall, Paul Dooley, Justin Henry, Billie Bird, Max Showalter, John Cusack, Joan Cusack, Darren Harris, John Kapelos, Jami Gertz and Brian Doyle-Murray.

The Picture
Having seen Sixteen Candles at least a billion times since its theatrical release, I can honestly say that this 1.85:1 transfer is a huge improvement over anything you've seen before. There are tons of colors here, and every one of them pops very nicely. The '80s fashions, in particular, look great here. There are also a lot of great textures sprinkled throughout. Just don't expect every scene to sparkle. In fact, more scenes drop the detail then put it on display. However, the bus seats, the jock straps, Grandpa Fred's sweater, and the dimple on Paul Dooley's chin all look great here. Also worth noting is that blacks crush in the film's darker scenes, like at the school dance, at Jake's party, and during the climactic scene. It's not great, but it's a nice overall improvement.
The Sound
Like the image, the DTS-HD Master Audio track provides a nice little boost to an awesome soundtrack. The film includes The Specials, Billy Idol, Stray Cats, Oingo Boingo, Thompson Twins, David Bowie, and countless other cool cuts. All of those little snippets offer the most surround action in the movie. Otherwise, the rest of the sounds stick close to the front, with the dialogue being very clear, as well as the main focus.
The Extras
This is one of the many Universal releases that jumps right into the film, with no main menu. It's becoming a trend, especially with the studio's 100th anniversary releases. It's also a trend that I don't really like one bit. That's not to say that there's a ton to navigate through. In fact, there are several missed opportunities.
What you do get is "Celebrating Sixteen Candles," a 38-minute retrospective that's divided into 10 parts. It features a lot of the cast members, as well as Heathers director Michael Lehmann and Juno screenwriter Diablo Cody. Um, what? Well, John Hughes, Molly Ringwald and Michael Schoeffling are all missing, so I guess they needed to fill some seats. It's not a new piece, but it's interesting nonetheless. It's just a shame that it's the only movie-related extra included in this set.
Final Thoughts
The long awaited Blu-ray debut of Sixteen Candles isn't totally disappointing, but could have been so much better. The audio and video are a nice little boost over the DVD, but it would have been nice if Universal had organized a reunion and cranked out a new extra or two. Think Anthony Michael Hall wouldn't show up? Sixteen Candles is one you'll want to pick up, but it just seems like John Hughes deserves a little better.
Product Details
Actors: Molly Ringwald, Paul Dooley, Justin Henry, Anthony Michael Hall, Michael Schoeffling, John Cusack
Director: John Hughes
Audio/Languages: DTS-HD Master Audio 5.1 (English), Dolby Surround 2.0 (French), Mono (Spanish, Portuguese)
Subtitles: English, English SDH, French, Spanish
Aspect Ratio: 1.78:1
Number of Discs: 2
Rating: PG
Studio: Universal
Blu-ray Disc Release Date: August 28, 2012
Run Time: 99 minutes
List Price: $19.98
Extras:

Celebrating Sixteen Candles
100 Years of Universal: The '80s
100 Years of Universal: Unforgettable Characters
Standard-Def DVD
Digital Copy