Singin' in the Rain Ultimate Collector's Edition Blu-ray Review
By Chris Chiarella
The Movie
Likely the most beloved MGM musical of all time, Singin' in the Rain is, appropriately enough, set in a time of high Hollywood glamour. It's 1927 and matinee idol Don Lockwood (Gene Kelly, who also co-directed) is riding high as a huge star of silent films. But with the release of The Jazz Singer, the entire industry is about to change, and he wonders if he has what it takes to remain big-box-office.
Teamed with his joke-a-minute best friend (Donald O'Connor) and struggling young performer Kathy (Debbie Reynolds), Don does his best to change with the times, but the gang really has the chance to show what they can do when his latest picture changes from a romantic adventure to a musical. It promises to be one of the biggest hits that anyone has ever seen, but a crafty, jealous leading lady might just bring down the entire studio, and squash Don and Kathy's budding love.
Now 60 years old, Singin' in the Rain continues to entertain audiences everywhere, owing mostly to the energy, exuberance and sheer talent on display, especially from the three leads. With catchy songs and lots of spectacular dance numbers, it is a true cinematic classic.
The Picture
Singin' in the Rain is the lucky recipient of a new 4K scan of the three-strip Technicolor negative (a complicated, costly film process that yielded a superior-quality image), here at 1.37:1. Fleshtones are lush and striking, and all of the colors are rich and beautiful as the filmmakers intended, albeit somewhat ironically in the scenes when they are shooting or discussing upcoming movies, since they are all going to wind up black-and-white!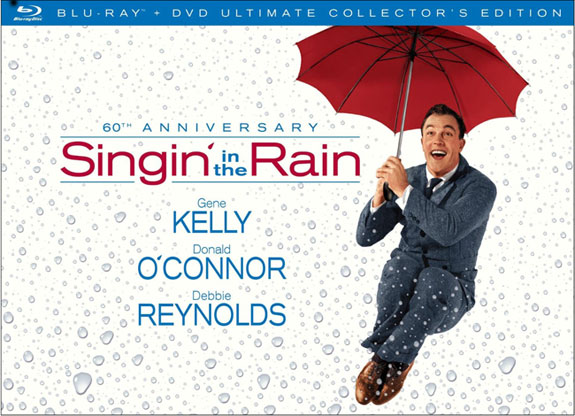 The process does yield a fair amount of grain along with the generous detail, from the pattern of an elaborate carpet to the stripes of a suit to the wrinkles in a dancer's stocking. Blacks are generally strong, showing frequent nuance in the gentlemen's dark suits, although the restoration has introduced some noticeable edge enhancement. All in all, quite a solid showing, six decades on.
The Sound
The audio is a 5.1-channel remix presented in DTS-HD Master Audio, a pleasing balance of the movie's simpler roots but also well-suited to the home theater. I paid close attention and heard minimal precipitation effects in the iconic "Singin' in the Rain" number, the surrounds here offer a rather a restrained rechanneling of some discrete musical notes to the back of the room, each clear and precise. The track is also marked by some deep but subtle resonance. Surprising for such painstaking restoration, the original mono has not been preserved as part of this set.
The Extras
The multi-participant audio commentary is ported from the 2002 DVD. Featured are performers Debbie Reynolds, Donald O'Connor, Cyd Charisse, Kathleen Freeman, co-director Stanley Donen, screenwriters Betty Comden and Adolph Green, filmmaker/fan Baz Luhrmann and historian/author Rudy Behlmer. New for Blu is a 51-minute retrospective in high definition, with admirers waxing upon why the movie is so darned great. A clear emphasis has been placed on young Hollywood, including cast and crew from Glee.
The nifty Jukebox feature meanwhile allows us to create and even save our own playlists of musical numbers from the film, playing our specific choices or simply all of the tunes if we like. Disc Two is a DVD of the remastered movie with the retrospective and the commentary. Despite a new paintjob, Disc Three here is identical to the old Disc Two from the special edition DVD, with an assortment of standard-def treats as detailed below.
It all arrives in a pretty, velvet-lined box, which also contains an extremely well-researched hardcover book, miniature reproductions of three special lobby door cards and--quite cleverly--a working Singin'-themed umbrella, with its own little metal charm.
Final Thoughts
Tremendous fun and treasured by generations, Singin' in the Rain is as joyous as ever and looks tremendous on Blu-ray. This limited Ultimate Collector's Edition is a fun, substantial keepsake for the most ardent fans, but a single-disc, Blu-ray-only version is also available, for those who simply want to enjoy the restored movie (and new documentary and jukebox) in HD.
Product Details
Actors: Gene Kelly, Donald O'Connor, Debbie Reynolds, Jean Hagen, Millard Mitchell, Cyd Charisse
Directors: Gene Kelly and Stanley Donen
Audio Format/Languages: DTS-HD Master Audio 5.1 (English), DTS-HD Master Audio 1.0 (German), Dolby Digital 1.0 (French, Italian, Castilian Spanish, Portuguese, Czech, Polish)
Aspect Ratio: 1.37:1
Subtitles: English SDH, French, German SDH, Italian SDH, Latin Spanish, Castilian Spanish, Portuguese, Czech, Danish, Finnish, Hungarian, Norwegian, Polish, Russian, Swedish
Number of discs: 3
Rating: G
Studio: Warner
Release Date: July 17, 2012
Run Time: 103 minutes
List Price: $84.99
Extras:

Archival Audio Commentary by Debbie Reynolds, Donald O'Connor, Cyd Charisse, Kathleen Freeman, Stanley Donen, Betty Comden, Adolph Green, Baz Luhrmann and Rudy Behlmer
"Singin' in the Rain: Raining on a New Generation"
Jukebox Jump-to-Song Feature
"Great Performances: Musicals Great Musicals The Arthur Freed Unit at MGM"
"What a Glorious Feeling: The Making of Singin' in the Rain"
Nacio Herb Brown/Arthur Free Film Excerpts
"You Are My Lucky Star" Outtake
Audio Scoring Stage Sessions
Stills Gallery
DVD of the movie plus selected extras