Sharp's THX-Certified 70-inch Ultra HD TV Goes on Sale for $7499.99 (LC-70UD1U)
By Rachel Cericola
Back in June, Sharp introduced the AQUOS 4K Ultra HD TV, also known as the LC-70UD1U. [Read Sharp Debuts First THX-Certified Ultra HD 4K HDTV at CE Week 2013 for more information on the TV's debut.] Now, it looks as though the TV is actually available for purchase.
Originally scheduled to make its retail debut in August, the announcement was a very big deal for Sharp. Not only was this 70-incher Sharp's first Ultra HD TV, but it was also the first in the category to receive THX 4K certification. That means that the TV was really put through the ringer to measure the set's picture quality.
The LC-70UD1U has that 4K image, which delivers four times the resolution (3840-by-2160) of a full 1080p HDTV. It also has Sharp's own Revelation 4K Upscaler for converting content to a 4K resolution, as well as a dual-core processor, built-in WiFi and Sharp's SmartCentral smart TV platform. The latter allows users to stream the likes of Netflix, Hulu Plus, VUDU, YouTube, Pandora and Rhapsody. There are also on-screen options for Facbook, Twitter and Skype (via an add-on camera). SmartCentral even has a split-screen feature, so you won't have to take your eyes off your regularly scheduled programming while surfing the web simultaneously.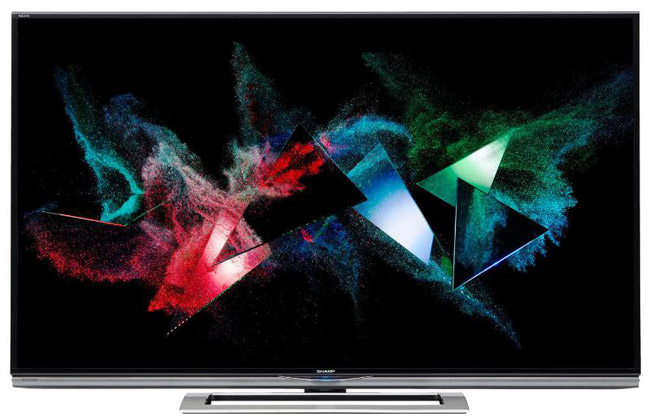 It's also worth noting that this set has a six-speaker sound system and Sharp's own DuoBass dual subwoofer system, which boasts 35 watts of sound from the TV's slick bezel.
Other features include a Wallpaper Mode, a 120Hz refresh rate with AquoMotion 240, four HDMI inputs, a built-in SD-card reader and two USB ports. Users can also send content from a smartphone or tablet using the Sharp Beam app and or control the TV using Sharp's remote apps for iOS and Android devices.
"For the past several years the focus with high-end television panels was on delivering a more exciting experience through size," said John Herrington, present of Sharp Electronics Marketing Company of America. "With the introduction of our AQUOS 4K TV, we now offer consumers an even more life-like TV experience coupling size with resolution and clarity."
Sharp is selling the LC-70UD1U AQUOS 4K Ultra HD TV now, with an MSRP of $7499.99.
Where to Buy: