Sharp Elite PRO-70X5FD 70-inch LED/LCD TV Review
By David Birch-Jones
Edited by Chris Boylan
Say Hello to my Not So Little Friend!
[editor's note: We'd like to welcome video maven David Birch-Jones as our new Video Editor.]
It was a sad day back for videophiles back in 2009 when Pioneer announced that they would be exiting the plasma HDTV business and discontinuing their Elite Kuro line (offered in 50" and 60" sizes). By then, the sets were considered by just about every video display reviewer (including me) to be best-in-class products, and while pricier than mainstream brand plasma TVs, they still represented a good value for the excellent performance they delivered. A final generation Kuro Elite plasma set still serves here as my reference flat panel display.
Last fall, Sharp and Pioneer announced that the Elite brand would be revived, but this time around, the new models (60" and 70") would be LED backlit LCD TVs, not plasma. Given Sharp's longtime devotion to the LCD flat panel display format and Pioneer's established reputation for top picture quality, attendees at last year's CEDIA show were treated to the first unveiling of the new sets.
While other LCD HDTV makers have pretty much moved away from offering LED sets with superior full array backlighting to embracing LED edgelit technology, the new Elite sets are the exception.  They are indeed true LED backlit LCD TVs with precision local dimming via hundreds, not dozens, of discrete LED local dimming zones. When asked about the number of LED local dimming zones at the CEDIA show, a spokesperson estimated about 300 for the 60-inch model and 600 for the 70-inch model. During a conference call to discuss the 70-inch review sample I received (the ELITE PRO-70X5FD), I asked the same question, but this time the answer was "a few hundred for the 60" set and a few hundred more for the 70" model."  Short of disassembling the panel (something the makers tend to frown upon), we may never know exactly how many dimming zones there are, but suffice it to say that there are quite a few.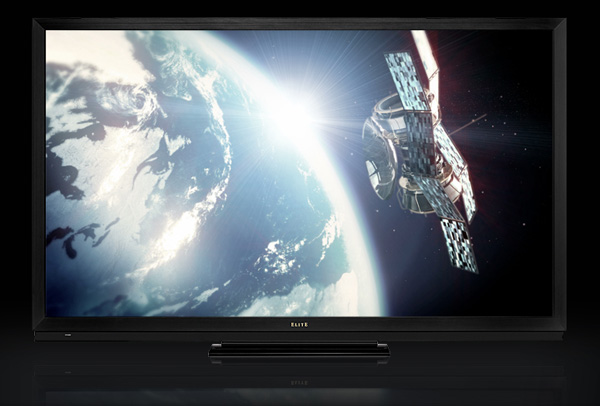 What's important to note is that the numbers are in the hundreds and not the dozens, which was usually the case with earlier LED local dimming sets, as the substantial increase in the number of local dimming zones alleviates if not eliminates the "halo" effect, where bright images against a dark background have soft whitish halos around them. (The current champion in that department is Dolby's $40,000 professional 42" LED backlit HDTV monitor, which features 1,500 individually controlled red, green and blue LEDs on the backlight panel, as opposed to the white LEDs used by Sharp and others.)
Both of the new Elite models are THX video certified, which is currently the most rigorous third party performance certification system for a video display. Interestingly, these aren't the first Sharp sets to be THX video certified - when THX first announced their video certification system, a Sharp set was the first one so certified to reach consumers, but the model was apparently only offered in Japan. However, due to product development and production scheduling issues, these sets are THX certified in 2D mode only (the THX 3D certification program was announced too late for this round of Elite models, apparently).
The Elite sets are also ISF certified, which means they're calibration-friendly. Instead of accessing the hidden ISF calibration controls by a passcode, ISF offers their calibrators a computer program that lets the technician adjust the set directly, without having to use the remote control, which is usually the case. (The Pioneer Elite Kuro plasma models were similarly computer-controllable during the calibration process).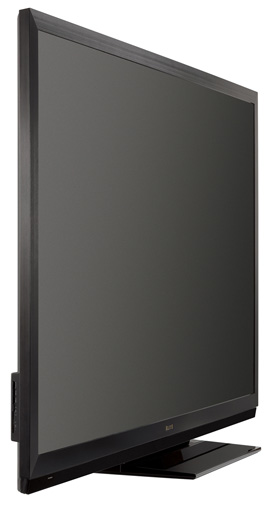 These new ELITE sets are also 3D-capable, employing the preferred active shutter glasses 3D technology, as opposed to passive 3D frame pattern retarder (or film patern retarder) technology embraced by LG, Toshiba and VIZIO for example. Passive 3DTV does have its advantages, I admit, such as a brighter 3D picture and comparably inexpensive glasses, but from a 3D picture quality standpoint, I'm certainly not alone in the reviewing community to strongly prefer the active 3D approach.
I've previously tested a Sharp 3DTV model, and was pleased to see that the set's active shutter glasses featured an innovative 3D-to-2D conversion option. Not everybody reacts the same way to 3D viewing, with some viewers reporting headaches and nausea-like symptoms. If one or more family members is so afflicted, they can activate the function on their glasses and see a perfectly watchable 2D image, while others can watch in 3D. The new Elite models offer this same capability.
The imaging panels themselves feature Sharp's Quattron four color pixel technology, with yellow being the fourth color, along with the traditional red, green and blue sub-pixels. What this provides is extra color saturation along the green through yellow to red portion of the color triangle. From a purist's standpoint, depending on who you ask, it's either a desirable attribute, or a dumb idea.
Our HDTV standard is built partly around an internationally standardized set of defined color points (the so-called Rec. 709 spec). However, the spec was codified many years ago, back when CRT technology was pretty much the only game in town, and the standard reflects the limitations of CRT phosphor technology. It's been generally accepted that due to these limitations, it's not possible to properly reproduce the true color of green grass - in real life, grass is much greener than can be depicted on TV.
But, if a viewer is keen on seeing exactly the same type of picture quality as seen in the HDTV studio or director's screening room, an HDTV display should ideally replicate that of the broadcast studio monitor, and that means adhering to the Rec. 709 colorimetry specification. Fortunately, the Sharp's THX video certification and provided THX Movie mode take care of that. Viewers wanting an expanded color palette can choose from one of the other available picture modes.
As top line sets, the new Elites are pretty much loaded with features, including built-in dual band "n" Wi-Fi as well as smart TV functionality such as video streaming via popular services such as Netflix, CinemaNow and Blockbuster. They also feature Sharp's Elite Advantage Live customer support system. This allows a consumer to contact a special customer support group if they have an issue they can't resolve, and as long as the set is connected to the internet, a service rep can actually remotely take over control of the set to see the various settings and make adjustments in real time while talking to the customer via the phone.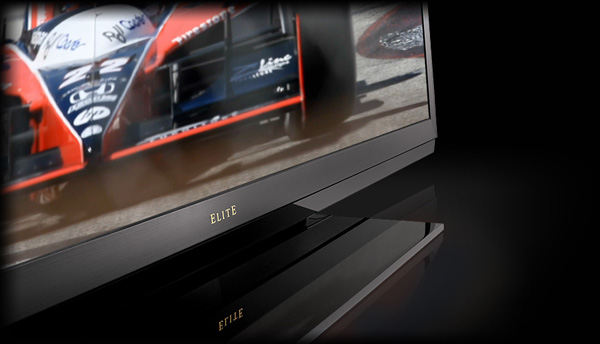 The Setup
I have both wired and wireless connectivity at the testing station, and was easily able to get the set connected to the internet via both types. Once connected, I was able to access the various pay TV streaming services offered, but one of them, Alphaline Entertainment (who I'd never heard of) only offered up a message that their service went belly up back in September of last year (apparently a Sears/Kmart venture). Such is the ever-changing nature of the still nascent content streaming services business. Other, more functional web connectivity apps include YouTube and Skype, for example.
With the Sharp Elite set, I deviated from my normal testing protocol, which is to measure first and critique later. This time, I selected the set's Elite Pure mode, which I guessed would emulate the comparable Pure mode of my Elite Kuro plasma reference, and spent some hours getting used to the picture quality.
Unfortunately, out of the box "Elite Pure" wasn't nearly up to the standard provided by the Elite Kuro plasma. The picture was overly color contrast-ey, skin tones were exaggerated, and there were visible brightness shifts as the screen content changed, often as quick as every few seconds. That surely is not how the Elite Kuro plasma behaves when it's in Pure mode. According to Pioneer, their Elite Kuro Pure mode was originally provided as a means to have the set emulate, as closely as possible, a Sony professional grade BVM-class HDTV studio monitor.
I asked Sharp about this, and was rather surprised to find out that the Elite Pure mode actually emulates the old Elite Kuro Standard (default) mode - that one left me scratching my head.  Fortunately, this mode can be turned off, and the set can perform extremely well when calibrated (more on that later).
The User Interface
The remote control is well laid out, and features pinkish-amber backlighting. The number keypad is highly legible, and the remote can control a satellite or cable tuner, a Blu-ray or DVD player, and an audio system.
Surprisingly, when I first powered up the Sharp Elite, my Pioneer Elite Kuro plasma (which was parked right next to it) powered up too. I grabbed the Pioneer remote and found that it controlled the Sharp. Why Sharp decided to use Pioneer codes instead of their own is a bit of a mystery. It's really no big deal, except in the case where an owner wants to use a programmable system remote control, and programs it with Sharp TV remote codes (which would only be logical, right?). Those codes won't do anything with the Sharp Elite.
Just under the cursor keypad resides a dedicated and prominent Netflix button. Word from a TV industry insider is that Netflix provided some sort of incentive to Sharp to place that button there - seems that the streaming pay TV business is more competitive than I thought.
On Screen Display
The Elite's OSD is blessedly uncluttered, with a half dozen logical sub-groups, clear text, and fine picture adjustment granularity. When called up it occupies about half of the left side of the screen. When adjustments are being made, the control stays on screen at bottom center, leaving the rest of the screen uncluttered, and the control doesn't run and hide after a few seconds of non-use (calibration technicians really appreciate this capability).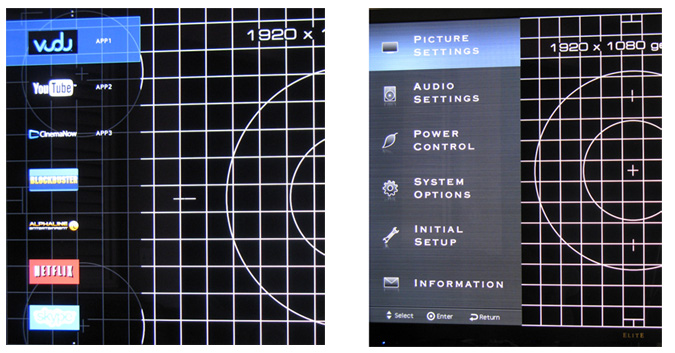 Adjustments for the set are pretty much where you'd expect them, and an available Audio Only mode blanks the screen to save energy, which is a nifty feature that let's you listen to your favorite talk shows or music channels when you don't feel the need to watch the program.
Optimum Picture Settings
Once the mystery of the Elite Pure mode was solved, I wasn't too surprised to find that the THX Movie mode provided the best measurement results out of the box, and correspondingly the best picture quality of all of the available modes, and that's the mode I used for all subsequent viewing.
Signal Processing Prowess
There are really only two important tests to determine the set's video processing performance - jaggies and cadence detection and correction. Using the HQV 2.0 Blu-ray test disc, and with the Blu-ray player set to 1080i output, I found that the Elite does an excellent job of upconverting HD interlaced content to 1080p progressive, with no jaggies in evidence.

On the 3:2 film cadence test, the detection and correction function simply wasn't up to snuff, however, as the TV couldn't reliably lock on to the cadence, and moiré came and went every two seconds or so.
However, and here's where there's often a disconnect between the test bench and real-world viewing, I spent dozens of hours watching HD movies and never once found any visible 3:2 pulldown conversion artifacts - no jaggies, no tearing and no moiré.  Also, if you connect a Blu-ray player to the TV at the default 1080p resolution, these artifacts will never show up.  The only time the set could potentially reveal these artifacts would be while watching film-sourced 1080i program material such as that broadcast on some over the air and cable networks.
2D Performance
In the THX Movie mode, the Sharp Elite delivered a sumptuous and satisfying HD experience. Skin tones were realistic, color quality was superb, and as expected, the deep blacks were incomparable.
One of my favorite new series is HBO's Luck, which boasts cinematography that rivals that of a first-rate Hollywood theatrical release, with lots of gorgeous outdoor shots at the Santa Ana horse race track where much of the action takes place. Close-up shots of the racehorses reveal ultra fine details, such as the sheen of their coats and the intricate threadwork of the jockey's colorful garb. A recurring scene has Dustin Hoffman's character relaxing on his bed, talking to his assistant played by Dennis Farina. The soft color tones of the bedding in the muted evening light are excellently reproduced and easily discernable on the Elite set.
Especially telling are the show's end credits, a simple white text on black affair. The white text is clear and crisp, and there's absolutely no evidence of halo-ing. The blacks themselves are just that - pure inky jet black, possibly even better than can be had with plasma.
3D Performance
Of the dozens of Blu-ray 3D discs I have on hand, I usually rely on just a few of them to evaluate a set's 3D performance. One disc I go to regularly is an IMAX 3D release of Under The Sea, which features an opening title sequence that itself is highly useful for critiquing 3D performance. As the title credits expand and move toward the audience, I'm easily able to discern problems such as resolution degradation and parallax instability.
Fortunately the Sharp performs superbly, and delivers a first-rate 3D performance. The 3D-2D downconversion works exactly as intended, with no artifacts or aberrations that I could detect.
As the disc features both 2D and 3D versions of the same film, I used the 2D version to evaluate the Sharp's 2D-3D upconversion feature. I wasn't surprised to find that the derived 3D effect was quite mild, compared to the disc's native 3D version (it seems IMAX 3D cinematographers like their 3D knob cranked up to "11", as it were). Still, the upconversion feature didn't produce any weirdness or wackiness that I could find.
Turn Ons:
Outstanding deep blacks with no visible haloing
Fairly wide viewing angle (but not nearly as wide as a good plasma)
Turn Offs:
Pricey, but Dad always said: "Buy the best, and cry once."
Final Thoughts
The final generation Pioneer Elite Kuro sets were, and still are in my opinion, the best of breed in the plasma category, and while recent LED/LCD models are getting very close to matching their picture quality as regards to color accuracy and black levels, the Kuro plasma still beats them in some ways, the most notable of which is a truly wide viewing angle.
In the race to make LED/LCD sets as skinny as possible, full array backlighting has, for the most part, fallen by the wayside in favor of LED edgelighting. That's not the case with the Sharp Elite sets, which are true full array LED backlit LCD models, and the large number of LEDs arrayed behind the LCD imaging panels helps to ensure that there's little to no visible "haloing".
The Sharp Elite set puts out the best picture I've yet seen from an LCD-based flat panel, with excellent color fidelity (in the THX picture mode) along with gorgeous deep blacks. It's very well equipped from a feature standpoint, and it provided thoroughly enjoyable viewing in both 2D and 3D modes.
The only downside here is the price: Suggested Retail Price of $5999 for the 60-inch model and $8499 for the 70-inch model under review.  Compared to Pioneer's first generation Elite plasma set (a 50" 720p model that had an SRP of $20,000), the new Sharp Elite sets are a comparable bargain, but they're still about double what premium competitive LED/LCD models currently go for.  But even so, if you want the best picture quality that LED/LCD TV has to offer, it's hard to do better than the Elite.
Manufacturer's Specifications: Sharp Elite PRO-70X5FD
Manufacturer's Contact Information:
Sharp Electronics Corporation
Sharp Plaza
Mahwah, NJ 07495
ph: 855-354-8301
On the web: www.elitelcdtv.com