Serenity Blu-ray Disc Review
By Peter Suciu
The Film
The big screen follow-up to Joss Whedon's cult favorite TV series Firefly is one that will surely satisfy fans, but for the same reasons will leave those without knowledge of the show practically adrift in deep space. But unlike other TV-to-movie sci-fi jumps (hello Star Trek or X-Files), Serenity does so by upping the production values without changing the core look and feel. However, the result is that it answers too many questions, resolves too many conflicts and relies on too much knowledge of the series. In the end, Serenity isn't so much a standalone movie as a big screen conclusion of a series cut way too short.
[editor's note: actually I enjoyed the movie immensely without having seen the series at all, so fear not, Firefly newbies! -CB]
The Picture
The Blu-ray version looks great. Having seen the movie on cable in HD, and having seen the HD-DVD version, for which this film was truly a reference worthy title, the Blu-ray actually manages to look even better. The widescreen 2.35:1 presentation is sharp and free of any artifacts or other visual distractions, so even if you think you've seen this one before, the Blu-ray is like seeing it for the very first time.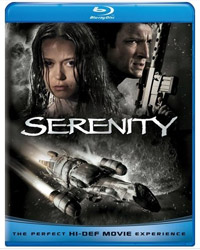 The Sound
Sound does not travel in a vacuum, but writer/director Joss Whedon takes the usual sci-fi liberties and the results are impressive. Again, while this one sounded good on HD-DVD, this title sounds just a bit better. The DTS-HD Master Audio 5.1 provides a full and dynamic audio track, where the loud sound effects rock the room and the subtle audio cues are properly isolated to add that touch of immersion to the experience.
The Extras
The HD-DVD version was loaded with extras, and while Universal had been a Blu-ray holdout for some time, the company has more than made up for it. In fact, to ensure that fans would be rewarded by having to buy the film yet again, the Blu-ray version adds a few extra bonuses. So while much of this might have been seen previously it is nice to see that Universal didn't short change those who need to pay up for this movie yet another time.
Final Thoughts
Fans of the series probably hoped that the film would spark a new outing for the crew of Serenity, but the final result is really just the ultimate closure. While that could be seen as a disappointment, it should be remembered that many cult TV series never get so much -- and in some cases those that do (hello again X-Files), by the time the film conclusion comes it is too little, too late. In the case of Firefly, the saga is pretty much complete, thanks to Serenity.
Where to Buy
Serenity on Blu-ray Disc (Amazon.com)
Product Details
Actors: Nathan Fillion, Alan Tudyk, Adam Baldwin, Summer Glau, Chwetel Ejiofor
Directors: Joss Whedon
Audio Languages: English DTS-HD Master Audio 5.1; French Canadian, French European, Latin Spanish, Castilian Spanish, German, Italian, Japanese DTS 5.1; English Dolby Digital 2.0
Subtitles: English SDH, French Canadian, French European, Latin American Spanish, Castilian Spanish, German, Dutch, Danish, Italian, Finnish, Norwegian, Swedish, Japanese, Korean, Traditional Mandarin, Greek, Portuguese.
Aspect Ratio: 2.35:1
Number of Discs: 1
Rating: PG-13
Studio: Universal
Release Date: December 30, 2008
Run Time: 119 minutes
List Price: $29.98
Extras:

Feature Commentaries with director Joss Whedon and case members
Deleted scenes with commentary by director Joss Whedon
Outtakes
Featurette: "Future History -- The Story of Earth That Was"
Featurette: "What's in a Firefly"
Featurette: Re-Lighting the Firefly
Joss Whedon Introduction
Extended Scenes
Featurette: "Take a Walk on Serenity"
A filmakers's journey
Featurette: "The Green Clan"
Featurette: "Session 416"
BD Live