Screen Innovations Shows Off Projection Screens that Work in Bright Rooms at CEDIA Expo 2012
By Rachel Cericola
When it comes to a big picture, there's nothing like a projection system. That said, projectors are not practical in the average living room, since they require total darkness to achieve the best effect. Well, Screen Innovations may have something to say about that -- or at least show.
The company had a variety of screens at last week's CEDIA Expo in Indianapolis, Indiana, to show that projectors can work even in brighter environments. Let's take a closer peek at the five new projection products that SI had on hand.
First up is the Black Diamond Motorized projection screen. Using the company's award-winning Black Diamond ambient light rejection screen technology, this model can actually "disappear" when not in use -- via one motor, four custom helixes, and a spool of slender aircraft cable. The screen also doesn't require any type of masking or black drop material, making it any even more covert option. It also means that any projected images will look like they're suspended in air. Other features include the promise of zero glare or reflection in any environment.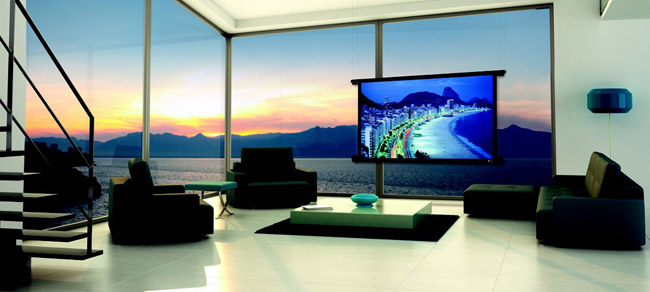 Another screen option is the new Black Diamond Zero Edge G2. According to SI, this is the world's first and only multi-directional ambient light rejecting projection screen technology that actually looks like a flat-panel TV. It has a super-thin 10mm bezel, the Black Diamond screen technology, and a Zero Edge screen. Also, an optional LED Lighting Kit can go behind the screen for added effect. Available in either black .8 gain, dark gray 1.4 gain, or silver 2.7 gain screen materials, the Black Diamond Zero Edge G2 has a starting price of $3099.
SI also had a trio of screen materials on display, starting with one called Solar 4K White. This front projection screen material has a new emboss pattern, which boasts perfect color neutrality and zero sparkle. Design to deliver stellar active 3D, a wide viewing angle and sharp images overall, the Solar 4K is now shipping in 1-inch increments and custom aspect ratios for Reference series models or in standard sizes and standard aspect ratios for Performance series models, up to 12 feet by 330 inches.
The Lunar 4K .85 Gray is another front projection screen material with a new emboss pattern designed for perfect uniformity, color neutrality and enhanced contrast. This one boasts a particularly nice performance with ambient light and/or for those utilizing brighter projectors. This one is also shipping now in 1-inch increments and custom aspect ratios for the Reference Series screens or in standard sizes and standard aspect ratios for Performance edition projection screens, in sizes up to 205 inches.
Finally, there's FlexGlass. This new rear-projection screen material can deliver the goods of rigid optical panels, but with the custom and curve capabilities from flexible screen materials. Boasting smooth images and an unmatched viewing angle, FlexGlass is designed to ditch hot spotting and has zero sparkle. Perfect for multiple-projector, edge-blending, and short throw projector applications, FlexGlass is available now in custom diagonal sizes and aspect ratios up to 7.5-by-131.23 feet.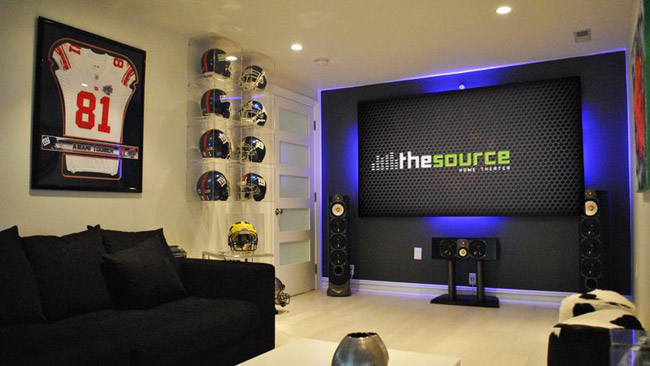 For More Information: