Science Channel to Air Firefly: Browncoats Unite 10th Anniversary Special
By Lora Grady
Attention Browncoats: Your to-do list heading into the weekend should include clearing your calendar, stockpiling snacks, and putting out "don't bug me" messages on Twitter, because come Sunday you'll want to devote all of your attention to Science Channel's sixteen-hour "Firefly" extravaganza. That's right, it's time to board Serenity again, for an all-day "Firefly" marathon followed by the world premier of the long-awaited tenth anniversary special, "Firefly: Browncoats Unite".

Anticipation has been building for the one-hour special, which reunites the "Firefly" cast and creators and will, according to the Science Channel, "...provide the complete oral history on the franchise that continues to explode in popularity." For those needing a quick tutorial, "Firefly", a "space western" from creator and nerd hero Joss Whedon ("Buffy the Vampire Slayer", "Dollhouse") ran on Fox in 2002 for a mere 14 episodes, gaining a small but passionate following before cancellation. A rerun pickup by Syfy proved so popular that a spinoff film "Serenity" was made in 2005, and when Science began airing the series last year, the groundswell of fandom continued.
Passionate Browncoats - as the show's devotees are called - continue to tune in eagerly when Science shows "Firefly", and they flocked to this year's San Diego Comic Con to be part of a standing-room-only reunion of the series' cast and creators celebrating the show's tenth anniversary. (See our Comic-Con "Firefly" coverage here and here.)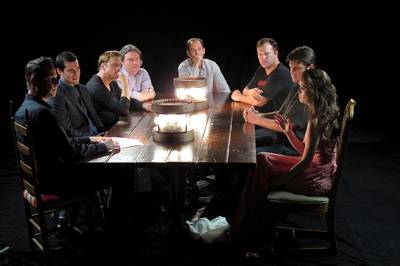 The folks at Science were in San Diego to capture all of the Comic-Con excitement, and in addition to the reunion panel, they also staged a special round-table conversation with the "Firefly" cast and the show's main writers. When the special debuts on Sunday it will be the first chance for fans to go behind the scenes and hear cast members Nathan Fillion, Alan Tudyk, Morena Baccarin, Sean Maher, Adam Baldwin, Jewel Staite and Summer Glau talk with writer Jose Molina and executive producer Tim Minear about developing the "Firefly" characters, how some favorite episodes were created, and the storylines we might have seen if the show had continued.
Big Picture Big Sound got a sneak peek at the special, and it's an absolute must-see for "Firefly" fans. Guided by Jeff Jensen of Entertainment Weekly, the cast and writers talk about the surprising benefits of producing a show that was under constant threat of cancellation, and how it was to learn that "Firefly" was being resurrected in movie form. There's also plenty of footage from the panel that was the big-ticket event at Comic-Con; you'll get the luxury of a front row view without the hassle of lining up outside the San Diego Convention Center. And Browncoats, prepare to tear up when an emotional Joss Whedon thanks fans for their support and passion: "When I see you guys, I don't think the show's off the air... the story is alive."
The series marathon that precedes the tenth-anniversary special is part of Science Channel's ongoing commitment to all things "Firefly". Says Science general manager and executive vice president Debbie Adler Myers, "Whether (it's) through exploring the science behind the show or reuniting the entire cast for the first time, we want Science Channel to be the home for Browncoats everywhere."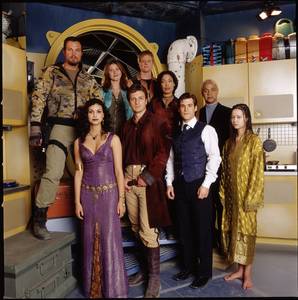 If you're looking for your own sneak peek before Sunday, Science announced earlier this week that they have two hours of extra "Firefly" footage in addition to what you'll see in the upcoming special. Just tweet @ScienceChannel using hashtag #FireflyNov11, and Science will unlock a new video for every 5,000 tweets they receive.
Shiny!
*
(*Don't know what this means? Tune in to Sunday's "Firefly" marathon to find out!)
Science Channel's Firefly Sunday extravaganza begins at 7am ET/PT with an all-day marathon of the series. "Firefly: Browncoats Unite" will premier at 10pm ET/PT, and will feature cast members Nathan Fillion, Sean Maher, Summer Glau, Adam Baldwin, Morena Baccarin, Alan Tudyk, Gina Torres, and Jewel Staite.
By the way, you can buy the complete "Firefly" series and the movie Serenity for a really nice price on Blu-ray over at Amazon.com.