Saw VI Blu-ray Review
By Chris Chiarella
The Movie
Another year, another Saw (Saw VI if you've been counting), released with the precision of one of anti-hero Jigsaw's nefarious mechanical traps. Yes, Jigsaw is no longer with us, but he is able continue his ironic tortures/murders from beyond the grave, with the help of his successor. This partner in brutal crime has been revealed to the audience (I won't spoil it by mentioning his name) and might have succeeded at framing another for his deeds, but a certain paranoia grips the proceedings as the investigation draws closer to the truth.
The serial killers' modus operandi remains to compel carefully targeted dregs of society to commit disfiguring acts upon themselves in order to stay alive, tapping into their most basic survival instincts as a lesson they will never forget. This time, the primary victim is a remorseless insurance company executive (always a crowd-pleaser), and once again we're supposed to derive a sick thrill out of all the sadistic mayhem. And if we don't, why would we be watching Saw VI to begin with?
The Picture
The Saw films' distinctive use of light and shadow can result in some unfortunate noise across the entire 1.78:1 frame. This problem varies from scene to scene, a shame because much of the movie is extremely clean and sharp, if never particularly spectacular. A lot of actor close-ups are used, and those show a pleasing level of detail, although some of the digital special effects are exposed in this high resolution. Colors are often dialed down to create a creepy feel, and flashbacks are also purposely softened as a visual cue to help the audience keep up, and both of these techniques are well-maintained on Blu-ray.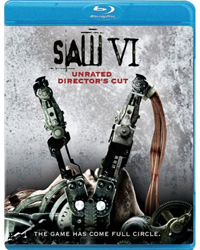 The Sound
DTS-HD Master Audio 7.1 is the sole option, and it's a fine one. We often find ourselves in big, mysterious dark rooms, and seemingly innocent noises from the surrounds really do their part to keep us off-guard. Weird echoes and unsettling phasing effects around and behind us also help to achieve the desired knot in our collective stomach. In general the soundstage is very active, the mix quite aggressive, typically reinforced by solid bass.
The Extras
Two different audio commentaries are provided, one with producer Mark Burg and executive producers Peter Block and Jason Constantine, the other from director Kevin Greutert and writers Marcus Dunstan and Patrick Melton. Two behind-the-scenes featurettes focus on the movie itself: "The Traps of Saw VI" (nine minutes) covering makeup and production design, and "Jigsaw Revealed" (six minutes) which salutes series star Tobin Bell's dedication to his craft. "A Killer Maze: Making Saw: Game Over" (eleven minutes) clues us in on the making of the horror attraction for Universal Studios theme park. All of these are in high definition.
Four music videos are also gathered here. Mushroomhead's "Your Soul Is Mine," Memphis May Fire's "Ghost in the Mirror," Hatebred's "In the Ashes They Shall Reap," and Suicide Silence's "Genocide/Saw VI Remix" run 15 minutes total, presented in MPEG-2 video. The disc also supports several of the cutting-edge technologies that have appeared on other recent Lionsgate Blu-rays, namely BD Touch for content-to-go on the iPhone/iPod touch, enhanced Metamenu control and LG LIVE online features for connected players. And in what may be a home video first, the studio has included a Blu-ray copy of the first movie in the Saw series as a bonus, but it is a low-bitrate MPEG-2 with standard-definition DTS and Dolby audio options and no real extras. It's certainly more than a tease, but less than the gift it might at first appear to be.
Final Thoughts
Yes indeed, Saw VI brings more of what fans have come to expect, which isn't such a bad thing: oodles of insidious graphic horror violence, shocking revelations and character returns. The audio and extras hit the spot, although the video quality is not the best I ever Saw.
Product Details
Actors: Costas Mandylor, Mark Rolston, Betsy Russell, Shawnee Smith, Peter Outerbridge, Athena Karkanis, Samantha Lemole, Tanedra Howard
Director: Kevin Greutert
Audio Format/Languages: DTS-HD Master Audio 7.1 (English)
Subtitles: English, English SDH, Spanish
Aspect Ratio: 1.78:1
Number of discs: 2
Rating: NR
Studio: Lionsgate
Release Date: January 26, 2010
Run Time: 92 minutes
List Price: $39.99

Extras:
Audio commentary by Kevin Greutert, Marcus Dunstan and Patrick Melton
Audio commentary with Mark Burg, Peter Block and Jason Constantine
"The Traps of Saw VI"
"Jigsaw Revealed"
"A Killer Maze: Making Saw: Game Over"
Music Videos:

Mushroomhead, "Your Soul Is Mine"
Memphis May Fire, "Ghost in the Mirror"
Hatebred, "In the Ashes They Shall Reap"
Suicide Silence, "Genocide/Saw VI Remix"

BD Touch
Metamenu
LG LIVE
Blu-ray Copy of the original Saw movie