Samsung UN65HU9000 Curved 4K UltraHD LED/LCD TV Review
By David Birch-Jones
Edited by Chris Boylan
Curvalicious
When I first laid eyes on Samsung's curved TVs, I thought that it was kind of a wacky idea, but then I started to think about it, and I could see why it would be appealing to some TV buyers.
I have many years of experience watching front projection TVs with curved screens. Back in the 1980's I had a Kloss Novabeam, and over the last 7 years I've continued to enjoy the curve courtesy of various home theater projectors and a curved, motorized Stewart Filmscreen CineCurve screen.  In addition to the curve, the Stewart screen lets me watch widescreen movies in their native 2.39 aspect ratio with no black bars thanks to a motorized Panamorph anamorphic lens mount and lens duo.
Curved movie screens have been found in better theaters for decades, and can be very immersive in large screen home theaters as well. But would the concept translate to the smaller screen of a "flat panel" TV?
That it's doable at all is remarkable. I've been fortunate to get the grand tour of 3 Asian flat panel HDTV factories in the last 10 year: one plasma plant, and two LCD plants - one of those was Samsung's incredibly massive LCD plant that went online a few years ago. Watching the panels themselves as they were assembled, I simply had no idea that anybody could figure out a way to make those things curved.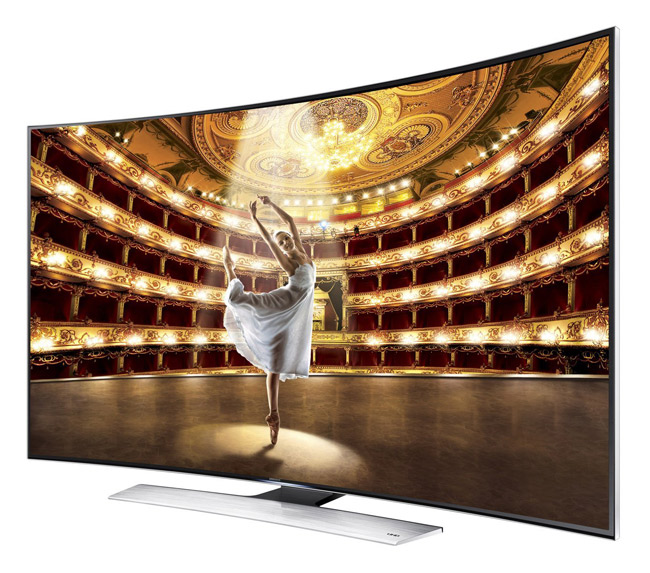 So I was pretty excited to get Samsung's 65-inch UN65HU9000 LED/LCD UltraHD TV in for review. I was fortunate to also have the closely related (but flat) sibling, the UN65HU8550 in at the same time. Having both allowed me to go deep into both TVs, to note similarities, and just as importantly, any differences.  If you're not interested in the comparison, scroll down a bit to dig into the HU9000's details.
The main differences between the HU8550 and the HU9000 include:
The HU9000 is curved while the H8550 screen is flat.
The HU9000 has a built-in pop-up camera, for Skype video calls and motion interactivity; that's an add-on option for the HU8550.
The HU8550 has a conventional jack panel, whereas the HU9000 ships with their One Connect external box - you connect all your gear to the One Connect box and run a single (supplied) cable to the TV. However, the HU8550 is equipped with a One Connect jack, so if Samsung offers an upgrade for it in the future, it will be via an optional One Connect box.
The HU8550 is powered by a quad core processor that handles the smart apps and web browsing duties, while the HU9000 is equipped with what Samsung calls a Quad Core+ processor, suggesting a little more processing "oomph".
Both TVs feature micro-dimming of the LED backlights (which are along the screen's left and right edges), with the HU9000 providing more dimming control.
The HU8550 is equipped with a video processor that references 27 color points, while the HU9000 features what they call PurColor, with the video processor able to reference 192 points.
The HU9000 is equipped with an auto depth enhancer function (but I found it to be of very limited value).
The HU9000 is equipped with Cinema Black, which disables the topmost and bottommost LEDs when playing letterboxed content to deliver truly black bars at the top and bottom of the screen.
One Connect To Rule Them All
When I first saw the One Connect box, which all source devices are connected to and then a single cable is run to the TV, I thought it was a brilliant idea. While some other recent Samsung TVs have a space reserved on the rear panel for an upgrade kit (Evolution Kit), with the introduction of the One Connect box, all of the critical video processing functions are in there, and if an upgrade or spec change requires it, there's no need for major surgery to the TV - the One Connect box simply gets replaced.

That happened with some of Samsung's TVs last year - adding HDCP 2.2 compatibility and HEVC decoding for streaming 4K content. The cost to the customer for the upgraded box was a most reasonable $300 - I have to assume that the upgrade box was priced very close to landed cost, with little to no markup along the way. It's a nice way of letting customers get the latest features without having to buy a whole new TV.
For the 2014 range, there aren't any immediate plans in the works for a future One Connect box upgrade, but that the HU9000 has the capability to accept it should give comfort to enthusiasts to know they won't have to shell out big bucks to swap out the TV if future improvements - even new connection standards - do come down the pike.
3D? Is That Still a Thing?
The HU9000 is a 3D-capable set, and comes with 4 pairs of active shutter 3D glasses with Bluetooth/RF synchronization to the TV. I much prefer active shutter 3D technology, as you get to see the full resolution of the TV, and with none of the objectionable artifacts that accompany passive polarized 3D TV. The glasses are coin-battery powered and therefore not rechargeable, but the batteries they use are cheap and easy to find. They're also very lightweight, and super comfortable to wear. Samsung claims about 70 hours of use per battery and replacement glasses come with two batteries in the box, for under $20/pair.
We're All Connected
The One Connect box has pretty much all of the connectivity options one would expect these days, including 4 HDMI inputs (1 with Audio Return Channel), a component video input, a composite video input (the component input can double as a second composite input), and the 3 USB ports. An RJ-45 LAN port is provided for wired connection to your network, and the set is equipped with built-in Wi-Fi. There's an optical digital audio output to connect to an AVR or sound bar system, along with a stereo analog output (Yay!) for connection to an external stereo system.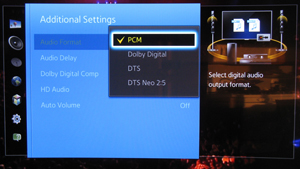 The antenna jack and a port for the supplied infrared flasher round out the package, and the USB ports are conveniently on the right side of the box for quick connects and disconnects. The box itself is quite compact and lightweight and it easily fits under the TV's screen parked on top of the sleek TV stand's base.
For on-wall installation however, that One Connect cable comes with a glaring defect: it's a rectangular-shaped cube with very sharp points on the corners, and is (I think) sized for style rather than functionality. For in-wall wiring, the National Electrical Code specifies that any holes drilled into wall studs and fireblocks (horizontal 2x4's placed between the vertical studs) be limited to 1/3 the maximum diameter of the width of the stud.
For a typical 2x4 wall stud or fireblock that typically doesn't measure 4" (it's often closer to 3.5"), that means the installer is limited to drilling a hole that's only a little over an inch in diameter (about 1.2"). Measured across the diagonal, the connector plugs' very sharp end points measure out at 1.12" apart, leaving a scant 10th of an inch or so wiggle room. For a conscientious installer who wants to do a good job and also meet code, that connector is going to present some misery as it won't be easily "fished" through a tight fireblock hole, possibly necessitating tearing out more drywall than he might otherwise have to (and subsequently having to install larger patches and then re-tape and re-paint, etc.).
The One Connect cable's length is 3 meters (just under 10 feet), and Samsung does not offer an extension cable (the cable, the TV and the One Connect box use multi-pin connector that I've never seen used on a CE device). That 10 foot restriction further adds to possible problems when hanging the TV high up on a wall, and having the source components in an equipment closet further away.
The Setup
No problems encountered during the setup process - I only needed to answer a few questions about location, etc., and sign in to my Wi-Fi network. The supplied IR flasher is used for remote control of cable and satellite boxes from the TV's remote and from the SmartHub screens. Without any fuss I was able to choose from either the Samsung remotes or the DISH remote to control my DISH Hopper DVR.
Oowie, That's Some GUI!
Virtually identical to its flat panel sibling, the HU9000 has a clean, modern on screen design and user interface, with the Smart Hub categories grouped into 5 screens. The main screen has a large TV window along with program suggestions, while the adjacent apps screen has all the content providers, streaming services and such.
Via the built-in camera, motion control of the TV is possible. But, the camera must be manually popped up, and if the TV is mounted fairly high on the wall, that might be a bit difficult for folks who are vertically challenged. The camera can also be used as a still camera, for video capture and for Skype calling.
I had previously tried the motion control function on Samsung's F8500 plasma set last year, and wasn't impressed at all. Unfortunately, I still haven't warmed up to it on the HU9000. It's good for a demo, to impress your friends, but I can't see it being popular in actual day-to-day use. It's just too tiring to hold your hand up in the air and carefully position the cursor on screen in order to navigate through the menus. Is it really the difficult to hold a remote control?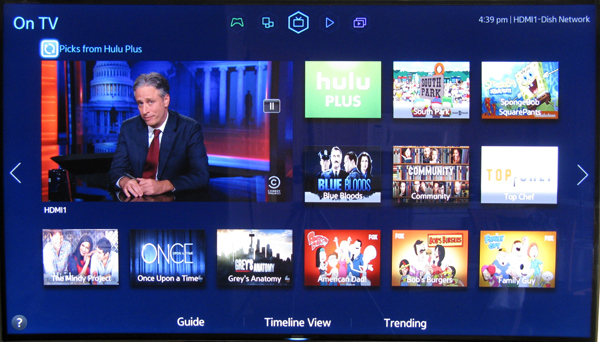 There's a brief tutorial in the Settings menu that advises the proper distance from the set the operator must be seated at is from 1.5 meters to 4 meters (5 feet to 13 feet) away, which conflicts with the recommended viewing distance for Ultra HD (5 feet or more is too far away from the TV to resolve Ultra HD - you need to be up close - at 1.5 times the TV's picture height, which is 4 feet for the 65" HU9000). This time around, I didn't even get past the tutorial without cursing at the TV and giving up.

The TV ships with two remotes, an oval remote with a cursor/touchpad and built-in microphone for voice recognition, and a more conventional push-button remote that has a very clean design (it's also backlit, which is a plus).
I called up the web browser app, and via the voice remote, said "www dot speed test dot net", and the browser was able to get me to the speed test website so I could test my download speed. I used other similar commands, and the translator got almost all of them right. So while motion-control didn't do much for me, voice control worked surprisingly well.
For serious web browsing however, I'd recommend getting a wireless Bluetooth keyboard with a built-in mouse pad, which the Samsung can accommodate.
Better, Smarter, Faster
The HU9000 is said to be powered by a Quad Core+ processor (the HU8550 is powered by a Quad Core, but no +, processor), suggesting that the 9000's chip might have a little more zip. With both TVs up and running, I couldn't seem to find any speed boost attributable to the + chip, with the exception that 4K Ultra HD test patterns on a USB drive loaded just a bit faster on the HU9000 compared to the HU8550).
Either way, both TVs were much quicker to respond to commands than some earlier generations of Smart TVs, and the web browser function was sufficiently quick, with pages loading much faster than I've been used to with other smart TVs.
The broad selection of apps includes streaming video and audio content sources, with Amazon, Netflix and Vudu heading up the subscription video streaming choices. As Netflix offers some 4K Ultra HD content, I went to that app and was able to get reliable, glitch-free streaming of "Breaking Bad" and "House Of Cards", both of which looked just great in 4K. There was also a art documentary, "Moving Art: Flowers", a gorgeous collection of close-ups of richly colored flowers blossoming in 4K time lapse.
It's also worth noting that I was able to watch the above Ultra HD content, and other 4K content off YouTube, via the Wi-Fi connection, which at my home is via a bog standard Cisco Linksys b/g (not "n") device. I'd read elsewhere that for 4K streaming, you need a higher bandwidth b/g/n Wi-Fi setup, but that wasn't the case here - everything streamed fine with nary a hiccup.
As far as the Smart View 2.0 function goes (which supposedly lets you watch on your mobile/tablet whatever is on the TV), it's a complete bust. At least, it was for me.
From the Samsung website:
"Turn your phone, computer or tablet into a second TV with Smart View 2.0. Whatever is playing on your TV, Netflix, VOD or live TV is streamed to your mobile device as well. This lets you watch your favorite movies, shows and sports all around the house"
It does nothing of the sort.
I tried the app (2.0) on my iPad, and while I was able to get it to recognize the TV, it always came back with the same error message, telling me that "You can't watch TV on your mobile device with your TV in the current mode", which occurred when I tried to watch a program via my DISH Hopper DVR, when I tried a YouTube clip from within SmartHub and a TV show via Netflix.
The numerous negative comments on the iTunes app site told me that I wasn't alone as others were experiencing the same thing. And, in the on screen e-manual, there's no mention at all of the SmartView function, so there's no way to know how to set the TV into whatever mode it needs to be in for the function to work. The only consolation is the app comes with a touchpad remote control panel that worked fine.
"Do not attempt to adjust the picture" (The Outer Limits)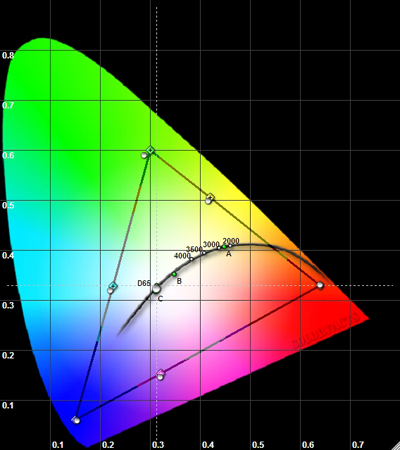 Interested in tweaking your picture for best results? Grab your remote, select the Movie mode, and you'll be all set. Seriously. Samsung's Movie mode is the closest it gets to a color-perfect calibrated image without a professional calibration. After some time getting used to the TV, you can experiment with various picture control options and try each one to see if it works for you or not. Personally, I prefer to disable all picture processing functions (Dynamic Contrast, Black Tone, etc.) right at the outset, and then try each one individually later on to see if it adds to, or takes away from, the picture quality.
However, one control you should try early on is the Auto Motion Plus feature, which offers a Custom mode that provides dual compensation controls (one for film-originated content, the other for video content).
These let you adjust the amount of video smoothing and de-judder independently, which is a great feature. The de-judder control can be adjusted for a bit, or a lot, of compensation, so you can smooth things out without making film content look too "video-ey". The feature works fine with 4K Ultra HD content, with no evidence of tearing or shredding.
The Analyzer Speaks
As has been the case with a number of Samsung TVs I've tested in recent years, the Movie mode proved to be, by far, the best choice to obtain the best test bench results, and the HU9000 measured very well on all the key metrics.
I was especially keen to run an extensive sweep of color and gray scale test points, as the HU9000 has a 192 point color look up table as an internal reference (that's more than 7 times as many reference points as the HU8550's 27 points).
The result, measured in DeltaE (DeltaE, or dE, is a metric for color variance), was excellent, with an average dE of 2.06 - if average dE is 3 or less, that's an "A" score (especially since this was achieved with the out-of-the-box factory default picture settings).
And with a full calibration it can be made to be even better, if you're really fussy about fine-tuning the HU9000 to achieve its fullest potential.

Love the Picture? Don't Move!
With broadcast HD, Blu-ray and streaming HD and 4K content, the HU9000 delivers a fine picture. But, that's only true when viewed head on. Move off to the side, and deep blacks disappear only to be replaced by bluish dark grays, and color contrast fades accordingly, with a noticeably pale color palette as the result. If you sit off center by even a small amount, the difference is obvious (much more so when viewing at night in a subdued lighting environment). It's bad enough that we're knocking 1/2 star off what would have been a perfect 4 star-rating for video performance.
And unfortunately, this off-axis viewing issues is a trait that is endemic to most LCD-based imaging systems.  It's nothing to worry about if there are only one or two viewers in your household, and they're parked directly in front of the TV. Offside viewers however, won't be enjoying as good a picture as the lucky one or two cozied up directly in front.
Just How "Ultra" is this Ultra HD Thing Anyway?
TV makers tout 4K Ultra HD as having "four times the detail of 1080p HDTV!" And technically, that's true, if you count the pixels. But does it make that big a difference to the average viewer at the average viewing distance? That is the question!
To check 4K Ultra HD performance, I went to Netflix and streamed multiple episodes of "Breaking Bad" and "House Of Cards" in 4K, and both series looked excellent. Samsung offers a UHD Video pack for $399, which is currently bundled with the U9000 for free. It's basically a hard drive pre-loaded with ten full length movies and about 30 shorter documentary-style videos, all in native 4K resolution. It's internet-enabled so new content can be downloaded over time.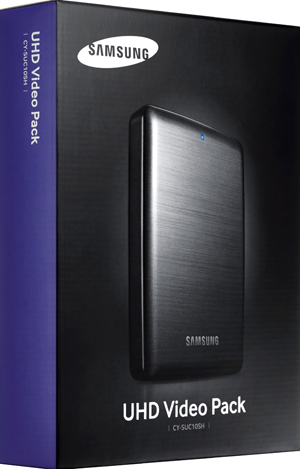 I compared one of the 4K movies, "World War Z", to the Blu-ray version (upconverted to 4K by the TV) and found that both looked great, but there was not a night and day difference, even when seated pretty close to the TV (as is necessary if you want to be able to truly resolve 4K). But, that movie is heavy on CGI effects, which tends to soften high action scenes. I go into a bit more detail on the difference between 1080p and 4K in
my review of the HU8550
so check that out if you want to know more.
One of the documentaries on the drive, "Grand Canyon Adventure" is definitely worth watching. Shot in 4K Ultra HD video, the doc details the unfortunate decline of the Colorado River's water levels over the last number of years, and is especially notable for anyone in the US Southwest with our recent drought. Narrated by Robert Redford, the doc features spectacular imagery and looks superb on the HU9000 (and similarly superb on the HU8550).
One of the HU9000 features touted is their Auto Depth Enhancer, which purports to improve perceived depth. However, and for whatever reason, it's only available in the Standard and Dynamic modes. Plus, it's always on, so there's no way to see what it's actually doing via A/B comparison.
In order to check it out, I had to go to the settings for Standard, Natural and Movie, and tweak Standard and Natural to get the picture to be as close as possible to the preferred Movie mode. The TV doesn't allow direct picture mode access, so in order to go between Standard (which has the function) and Movie (which doesn't) I had to jump past the Natural mode.
Try as I might, I could see no difference at all when comparing Standard to Movie mode, at least as far as any depth enhancement. Editor Chris Boylan saw the feature demonstrated at a CES briefing earlier this year and said the effect is more visible on certain content and it can offer a slightly more three-dimensional image without the need for glasses.
But if Samsung were serious about the feature, they'd offer it on all modes, with the option of turning it on and off to allow A/B comparison, and if they were really serious about the feature, they'd offer a split screen demo mode.
Since they obviously don't take the Auto Depth Enhancer function seriously, I didn't see any reason why I should.
Enter the Third Dimension
No doubt due to their continued embrace of active shutter 3D technology, Samsung's recent 3D TVs blow away the passive polarized competition, and the HU9000 delivers a fine 3D picture. I checked out a number of 3D movies I have on Blu-ray, and all looked just fine. One go-to 3D I always use is "Under The Sea," an IMAX documentary that's filled with sumptuous 3D imagery. The opening titles are especially difficult for passive 3D TVs to get right (they never do), but here they were glitch-free. The supplied 3D glasses are lightweight and comfortable, and because they get their sync signals from the TV via RF, there wasn't any dropout even if I looked away from the screen.
The set has a number of 3D adjustments, including separate depth and panorama adjustments that let you dial up or down the 3D effect. The 2D-to-3D synthesizer function delivers a mild, but noticeable 3D effect, if you're really into watching 3D fulltime.
Turn-Ons:
Very good picture quality (but only when viewed head-on)
Wide variety of smart TV apps, including Amazon, Netflix and Vudu streaming services
Ability to download additional apps
Future upgrade capability via the One Connect box
Active shutter 3D glasses with RF sync for full resolution 3D viewing
Voice recognition that works well if you speak slowly and clearly
Comes with 2 remote controls
Reasonably zippy web browsing (but do consider an external keyboard with built-in mousepad)
Turn-Offs:
Noticeable contrast fading and color washout when viewed from off axis; the gorgeous deep blacks vanish
Non-rechargeable 3D glasses
Touchpad remote control is a little too sensitive, even when set to its lowest sensitivity setting; hard to nail on-screen buttons on the first pass
Cable for One Connect box to the TV is only about 10 feet long, which may be too short for some installations
Connector for the One Connect cable features bulky termination block on each end; a real concern for custom installers if they want to do an installation that meets fire code
Content mirroring via the Smart View app from the TV to my iPad didn't work for me
Final Thoughts
While mildly deficient in some areas, overall the HU9000 is a first class TV, but that's only when viewed head on, as the fall-off in picture quality when viewed off axis boots the TV from front cabin to back of coach. The out-of-the-box performance (once the TV is in Movie mode) is just great, and the curved screen adds to the "wow" factor (visitors to my house during my time with the HU9000 marveled at it).
As long as you (and your sweetie) can sit directly in front of the set, you'll be rewarded with a picture that in many respects rivals premium class plasma TVs (and I don't get to say that very often when talking about an LCD-based TV).
That the HU9000 can be upgraded in the future by swapping out the One Connect box is a major plus, with the added bonus of being able to run only two wires to the TV (the One Connect cable and the power cord (as long as your source equipment isn't located too far away from the set).
I leave it to you to decide if the motion control capability is appealing (to me, it isn't), but the built-in webcam is certainly a plus for Skype calls, and the inclusion of two remote controls is another plus.  It's expensive, relative to the competition, but you'd be hard-pressed to find a better-looking, more full featured, more stylish UHD TV than Samsung's HU9000.
Manufacturer's Specifications (Samsung UN65HU9000)
Manufacturer's Contact Info:
Samsung Electronics USA
85 Challenger Road
Ridgefield Park NJ 07660
ph: 800-726-7864
on the web: www.samsung.com