Samsung Starts MU Series 4K Ultra HD TVs at $549
By Rachel Cericola
A few weeks back, Samsung Electronics was talking up the 2017 QLED TV lineup. Now the company is introducing a more affordable option for 4K TV shoppers.
Samsung just started selling the 2017 MU Series. This new offering includes four models of 4K Ultra HD TVs, ranging from 40 to 82 inches. Each set features a 4K image, High Dynamic Range (HDR) support, and Smart TV features.
The most affordable model can be found in the MU 6 Series. This lineup includes sizes ranging from 40 to 75 inches, with that 40-incher starting at $549. In addition to the standard MU features mentioned above, this model has Motion Rate 120, built-in Wi-Fi, Bluetooth, three HDMI inputs, and two USB ports. It also comes with the Smart Remote Control, which has voice recognition capabilities for easy navigation. The MU 6 Series includes a total of six flat-screen models, with three curved screens from 49 to 65 inches.
As a step up, the MU 7 Series promises a wider range of colors, thanks to the 4K Color Drive Pro and HDR features. It also comes with a 360-degree design, Essential Black Pro image technology, Motion Rate 120, Wi-Fi, and Bluetooth. Each of these models also has three HDMI inputs, two USB ports, and comes with the Smart Remote Control. The MU 7 Series is available in four flat-screen models ranging from 40 to 65 inches, with an additional three curved sets in 49-, 55-, and 65-inch screen sizes.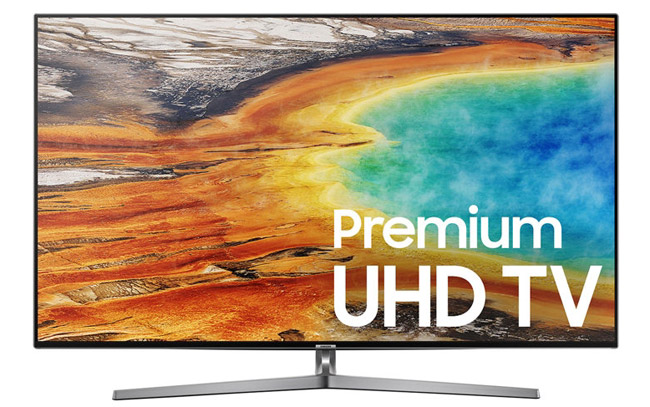 The MU 8 Series is available in flat-screen sizes ranging from 49 to 82 inches. There are also two curved models, in 55- and 65-inch options. These sets include 4K HDR Extreme and 4K Color Drive Extreme image technologies, as well as Triple Black and MR 240. All of these perks promise to deliver the darkest darks and the brightest whites, but with expanded depth and color as well. All MU 8 sets also come with the Smart Remote Control, Wi-Fi, Bluetooth, the 360-degree design, four HDMI inputs, and three USB ports.
At the top of the MU Series is the MU 9, a lineup that includes 55- to 75-inch screen sizes. These models include the 4K Color Drive Extreme and Triple Black Extreme, which promises to deliver better HDR starting at $1,999. All MU 9 models also have an anti-reflective layer to cut down on glare. Each one comes with a bevy of features, including Wi-Fi, Bluetooth, the 360-degree design, Samsung's Clean Cable Solution, the OneRemote, four HDMI inputs, and three USB ports.
Most of the MU Series is selling now, with additional models coming soon.
Where to Buy:
More Samsung News: