Samsung HT-C6500 Blu-ray Disc/DVD Home Theater System (HTiB) Review
By Dennis Burger
Edited by Chris Boylan
Samsung HT-C6500 Review
Home Theater, Please. Extra Features, Hold the Cheese
What is it about things with a noun-preposition-article-noun moniker that attracts derision? Soap-on-a-rope? Pretty good idea if you ask me; in practice, it's little more than a source of prison humor. Cheese in a can? One can only assume this brilliant concept is a laughing stock because they decided to use cheddar instead of Wensleydale.
Home Theater in a Box? Umm... yes, please. Not as a substitute for the multi-thousand-dollar system in my main media room, mind you. But as an upgrade to TV-speaker sound in my master bedroom, the ease of setup, simplicity of operation, and value make an HTiB system perfect for a room that probably wouldn't have surround sound otherwise. HTiBs are also perfect for those who don't have the budget or desire to build a more complicated home theater system.
So what's with all of the aitch-tee-eye-bee Haterade in the home theater enthusiast community? I have to think it's because most Home Theaters in (a) Boxes aren't half as cool as Samsung's new HT-C6500 Blu-ray Disc/DVD Home Theater System.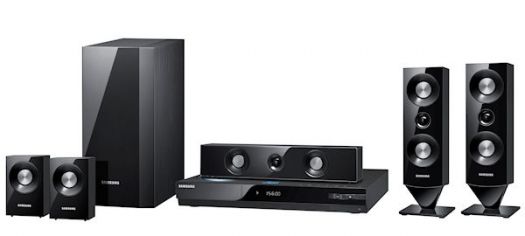 As with Samsung's previous HTiB efforts, the HT-C6500 combines a Blu-ray player with online and media streaming capabilities, an iPod dock, and an A/V receiver (with 1000 watts of total amplification in this case) in one glossy little black box -- a box, I might add, that  bears no small resemblance to Samsung's new BD-C6900 Blu-ray player, with its sexy drop-down disc tray door, heat-sensitive topside touch controls, and sleek circular window in case you feel the urge to take a peek at the disc you're spinning.
The comparison comes to a quick end when you turn the HT-C6500 around, though. In addition to the sort of outputs you would expect from an A/V device -- HDMI, component, even composite (although no S-Video), as well as stereo audio outputs -- it also boasts not one, but two HDMI inputs as well as an optical audio in.  This means you can easily hook up other devices such as a cable or satellite set top box, conveniently routing both picture and sound through the HTiB.  In the speaker department, there's a slot for an optional wireless surround speaker transmitter, and six proprietary, color-coded speaker connections.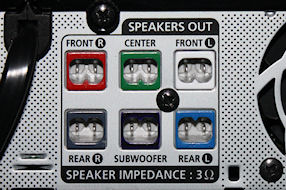 That last point is admittedly a bit controversial, since, unless you want to do a lot of splicing, it limits the speaker cable upgrade path for the system. But to be fair, Samsung provides plenty of speaker cables in the package -- one each for six speakers in the system, all pre-terminated on one end - at lengths more than sufficient to reach along the walls and up the corners in my 12-by-15-foot master bedroom. It's just one of the things that make setting up the HT-C6500 system a snap.
Another is the straightforward setup wizard and automated room calibration, with microphone. Once the system's speakers are in place and the HT-C6500 is connected to my display via an HDMI cable (just about the only thing not included in the box), it's a matter of mere minutes before everything is up and running, completely calibrated, connected to the 'net via the system's integrated wi-fi, and I'm ready to start watching movies.
Load 'Em Up
You load-time junkies in the audience will be happy to know that watching movies doesn't involve a lot of waiting around, either. To test standard DVD load times, I pop Amélie in the tray, press play, and click the stop button on my stopwatch at about 9.5 seconds as the image appears on screen. Non-Java Blu-rays don't take much longer: Hitch loads up to the Sony Pictures logo in just north of 11 seconds. And with Pirates of the Caribbean: Curse of the Black Pearl -- a notoriously long-loading BD-Java disc -- I scoot past the spinning coin to the Disney logo right at 25 seconds.
That's in addition to the roughly 22 seconds it takes to boot up the HT-C6500 from scratch and get to the main menu, which boasts links for all of the system's extra goodies: Pandora, Netflix streaming, VUDU, as well as all of Samsung's proprietary Apps available via Internet@TV.  If that's not enough, you can also access media stored on your PC via DLNA, or just about any sort of media file you can think to load on a USB stick and pop into the front of the device. The HT-C6500 even plays MKV files via USB, which is kind of huge. I loaded up a 16GB USB flash drive full of MKV H.264 encodes of the recent (and brilliant) BBC science series Wonders of the Solar System (which is scheduled to play here in the Colonies sometime after the 32nd of Never, last I heard), and watched them all without a hitch in pristine 720p HD and 5.1 surround sound.

Looks to Kill
And I do mean "pristine." For a budget-oriented complete home theater solution, the HT-C6500 touts some impressive performance. It aces the Jaggies Tests on the HD HQV Benchmark Blu-ray Disc, as well as the Film Resolution Loss Test. Performance on the Jaggies Tests on the standard-definition HQV Benchmark DVD is also very nearly perfect, with above-average performance on the Picture Detail test, and it takes the HT-C6500 less than three-tenths of a second to lock onto the 3:2 cadence of the disc's racetrack video test, with no moiré pattern to be seen in the grandstand thereafter.
Those tests translate into very good video performance with everything I throw at the HT-C6500. Everything it'll play, that is. Unfortunately my go-to demo disc for audio and video -- The Incredible Hulk on Blu-ray -- won't play past the previews. Iron Man, the next disc on my shelf, boots up like a champ, though. All of the primary colors and gleaming metal surfaces and inky shadows make for a great test of the player's abilities and reveal absolutely no significant concerns.
When asked about why the player won't play The Incredible Hulk, Samsung replied that they have indeed confirmed the problem, and suggested a workaround: In the set-up menu's Network settings, select 'BD-Live Internet Connection' and choose the 'Prohibit' option.  This should bypass the BD-Live enabled previews and load the BD disc Menu right away.  After successfully running the disc on 'Prohibit,' you should be able to go back into the settings menu, change the setting back to 'Allow (Valid Only)' and the disc should run the two previews, then load the disc menu, and the film itself is also accessible.  You can also just run the disc with BD-Live disabled.
Whatever, dude; just fix it with a firmware upgrade like everybody else does.
Can You Hear Me Now...? Good!
What comes as a bit of a shock, though, is that the sound is actually quite  good, too. Honestly, the speakers included with the system look a little cheap and feel a bit insubstantial. So imagine my shock when they take a licking and keep on ticking throughout Iron Man's most raucous action scenes. You really have to push these things to the point of ear pain before any sort of significant distortion occurs.
I won't go so far as to claim that the subwoofer rattled my naughty bits or anything, but it pumps out more oomph than I would have expected, especially after I attempt a little trick I learned from Samsung AV Test Engineer, Greg Adler: he packed a little cylindrical polyurethane sponge in with the HT-C6500 and sent me a note suggesting that I try plugging the sub port with it to see what effect it has on sound quality. The effect, as it turns out, is a taming of that one-note bloat from which less-expensive HTiB subwoofers suffer. Response is smoother, more even, more nuanced. Not radically so, mind you. But surprisingly and pleasingly so. It's a neat D-I-Y trick that you might want to try with some spare cloth if you don't have the right sized polyurethane sponge just lying around the house.
Another surprise is the dialogue clarity of the system, especially after I mount the center and front left and right channels on the wall. (Counterintuitive, I know, but when it comes to little speakers like this, sometimes you've gotta be creative.)  I pop in the second disc of the Extended Edition DVD of Lord of the Rings: Fellowship of the Ring (you can keep your truncated theatrical cuts on Blu-ray, thank you very little), skip to the scenes at Caradhras and in the Mines of Moria (still my favorite dialogue clarity stress test by far), and find myself a little shocked by the lack of straining I have to do to suss out the words.
I don't mean to imply that these speakers compare to the thousands of dollars worth of towers in my media room, don't get me wrong. But you have to approach speakers at this price point with certain realistic expectations, and these little puppies handily exceed all of them.
It's Pronounced "Gooey," Y'all
In addition to the solid performance, the HT-C6500 also boasts a slick interface for all of its multimedia offerings. Accessing music, movies, and photos on my PC is as simple as pressing the red button on the remote and selecting my PC as a source. Vudu, Netflix, Blockbuster, and all of Samsungs apps are just a few clearly labeled button presses away.

Switching over to the iPod dock is just as easy. Unfortunately, though, while you can access audio and the interface for the iPod dock via HDMI (as long as you disable HDMI CEC), any videos stored on your iPod will only play over the composite video connection. That wasn't a typo. Composite. Remember that? If not, Samsung has kindly included one of those old yellow RCA cables in the box for you.
[editor's note: the composite cable requirement for video is fairly common in iPod docks these days, particularly the ones built into HTiB systems].
But seriously, the lack of iPod video over HDMI is my only real complaint with the system. Well, that and the lack of album artwork showing up on the big screen. So my two complaints are lack of iPod video over HDMI and the lack of album artwork... and the fact that the navigational buttons on the remote are so low it's hard for someone with large hands to use them. So amongst my complaints are...
I'll come in again.
Turn-Ons
Easy setup
Speaker cables included in the box
Internet@TV and all of the streaming media adds incredible value to the system
The speakers are actually pretty good!
Built-in wi-fi
MKV support
Two HDMI inputs
Turn-Offs
The iPod interface is rather featureless, and lacks album artwork
Proprietary speaker connections discourage cable upgrades
The remote is... what's the exact opposite of ergonomic?
Final Thoughts
A few minor caveats aside, the HT-C6500 is an impressive package and an incredible value. Quite frankly, I defy you to put together a home theater system with Blu-ray playback and media streaming -- not to mention 5.1 channels of surround sound -- of this quality for anywhere near the same price. The first home theater system I built with separate components way back in 1997 cost a heck of a lot more and didn't sound nearly as good.
That brings up an interesting point, though: the HTiB label calls to mind two very different types of systems. One is a sort of starter home theater that you'll upgrade piecemeal over time. The HT-C6500 definitely isn't that sort of system. It's a compact, affordable, turnkey solution that'll you'll want to install in a small-to-medium-sized room and leave alone. Honestly, though, the only thing you need to add is a DVR or satellite tuner (and of course a display), and you've got yourself a nice-performing little system with more features than you can shake a can of cheese at.
Seriously, though: Wensleydale in a can. Tell me you wouldn't buy that.
Buyer's Tip:
The HT-C6500 price on Amazon is sometimes below Samsung's MAP (Minimum Advertised Price).  If you do not see a visible price on the page, put the item in your cart and continue through the checkout process to view the current price.
System Specs:
Total Power: 1000 Watts
Number of Channels: 5.1
DVD Disc Capacity: 1
Supported Audio Formats: Dolby Digital, Dolby Pro Logic II, Dolby Digital+, Dolby True HD, DTS, DTS-HD Master Audio
Anynet+: Yes
Built-in Wi-Fi: Yes
HDMI Inputs: 2
Audio Inputs: 1
Optical Inputs: 2
iPod: Yes (video, audio and iPhone compatible)
FM Tuner: Yes
Player Dimensions: 16.93" x 2.36" x 13.03"
Weight: 33.07 lbs.
MSRP: $649.99
Company Information:

Samsung Electronics America, Inc.
105 Challenger Road
Ridgefield Park, NJ  07660
Ph: 800-SAMSUNG
Website: www.samsung.com