Samsung HT-BD8200 2.1-Channel Blu-ray Home Theater System (HTiB) Review
By Chris Chiarella
Edited by Chris Boylan
Samsung HT-BD8200 Review
BD-Live (and Kicking) Without Wires
Soundbars are a compact convenience which, at their best, can create a convincing home theater audio experience from a single speaker array. Samsung, the company that made a Blu-ray player the size of a pancake, but much prettier (the BD-P4600) has taken their top-secret micro-Blu-ray technology and--when  no one was looking (spies, you know)--found a way to fuse a fully-featured BD Profile 2.0 player inside their sleek new soundbar.
But it gets better: There's a ".1" in this abbreviated home-theater-in-a-box, thanks to the 230-watt, rear-firing/rear-ported subwoofer. And to make things really interesting, while the subwoofer is a separate standalone box, for enhanced performance, it's also wireless for maximum convenience. Put it all together and you have the HT-BD8200 2.1-Channel Blu-ray Home Theater System.
Within the wings of the HT-BD8200 soundbar are two integrated (horizontally positioned) tall-boy loudspeakers. Like many other aspects of this package, these speakers utilize existing Samsung technologies, namely their BioKelp cones, driven by their hi-fi digital Crystal Amplifier, both of which could be heard in the Samsung HT-AS730ST Home Theater Receiver with 5.1 Speaker System. At the center is a wonderfully svelte vertical Blu-ray player with a motorized pocket that extends forward, accepting and ejecting discs to/from a top slot, although the loading mechanism needs a little encouragement before swallowing a disc. Nifty little LEDs and other animated lights appear during startup and power-down.
Plugging In: Wireless Edition
The connections around back are angled to facilitate hanging the soundbar directly on the wall, with a clear plastic installation template and metal mounting hardware included. A plastic stand is also bundled in for tabletop use. The BD-Live-ready player supports a wireless local area network, and Samsung supplies a WLAN USB dongle for Wi-Fi right out of the box. Once plugged in, the little LAN adapter was immediately recognized, the player asked permission and then accessed my home network after just a few clicks of the remote, once I remembered what type of security my router uses.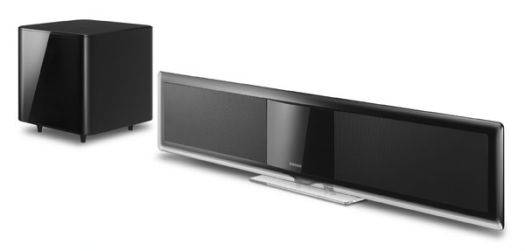 Even easier to configure was the accompanying PS-WBD8200 powered sub, as the main unit automatically searched for and linked with the wireless kicker. The process required only about three seconds to go from standby to linked (as indicated by red light switching to blue) after power on, while the player itself was still warming up. A recessed "ID SET" button--the only control whatsoever on the sub itself--is provided to aid in the wireless configuration (wired is not an option, no jack), but frankly the wireless connectivity was so reliable that I never needed any help. The cabinet is a respectable size (more than ten inches in each direction) for home theater use, yet remarkably lightweight, especially considering its onboard amplification.
Video Smorgasbord
Upon system startup, the home screen reveals the one-touch icons to access built-in Netflix movie and Pandora music streaming applications, familiar from my review of the Samsung BD-P1600 Blu-ray Disc Player, now joined by YouTube web videos as well as Blockbuster OnDemand (as previously reported by Rachel Cericola). Best of all, from a feng shui perspective, all four of the colored buttons on the remote control now have a dedicated shortcut function upon startup!
Blockbuster ("powered by Roxio CinemaNow") requires a Blockbuster account, and we then activate the player online at www.blockbuster.com/samsungbd. We can stream trailers immediately (even before we link/open the account) and we can rent new releases for $3.99 or buy various titles at various prices. Some are rental-only, some buy-only. Older titles are available for rental or purchase and are generally less expensive. The service itself is pretty straightforward, and similar to Netflix; configure, click, and watch; but with a different business model behind it.

YouTube has become such a staple of modern American culture, it is always welcome, even without a keyboard to do proper searches, although I watched a clip marked "(HD)" and the faces were so blurry I thought I was watching an episode of COPS. Even the screen gives us a virtual keypad (like a phone), not a virtual QWERTY keyboard!

But this is a Blu-ray player at heart, so how does it perform? For the technical answer, I fired up our trusty HQV demo discs, starting with Blu-ray at 1080p output. On HD Noise Reduction, the HT-BD8200 delivered very good image detail but definite noise as well, on both the flowers and the sailboat segments. In terms of Video Resolution, the fine horizontal lines in the corner boxes were evident, proving full resolution processing. On the Diagonal Filtering "Jaggies" Test - Pattern A, all three bars had acceptably smooth edges at all times, ditto the single giant spinning bar in Pattern B. In the Film Resolution Loss Test, the fine horizontal black and white lines in the corner boxes without strobing reconfirmed full resolution processing. But the Stadium portion of the exam displayed a general noise in the upper deck, giving way to definite moiré on the right side near the end of the panning shot.
The player can also upconvert standard-definition DVD to a full 1080p output, which is exactly what we did with our HQV demo DVD. On the Color Bar/Vertical Detail test, the tiny white lines were clearly visible without flicker, although the color bar was not particularly smooth in its transition from dark to light. Jaggies Test Pattern 1 had an admirably smooth image at all points on the dial, but surprisingly after the flying colors of the three Jaggies tests thus far, on Pattern 2 the bottom line was problematic, the top two were okay. The Jaggies Flag Test showed stair-stepping on the red and white stripes while the background building was noisy and not well-detailed.
Picture Detail was a mixed bag, the grass was soft and a little twitchy and the stairs lost all their definition about halfway up, but the bridge and the statue looked fine. All of the Noise Reduction shots were at least a little, well, noisy, some very much so, with most of the images lacking genuine, natural detail. With Motion Adaptive Noise Reduction, the sky was noisy and in general the picture lacked detail.
Film Detail (3:2 detection) locked on quickly to eliminate the moiré, while the gamut of Assorted Film Cadences exposed serious issues on the fine rims of the coffee cups in the 2-2-2-4 DVCAM clip, less so at 2-3-3-2, but nightmarish on the 3-2-3-2-2 Vari-Speed Broadcast, but no complaints about any jaggies on the newspaper. And on the horizontal Mixed 3:2 Film with Added Video Titles crawl, the guitar strings behind the moving words give the telltale (and unwelcome) illusion that they are coiled, while the vertical crawl left the background piano keys with jagged star-step edges. So while the HT-BD8200 fared better on HD content than SD, performance on neither was stellar.
From my pressing Play to the arrival of the Paramount HD logos of Star Trek, the player takes a respectably quick ten seconds to a load a Blu-ray disc. The video quality is here is excellent, the elaborate, squeaky-clean future looking as glorious as ever. Blade Runner looks terrific with plenty of natural detail, low noise and virtually none of the splotchiness of light and shadow that can plague this disc on a lesser player.
Upconverison of DVD movies to 1080p HDMI output is fine, certainly looking every bit as good as they do on any standard 480p deck, but as usual none would be mistaken for Blu-ray. The HT-BD8200 is also "Made for iPod/iPhone" with a dock that plugs in on the left-hand side and which requires composite video connection (cable included) to the TV, since iPod video is not upconverted. Basic iPod control is provided by the Samsung AH59-02195C remote, although the buttons never seemed to be where I wanted them.
The Sound of the Bar
Seventy watts of audio power are reserved for the soundbar itself, which along with the physical hardware design of the "Crystal Surround AirTrack" and the V-Sound processing attempts to create a worthy illusion of 5.1 from just the two boxes. Several DSPs are selectable via the remote as well: Smart Sound to ward off volume spikes, Audio Upscaling to improve the perceived quality of MP3s and other low-resolution content, and Power Bass for extra low-end punch, all of which make a noticeable difference. It's through the player that we can also adjust the subwoofer volume, from +6 to -6 dB, and when it gets going it can really move a serious amount of air, although even when run at full volume this system poses little to no risk of causing hearing damage.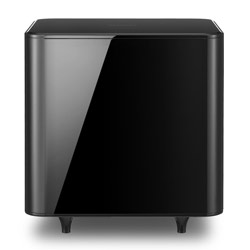 Run at maximum volume ("40"), the DTS-HD Master Audio 5.1 of
Master and Commander: The Far Side of the World
provides a more general surround fill that's quite welcome, with a directional whizzing of the cannonballs that is well-represented at least, although the soundfield favors the front of the room. The uncompressed PCM of
The Patriot
was slightly more successful, as the many gunshots and shouts from the rear not only seemed to originate from behind, but were distinct in their left/right placement. Again at maximum volume and even in Power Bass mode, the warp engines of The U.S.S. Enterprise lack the
boom
I know they should have in
Star Trek
's Dolby TrueHD 5.1 track. Highs are not as crisp as I'd like, either, they tend to be audibly clipped, owing partly to the high volume setting but even at modest volumes trebles can sound unnatural.
BD-Live worked perfectly, assuming that the network connection was operating properly, after I had installed my own thumb drive. Yes, we have to look at a thumb drive sticking out the left side of this soundbar because Samsung--one of the inventors of the SD card--couldn't put, what, 14 cents worth of flash memory (wholesale) inside an $800 product? With a press of two buttons I was also able to initiate a network search, and the HT-BD8200 promptly located my wife's computer and its treasure trove of MP3s and family photos, allowing me to search those folders which had sharing enabled (a simple enough step to take back at the Windows PC), accessing still more content, for free! I did notice that the WLAN linkup was a little moody, and the little adapter grew hot, despite the constant, significant fan noise whenever the unit is powered on.
Turn-Ons:
Well-designed hardware--with integrated Blu-ray!--ready to hang on the wall
Remarkably quick, easy setup of wireless features - both the wireless sub and wireless networking
Enjoyable if not entirely convincing faux-surround
Turn-Offs:
Video quality of online streaming leaves something to be desired
DVD upconversion could be stronger
Still no onboard memory for BD-Live? For real?
Final Thoughts
It's a Blu-ray player, and a speaker system, and a wireless streaming media device.  In fact, there's little the Samsung HT-BD8200 can't do.  But I believe that its substantial price tag reflects the esthetics, the convenience and the underlying technology more than its audio/video performance in typical use. Even so, the wireless internet and subwoofer setup, combined with the host of online and home network streaming options make this the most versatile soundbar--and one of the most well-featured Blu-ray players overall--that I've ever tried.
Where to Buy:
Features/Specifications of the HT-BD8200:
MSRP: $799.99
Available Finish: Piano Black with Clear accents
Compatible with BD Profile 2.0 (BD Live), Profile 1.1 (Bonus View), and Profile 1.0 interactivity features
Netflix video, Blockbuster video and Pandora music streaming capabilities (service subscriptions required) plus YouTube
24fps film mode
Selectable DVD upconversion (720p/1080i /1080p)
Dolby Digital, Dolby Digital Plus, Dolby TrueHD, DTS and DTS-HD Master Audio (Essential) decoding
300 watts total RMS( 70 watts/soundbar, 230 watts/subwoofer)
Compatible disc/file formats: BD Video, DVD-/+R, DVD-/+RW, Audio CD, CD-R, CD-RW, AVCHD, MP3, WMA, WMV (1/2/3/7), DivX (including XviD), DivX HD, JPEG
FM tuner with antenna
Dimensions (W x H x D): Soundbar: 39.37" x 7.68" x 1.85", Subwoofer: 10.8" x 10.8" x 11.73"
Shipping Dimensions (W x H x D): 42.44" x 13.94" x 18.98"
Weight: 28.66 pounds
Shipping weight: 39.69 pounds
Warranty: 1 Year, Limited
Connectivity:
HDMI -CEC v1.3 output (1) with AnyNet+
Composite Video outputs (1)
Digital Optical audio input (1)
Analog Stereo outputs (1)
Headphone mini-jack (1)
Stereo input mini-jack (1)
iPod/iPhone dock connector (1)
Ethernet port (1)
USB 2.0 (2, one side and one rear) with USB Host Play support
Bluetooth
Company Information:

Samsung Electronics America, Inc.
105 Challenger Road
Ridgefield Park, NJ  07660
Ph: 800-SAMSUNG
Website: www.samsung.com