Samsung Galaxy Tab Review
By Enid Burns
Say Hello to Your Big Screen's Little Friend
One thing many of us multi-taskers like to do while watching the big screen is look at a little screen. It's common to sit with a laptop, or even smartphone, during prime time so we can browse the web, stay in touch with email, or look up the actors in the movie we're currently watching. The new category of tablets, which caught fire with Apple's iPad, goes hand-in-hand with that not-so-attentive TV-viewing experience. There are even apps for that.  Hey, we're informavores, what can we say?
While the iPad ignited the tablet category, tablets are not new to the PC market. Apple's iPad didn't so much invent, or create the tablet PC category, but rather just refined the device, and set a new standard. More importantly, while existing tablets had been primarily business devices for very specific jobs, notably for those "in the field" or in a medical situation, Apple's iPad showed us that the device could also used for entertainment purposes, without losing its business-oriented capabilities.
It wasn't long before other companies fell in line. While the iPad may have originally dominated the market, the rivals haven't let Apple take all the pie this time around. Many competitors have come forth with their own offerings, embracing other operating systems and platforms. Google's Android operating system is perfect for these handheld devices. Created for the cell phone market but with other devices in mind, Android is an open source operating system with an emphasis on browsing and, similar to the iPad, using apps.
One serious competitor in the tablet market is the Samsung Galaxy Tab, a sleek device that promises a galaxy's worth of options to the user. With the power of the Android OS behind it, dual-facing cameras (with video), 3G and Wi-Fi capabilities, a robust web browser with Flash player capability, as well as compatiblty with thousands of Android apps, the device does live up to much of its potential.
Out of the Box
The Samsung Galaxy Tab is boxed more like a cell phone than a computer. Available with a 7-inch diagonal screen, the tablet's overall dimensions are 4.74 x 7.48 x 0.47 inches. The flat, sleek handheld comes in a box 2 1/2-inches tall and barely wider and longer than the device. It comes with the power cable, which also doubles as a USB data cable. An included 16 GB microSD card serves as the device's drive (upgradeable to 32 GB). The Galaxy Tab has a 1GHz processor and works on Sprint's 3G network. Other carriers including Verizon, AT&T, and T-Mobile have comparable models on their networks.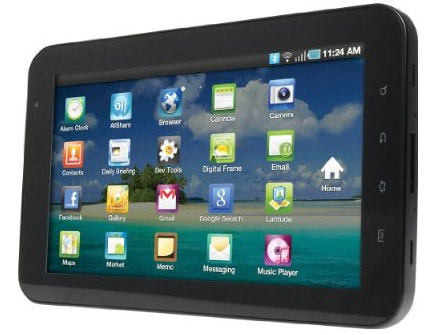 The top and side of the Galaxy Tab is shiny, piano black. The rear is white with equal shine and houses the rear-facing camera. The screen is a smudge-magnet, as is any touchscreen device. You may want to buy a screen cleaner and cloths if you intend to keep your device clean.
The Sprint model weighs in at 13.58 ounces. It's under a pound but it feels weighty since all that computing power is packed into a smaller device than, say, the iPad. In the hand it's a comfortable size, about the dimensions of a hardcover book. Be prepared to hold it upright and sideways, depending on what application you're using or web site you're browsing. A book or a news site/app you will likely read holding it like a book. Video and other apps lend themselves to holding the tablet on its side. The screen adjusts its orientation whichever direction you hold it.
On Screen
Where the Galaxy Tablet, like other Android tablets, gains points over the iPad is the screen size. Off the cuff you may think that bigger is better, but for home theater enthusiasts and TV-watching multitaskers, the smaller screen is less intrusive on your own (and others') big screen enjoyment. The Galaxy Tablet boasts a widescreen 16:9 view compared to the iPad's 4:3 aspect ratio. If you plan to watch video, you'll appreciate this format.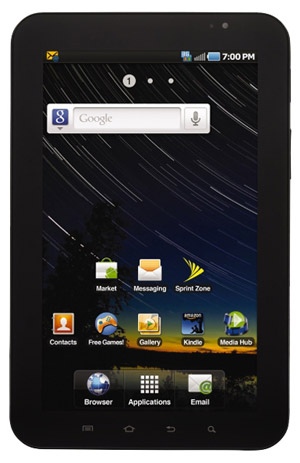 Speaking of which, video is stunning on the Galaxy Tab's screen. Colors are rich and motion flows smoothly. The shiny screen is prone to glare which can be distracting in brighter lighting conditions. The speaker (singular) is on the bottom of the unit if you are holding it upright. So on its side, most of the sound comes from the right of the screen.  For anything other than casual viewing, we'd recommend using headphones.
Boot Time, Performance
There are two modes for turning off the Galaxy Tab. There's off, and there's sleep mode. From the off mode it takes a while to boot up: I clocked it at 30-seconds. It takes less time, but not much, to power down. From the sleep mode the device comes on instantly. I generally power down at night, then once I start using it during the day I leave it in sleep mode, since I use the tablet frequently.
The touch screen is responsive. You swipe to scroll through programs, tap to select. The soft keyboard is easy to use to enter a search query or type a memo. Occasionally the Galaxy Tab reacts to how its held by changing the screen position or vibrating.
In addition to browsing you can also check email. It's easy to set up Gmail, of course, and any other web-based email. Setting up a pop account requires a little finagling and might require a call to your provider to verify settings. Once set up the tablet receives email and notifies you with a sound whether it's in sleep mode or you're running another program.
Instead of all the controls being located on screen, there are four soft-touch buttons below the screen when the unit is held upright. There's a function key that brings up a settings menu in most programs and on the tablet itself when no app is active; a home key; return key and search key. From these buttons you can launch and close programs; restart a video or program; and find content within a web site or within an app.
The Galaxy Tablet is Adobe Flash compatible (take that, Apple!); though don't expect the full performance you would get on your desktop. On a Flash site I was able to see an interactive chart that wouldn't render at all on my BlackBerry or iPhone. However, the site didn't perform as well as on my PC.
You can use the Galaxy Tab as a mobile hotspot serving as a Wi-Fi connection for up to five different devices.  This feature uses the tablet's 3G data service (in my case Sprint) to provide the internet connection. This is useful when you need your laptop for something web-related, or when friends want to browse on their devices when you're together.  It's not blindingly fast but works fine for simple web browsing and e-mail.  Also, note that this feature may incur an extra monthly fee on your plan and can not be available on all carriers.
Battery life falls somewhere between the long standby time of a cell phone and the short hours of a laptop. With regular use, expect to charge the battery once every day or two. It's disappointing that the Galaxy Tablet doesn't have a longer runtime, but when you're using battery-hogging resources like video, 3G data connections and games, it's not surprising.
Put it On My Tab
The Android Marketplace is bursting with apps. You can also find apps in additional marketplaces that are opening including Amazon's new marketplace. There are plenty of free and paid apps in the Android app market. They're organized in categories such as books and reference; business; comics; communication; education; entertainment and so on. In the marketplace, each category seems endless with applications to suit just about every interest.  So the question, "What can you you do with a Galaxy Tab?" has a different answer just about every day as new apps continue to be introduced.
A Few Words About Price
With the iPad starting at just $499, the Galaxy Tab's "list price" of $749.99 may seem excessive.  But the actual cost of the device is much lower with a contract.  On Sprint, where we tested the device, you can pay as little as $299.99 with a 2-year contract.  Other carriers offer similar subsidies that lower the price of admission.  A WiFi only version of the Gamaxy Tab is expected to be available soon for a more reasonable MSRP of $369.99 ($130 lower than a comparably equipped iPad).
Turn Ons:
Sleek design
Two cameras
Flash compatibility
WiFi hotspot
Turn Offs:
Android OS not entirely tablet ready
Shorter than expected battery life
Yet another monthly fee (3G version)
Final Thoughts
The Samsung Galaxy Tab is a nice companion piece for browsing and portable entertainment. It doesn't replace your phone, laptop or TV, but it does encroach on features from each and can serve as virtually any in a pinch. At best it probably enhances the experiences with all of those devices, by providing another independent screen and web browser while your primary screen is occupied. It's a fun device and once you start using the tablet you might not be able to live without it so easily.
Where to Buy (with or for specific carriers):
Where to Buy (WiFi Version):
Manufacturer's Specifications:
Technology includes SWYPE, TouchWiz 3.0 and Android 2.2
7-inch diagonal screen
Dual cameras
1GHz processor
Mobile Hotspot capable
Sprint ID ready
3G speeds where available
Chat-style messaging
Touchscreen
Web browsing capable, with Adobe Flash support

Music capable
GPS Navigation enabled
Email capable
Bluetooth Wireless
WiFi-capable
Memory card slot
MSRP: WiFi only version: $369.99; 3G version: Varies with Carrier/Plan
What's in the Box:
Galaxy Tab
Power cord/USB cord
16 GB microSD card and microSD adapter
Manufacturer's Contact Information:
Samsung Electronics America, Inc.
105 Challenger Road
Ridgefield Park, NJ 07660
phone: 1-800-SAMSUNG
Website: www.samsung.com