The Site for Home Theater and Movie Reviews
Samsung BD-C6900 Blu-ray 3D Player Review
By Chris Chiarella
Edited by Chris Boylan
Samsung BD-C6900 Review
HD 3D Starts Here
Part of me was expecting Samsung's first Blu-ray 3D Player, the BD-C6900, to be, y'know, deeper. Or wider, or heavier, or something, considering the large stride forward that the addition of a whole new dimension represents. I could hardly believe that this unobtrusive--and pretty slick--little enclosure could yield the marvels it promised, but I'd find out soon enough. Yes, the hardware is compact with a translucent top that not only glows with a wicked-cool blue, it also serves the practical purpose of letting us see which disc is currently in the tray. Perhaps the only downsides of this bold, lean esthetic are the audible noise level, which is higher than some players I've tested, and the potential for scratches, although none appeared during its visit here.
At first boot-up we are greeted by an entirely new menu system, user-friendly and icon driven, with ample shortcut keys on the redesigned remote control and different ways to organize various media, making the experience more personalized. Even the final look can be customized with an assortment of pre-loaded changeable skins. The BD-C6900 is BD-ROM Profile 2.0 compliant, meaning it can do BD-Live--with a gigabyte of flash memory built-in, no plug-in thumb drive or card needed--as well as Bonus View, but that's just the beginning.
Under the (Translucent) Hood
The player provides built-in single-band 802.11n Wi-Fi with no dongle required and no antenna protruding anywhere. The wireless setup initially encountered some difficulties finding its way online via my Apple AirPort Extreme Base Station with 802.11n, but a quick adjustment to my security settings and we got along just fine from then on. I also tested it wired, which linked up flawlessly. A firmware upgrade was instantly available to me, and upon clicking through that sweet new user interface, I was invited to initiate the recently upgraded Internet@TV Content Service, the portal to the impressive-and-growing collection of new Samsung Apps for the Blu-ray player.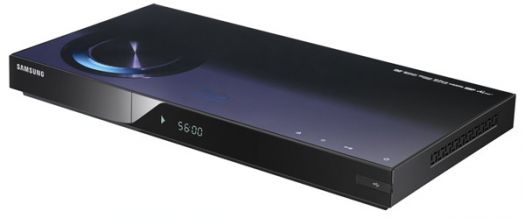 The deck arrives as a blank canvas, with no pre-installed software applications, and with just a few clicks the service began filling in the empty windows which list our available features. Fifteen interesting pre-selected options downloaded and installed in about seven minutes, including always-welcome home theater staples like VUDU and Netflix, mixed with an unexpected handful of games: Rock Swap Adventures, Texas Hold 'Em and Dracula's Coffin. Samsung Apps will be open-source, meaning that developers will be welcome to create paid and unpaid content for users in the future.
Last year's Blu-ray players offered Windows File Sharing technology to allow us to access media files on a connected computer, but due to the complexities involved in actually getting PC Streaming to work, Samsung opted instead for standard DLNA compliance this time around. This seems to be working out well as Samsung's AllShare function was easily able to locate my home network, and after I approved the connection back on my PC, my media library was fully accessible right from the BD-C6900's menu.
To achieve 3D playback, the BD-C6900 packs an advanced, extremely powerful processor, which Samsung claims benefits overall video performance. In addition to Samsung's Anynet+ variety of HDMI-CEC interconnectivity, which supports handy features such as TV/Blu-ray power-up/off with a single touch of one supported remote, this Blu-ray player offers BD Wise, which optimizes the connection and settings between display and player, based on the capabilities of each.  This may mean that the player sets itself to 480p output for DVDs but to 1080i or 1080p on Blu-ray Discs, depending on their content, allowing the TV to do the video processing where necessary.  Other manufacturers call this feature "Source Direct."
But because BD Wise mode passes the video processing tasks to the display rather than the player, we did not use this mode for evaluation of the player's video processing.  And although we also have the 55-inch C8000 3D LED TV on-hand (review forthcoming), we conducted most of our critical 2D evaluation tests on our reference Samsung HL-T5087S TV rather than try to judge one new product connected to another new product.  During the tests, we set the player's output to 1080p, to ensure that the results we were seeing were being rendered by the player.
As 3D-philes have been aware, the move to this new generation in home video has necessitated the next step forward for HDMI, namely 1.4, to accommodate the higher bandwidth of the 3D video signal standard as well as an audio return path. The one and only HDMI port on the BD-C6900 is 1.4, and as such there will be incompatibility with the video pass-through of older HDMI A/V receivers. Put simply, if you run your Blu-ray player though the receiver and then out to the TV (as I do), don't expect the 3D to work, although the audio connectivity and 2D pass-through with my 2008-model Onkyo TX-SR606 were exemplary. Competing models such as the Panasonic DMP-BDT350 3D Blu-ray player offer two HDMI outs--one 1.3 for the receiver and one 1.4 for the TV--to address this quandary. Have a multichannel receiver with no HDMI inputs? No worries: The BD-C6900 also includes 7.1 analog audio outs to go with the onboard decoding of all the current HD audio formats.  Your other option would be using the player's optical (S/PDIF) digital output for sound but this will limit you to the lossy and legacy codecs (DTS, Dolby Digital and 2-channel PCM).

One of the call-outs on the box touts "Ultra Fast Play" so I put it to the test: The first-round (non-BD-Java) Blu-ray Underworld: Evolution started in 23 seconds from the time I pressed Play, same as the LG BD570 I recently reviewed. The Gladiator DVD needed 11 seconds, which is fine, but the real eyebrow-raiser was the BD-Java bit-buster Pirates of the Caribbean: Curse of the Black Pearl which took but 18 seconds to start. "Ultra Fast" indeed!
Boot-up time is eight seconds, from power off to the appearance of the menu screen with musical tone and "No Disc" on the front panel. Saw VI supports Lionsgate's cool-but-cumbersome "LG LIVE" suite of online features, which pings the server for an update whenever it's loaded, requiring 41 seconds until the studio logo animation first appeared, besting the load time of my go-to PlayStation 3 by 16 seconds. These are the standard times for the BD-C6900, there are no special "Fast Play" or "Quick Start" on/off settings.  And they're right up there with the quickest players on the market.
Good Ol' 2D
With the HQV Benchmark DVD happily spinning away inside, the BD-C6900 makes light work of potential Jaggies, both in test pattern and live-action video footage, with crisp stripes in the undulating American flag in front of a detailed brick building background. In the Detail Test (the roadside scene) all of the key elements of the shot are sharp and rock-solid. The performance on the Noise Reduction nature clips is not perfect--I've yet to find a player that is-- particularly in the sternly gradated skies and around the mosquito-plagued tips of branches, but this one does at least an average job minimizing the buzzy video intrusions which typically mar these images. Ditto Motion-Adaptive noise reduction, which is still blurry and not ideal, but I've seen worse.

The Super Speedway loop to gauge Film Resolution showed moiré for about a second, then clean stands for the remainder of the clip.This means the player can recognize the inherent 2:3 film cadence but it doesn't do it quite as quickly as some other players.  The diner scene was rendered precisely through all of the shifting Cadences, with only occasional, faint flickering on the coffee cups. And on the Film with Video titles, the letters were solid and the guitar strings were clean for the horizontal crawl, although the player needed longer than usual to lock onto the vertical crawl, with a brief stutter and the first credit rising to about the center of the frame before the titles achieved and maintained acceptable clarity.
Stepping up to the HQV Benchmark Blu-ray, the BD-C6900 did a good-but-not-great job reducing the noise on native HD content, but fared remarkably well on test patterns, indicating full resolution processing. As in the standard-definition realm, this was some of the best performance I've ever seen on the high-def Jaggies tests, too. Ending with the demanding Stadium test however, the stands are noisier here than on some players, with a definite moiré pattern on the right in the upper deck.  These tests are only applicable to 1080i content, however, which is a fairly small percentage of what you'll find on Blu-ray Disc.
Samsung takes pride in this player's success with the Cadence portion of the Spears & Munsil evaluation Blu-ray disc specifically, so we had to check it out for ourselves. Half of the assorted cadences supplied reveal a brief hint of moiré in the stands during the Super Speedway clip, but the flaw is quickly banished, and the other half never showed moiré at all. So yeah, thumbs-up here, too.  It doesn't do as well on all of these oddball cadences on the test pattern torture tests, but it gets the common ones right.
The BD-C6900 is Samsung's first 3D Blu-ray player, and it is being positioned as entry-level, so I need to manage my expectations. Remember what I said earlier about difficulties locking onto the text in DVD title crawls? Well, the opening of the Blade Runner Blu-ray reveals a weird hiccup on some, not all of the opening credits, where they hang as gray for a fraction of a second before finally, fully appearing white against the black. I swapped in my backup Sony BDP-S350 Blu-ray player, using the same TV input and the same 1080p/24 output setting and here the titles were fine. Back with the BD-C6900, once the movie itself begins, the image is noisy and lean on detail, with gloppy, flickering shadows. More pleasing was Sleeping Beauty, where the purity of the lush animation shone through in every frame, even the idiosyncrasies of the art and the process as the sometimes noticeable layering is revealed, in a good way I suppose.
The quality of standard-def upconversion on my Gladiator DVD was fine, better than some. Difficult shots are still somewhat noisy, while simple, well-lit/focused shots can look sharp and detailed. Big Picture Big Sound's Dennis Burger recently noted in his review of the Samsung HT-C6500 Blu-ray HTiB that the player could not handle the Blu-ray of The Incredible Hulk, and I'm happy to report that this Samsung Blu-ray player experienced no difficulties with that disc, even loading two different sets of fresh trailers via BD-Live the two times I tried it.  Other new Blu-ray titles that have been reported as problematic in some players (Watchmen and Avatar) also played back fairly uneventfully on the BD-C6900, with a couple of caveats.  There was a very slight delay in the audio in Watchmen which cleared up after chapter 1, and there was one brief one-second glitch on Avatar a few minutes in, but returning to that section of the disc again, it played through without a problem.  Without being able to reproduce this consistently it's hard to say whether it's the software or the hardware that was to blame here.
The Main Event
Feeding a Samsung UN55C8000 55-inch 1080p 3D LED HDTV (its own review coming soon), we had the opportunity to unleash to full potential of this next-big-thing player. Neither the player nor the TV include the necessary active shutter 3D glasses, and so Samsung hand-delivered one of their coveted 3D Starter Kits, containing two pairs of glasses and an exclusive preview copy of Monsters vs. Aliens on Blu-ray 3D available only in this accessory bundle.  To help launch the new format, Samsung is offering the $350 kit for free to those who purchase both a Samsung 3D TV and this Blu-ray 3D player.
[Side note: For fun, I tried to play the MvA Blu-ray 3D Disc in my first generation PlayStation 3 and not only did it not function, I did not even receive a little icon in the XrossMediaBar to tell me that there was a disc inside the drive. The Blu-ray 3D specification calls for the 2D playback of 3D discs, but again this is a special preview disc, not a final retail copy of the movie. This same disc did however play (in lovely 2D quality) on the Sony BDP-S350 as well as on other 2D Blu-ray players from Panasonic and OPPO.]
From the moment we are asked to select the menu language, the image onscreen is in 3D, although the menu animation itself looked 2D, and then the main menu page was most definitely 3D again. Big Picture Big Sound Editor Chris Boylan and I marveled at the excellent 3D rendering, which was far more nuanced and engrossing than the previous anaglyphic red-and-blue specs approach for home HD 3D on Blu-rays such as Journey to the Center of the Earth. The battery-operated glasses glasses were comfortable for an entire movie, and the image was crisp for the most part. Even when we viewed from a distance of a good 30 feet back, the picture maintained a realistic depth and geometry, regardless of how we shifted up/down or left/right. My wife and kids also shared an unbridled enthusiasm for the experience. I lost count of all the "Wow"s.
In truth, my only issue with 3D Blu-ray watching was the matter of ghosting or "crosstalk," lingering left-eye images that appear to the right eye and vice versa. The problem was occasional; sometimes around the silhouette of a character, sometimes on clean lines of the virtual sets. This apparently needs to be addressed within the 3D display (that is the TV, not the player), and Samsung's most recent firmware update to the UN55C8000 adds a 3D Optimize slider, which can help.
Turn-Ons:
No-compromise delivery of true 3D content
Integrated 802.11n Wi-Fi (no antenna!) and 1GB of embedded memory for BD-Live
Extremely fast disc startup
Possibly Samsung's friendliest CE user interface to date
Turn-Offs:
No glasses included (though you can get 2 pairs with purchase of TV and player)
One of the audibly noisier players I've tried
The quality of traditional 2D content could be better

Final Thoughts
Samsung has made good on their promise to deliver a true Hollywood 3D experience in the home theater, bringing with this breakthrough a host of refinements to an all-around respectable player. Those eager to be the first on their block with Blu-ray 3D can buy with confidence, if a few caveats too. And the 3D TV/Blu-ray bundle bonus offers that Samsung is currently offering to consumers make early adoption hard to resist.
Features/Specifications of the BD-C6900:
MSRP: $399.99
Available Finish: Black
Compatible with BD Profile 2.0 (BD Live), Profile 1.1 (Bonus View), and Profile 1.0 interactivity features
Local Storage: 1GB
Supported Audio Formats: DTS, DTS-HD Master Audio, Dolby Digital, Dolby Digital Plus, Dolby TrueHD, Two-Channel Downmix, LPCM
Disc Compatibility: Blu-ray, BD-R/RE, DVD, DVD±R/RW, Audio CD, CD-R/RW
Supported Video File Formats: VC-1, AVC HD, DivX HD, MPEG-2, 3GPP
Featured Entertainment Applications Include: Netflix, Blockbuster Online, Vudu, YouTube, Pandora, Twitter
Dimensions (W x H x D): 16.9" x 1.7" x 8.8"
Shipping Dimensions (W x H x D): 19.9" x 3.8" x 12.1"
Weight: 3.8 lbs
Shipping Weight: 6.4 lbs
Energy Star 2.0 qualified
Limited Warranty: 1 Year Parts/90 Days Labor
Connectivity:
HDMI Out with HDMI-CEC support
Component Video Out
Composite Video Out
Analog Stereo Out
Digital Optical Audio Out
Analog Audio Out: 7.1
Ethernet Port
USB 2.0 (1)
Wireless: 802.11b/g/n Wi-Fi (2.4GHz band only)
Company Contact Information:
Samsung Electronics America, Inc.
105 Challenger Road
Ridgefield Park, NJ 07660
phone: 1-800-SAMSUNG
Website: www.samsung.com
What did you think?
The Scores for Samsung BD-C6900 Blu-ray 3D Player
| | |
| --- | --- |
| Overall | |
| Value | |
| Performance | |
| Features/Ergonomics | |
Explore Big Picture Big Sound