SRS Labs iWOW-U Review
By Enid Burns
In today's digital world, we get a better picture on our TV and sharper images on our monitors, but what we often forget is that the audio can often be compromised depending on the source. MP3 files aren't CD-quality, and as advanced as portable devices get, they often don't have the power for the output we demand. That's where audio enhancement adaptors come in handy. The audio enhancement adaptor from SRS Labs, the iWOW-U, is a universal adaptor that enhances any audio source to provide "HD-quality sound."
Adapting Big Sound
The iWOW-U from SRS labs is a small, dongle-like device that's about the size of a USB drive. It plugs into the 3.5 mm mini-jack of any audio device, such as a phone, portable media player, tablet or PC, and then has a connector for the mini-jack from your headphones to plug into. When charged up and powered, the iWOW-U boosts the audio to give a fuller sound. This is intended for use primarily with headphones, but is also useful for car audio and for portable speakers.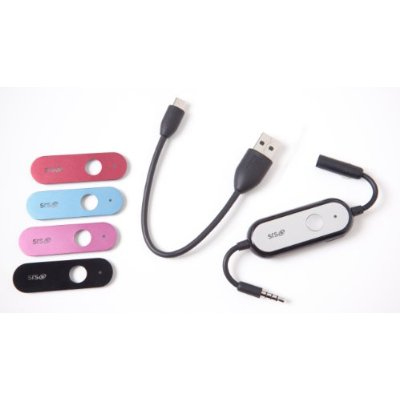 The U stands for universal. The previous version, the iWOW 3D, was specific to iOS Devices such as the iPhone, iPod and iPad. It plugged into the 30-pin jack of any of those devices, but didn't play well with non-Apple products. The iWOW-U, being universal, uses the mini-jack of any device, including an iPhone, iPad or iPod. The other advantage of the new universal adaptor is that it's plug-and-play. The iWOW 3D required you to run an app to get it working. The iWOW-U just works. It's specially tuned for headphones and car stereo systems, where you're most likely to use it. However there's only one setting on the iWOW-U, and that's on.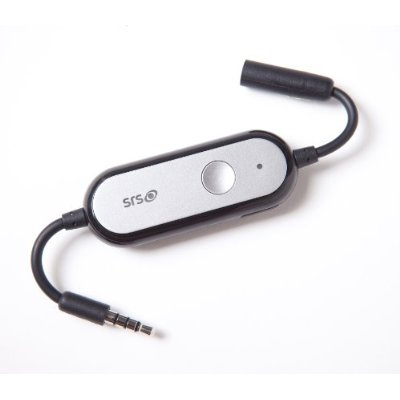 Headphone Pop
I was set to try the iWOW-U on a flight home. An airplane is the ideal place to test an audio enhancer. The drone of the airplane washes out music and I thought this would be a good setting to fire the iWOW-U up. I took the audio enhancer out of the box and plugged it into my mp3 player, and realized it needed a charge. One point of note, when the iWOW-U is being used as a pass through, you only get sound when the unit is charged and on.
At home I plugged the device in with the micro-USB cable and got it charged. SRS says the internal long-life Lithium-polymer rechargeable battery provides up to six hours, depending the headphone type and potential factors. I found that's fairly accurate, the audio enhancement adaptor has plenty of life to each charge.
Plugged into my MP3 player once more, I noticed that there was a lot of noise generated from the device itself. When it's turned on, but not necessarily plugged into an audio source, you hear a good deal of noise. If you just have your headphones plugged into the device, you'll hear a constant hissing. Depending on the music level, it goes away. In a quiet setting, you tend to hear the noise on top of your music. But you don't necessarily need the audio enhancement adaptor in a quiet setting.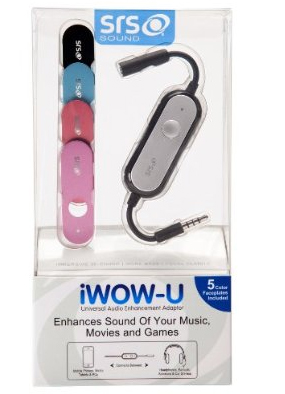 The audio quality is quite good. The iWOW-U boosts the volume on any audio up a few notches, and makes the music or movie sound fuller. In most cases, it really does enhance the audio to help you enjoy your music more. I did find that it changed the sound of a few songs by making them too full. It'll come down to judgement and personal preference whether to keep the iWOW-U turned on, or switch it off for a song or two. In my experience, this issue mostly occurs with older songs.
One nice thing about the iWOW-U is that it's small, and doesn't get in the way when you plug it into your MP3 player and take it with you. The compact size is easy to deal with, so you don't feel like you're adding a device. It becomes part of your headphones. SRS also designed the iWOW-U so it will work as a microphone pass-through so you can still use your headset for calls. You might even be able to hear the conversation a bit better.
Rolling with iWOW
While the iWOW-U enhances the audio played on a portable MP3 player or phone, it really does wonders in the car. I find that when I plug in an MP3 player into the mini-jack in my car, there's a noticeable drop in audio. I have to turn up the volume both on the MP3 player, and the car stereo. And My JBL stereo can blast some tunes.
When you plug in the MP3 player through the iWOW-U, there's an instant and noticeable difference. You can actually hear the music, and possibly even have to turn down the volume. The iWOW-U really makes up for any audio loss due to the music source. Even with the windows open or other ambient sounds, you still hear music clearly.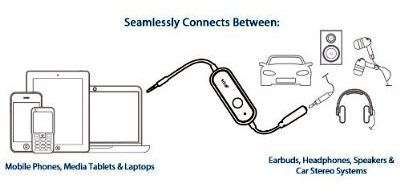 Music Boost
SRS Labs sells a basic iWOW-U for $69.99 on Amazon.com, which is black and silver. For an extra $10 you get one where the silver plate has four more interchangeable colors: silver, black, blue, red and pink. It makes the iWOW-U a fun accessory that can match your MP3 player, or blend into the mass of electronics you've accumulated, depending on your mood.
SRS Labs isn't a highly recognizable brand (and were recently acquired by DTS), but you more than likely have a product or two that has SRS built in. The company provides components of sound for HDTVs, car audio, cell phones, headphones, computers and other home entertainment devices. Big Picture Big Sound recently profiled SRS Labs after a visit to its headquarters. That expertise lends itself to a device such as the iWOW-U, which provides enhanced sound to smaller devices.
Turn-Ons
Boosts sound on personal audio devices
Makes music in car sound audible
Compact size doesn't weigh down an MP3 player on the go
Turn-Offs
Audible noise, hissing sound in the background during quiet sections or between songs

Changes the tone of some older tracks
Final Thoughts
The iWOW-U can easily become an essential tool in the audio arsenal for anyone who uses their MP3 player in their car, business travelers, or simply anyone who wants a little more power from their personal audio devices. The cost is comparable to many of the mid-range headphones on the market, and is easy to justify once you hear the sound benefits.
Manufacturer's Specifications
MSRP: $79.99
3.5 mm line in
3.5 mm line-out
Microphone pass-through
Specialized tunings for headphones and car stereo systems
Micro-USB charging port
Internal long-life Lithium-polymer battery
What's in the Box?
iWOW Universal Adaptor
Micro USB cable
Quick start guide
5 color faceplates
Manufacturer's Contact Information
SRS USA, Corporate Headquarters
2909 Daimler Street
Santa Ana, CA 92705
ph: 949-442-1070 * toll-free: 800-243-2733
Web: www.srslabs.com