SOL REPUBLIC Amps Review
By Chris Lowry
Edited by Chris Boylan
Shock... the money?
I am a true lover of all types of music. If it was recorded well, I will generally enjoy listening to it. My career is music and my passion is music. My day job as a recording engineer and mixer requires that I listen very intently to music many hours every day. This does make me a pretty picky person when it comes to choosing a set of headphones or any audio equipment for that matter.
It comes as a surprise to me to find earbuds that I can tolerate listening to at all, let alone listening to for hours at a time. If I do find a set of earbuds that I can enjoy listening to and that don't make me drain my daughter's college fund to purchase them, it's even better. I think I am going the right direction with the SOL REPUBLIC line of headphones and earbuds, even their entry-level in-ear model, the Amps.
Son of a Beats
While I relax listening to Adele on the Amps, I am taken back to when I heard my first set of Beats earbuds. The sounds and contour of the acoustics are so similar and yet somewhat different. It turns out that Monster, the company that makes the Beats line of headphones is related to SOL REPUBLIC, quite literally: the founder of SOL REPUBLIC, Kevin Lee, is the son of the founder and CEO of Monster, Noel Lee. In fact, Kevin Lee was one of the driving forces behind the Beats line of headphones. Perhaps this explains the acoustical similarities in the two lines of products.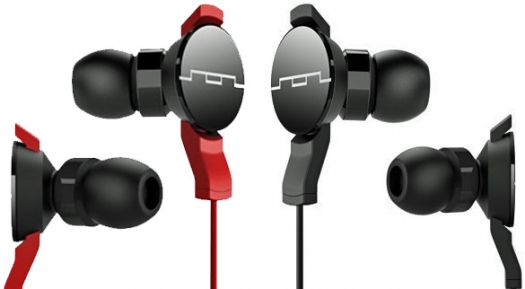 The Bass-ics
While the Amps seem to slightly hollow out the lower midrange of music, they have no shortage of bass. When listening to any well made album that has strong kick drums, bass quitar and generally high quality low bass material, they hold their own. The Amps deliver strong low end response that is both punchy and chest rattling. Their performance on high frequencies is not quite as impressive: the Amps tend to treat the highs with a very distinct compression effect. To my ears, it sounded akin to saving one of my favorite CD tracks as a compressed MP3 file. It sounds less full with some slurring on high frequency vocals and some harshness on cymbals and strings. There's also some notable sibilance on lyrics that include the "s" sound. In light of their low price, these flaws are not necessarily deal-breakers, but they're worth pointing out.
I just missed my train stop...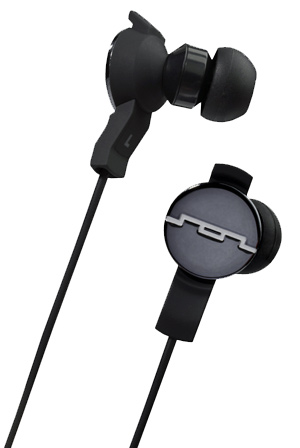 The Amps come with multiple sizes of ear tips in the box. The three different sizes of soft rubber tips should provide enough options to suit most needs. The ones that fit best for me were the largest tips. I may have a large ear canal but I do enjoy proper sound isolation. When listening to the
Amps
on a New York City subway, I missed my stop. In all fairness, the train was changing it's normal route to do some crazy detours for the weekend. During the train ride, the conductor made an announcement that was completely blocked out to me by the sound isolation of the earbuds.
Sound isolation is one of the most important attributes in a good set of earbuds. I enjoy great sounding music but I don't like to listen to it too loud. The Amps allowed me to block out most of the annoying noises of the day to day life and focus on the music at reasonable decibel levels. and even at very high volumes, the Amps still produce admirably clean sound. With the combination of sound quality and proper isolation, the Amps give you a more intimate connection to your music. With no distractions in your way, you are free to be immersed into detailed and rich sound.
Location, location
While the SOL earbuds provide good quality, detailed and isolated sound, they are a bit picky about their location in your ear. As with many in ear canal earbuds, they require a nice firm seal in your ear canal. When you get them slightly askew in your ear you lose part of the sound (and virtually all of the bass). That seems fairly straight forward for most quality in-ear 'phones. However, the Amps have a longer body than normal with most of the body sticking out of your ear. That leaves the center of gravity rather far away from the ear canal. On a relaxing day at home on the couch this is not an issue. I however, am pretty active in my day to day activities. This allows the wires to occasionally get snagged, causing an earbud to move ever so slightly, yet still enough to change the overall sound drastically.
Talk, talk, talking, on heavens door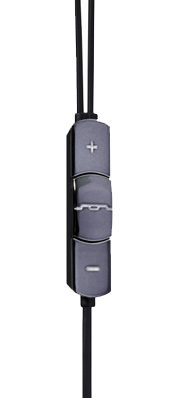 One of the greatest qualities of the Amps is the iPhone control capabilities. It comes with the full functioning 3-button remote and microphone. The microphone is one of the best I have seen/heard on a set of headphones. Talking to friends and family using this headset was like speaking to them with the phone glued to my head. They were able to hear me very well and extremely clearly. The built in remote control for volume and the multi-function button work very well. The all-in-one button controls starting and stopping music, skipping tracks, starting and ending phone conversations, and controlling Siri voice control. The remote takes a bit of a click to make the buttons function, which is great because it keeps you from accidentally bumping the controls. All three buttons are very easy to use and easily discernible from one another. The center button protrudes slightly more than the volume buttons that it separates, making it easy to become oriented with the correct button immediately.
Turn ons
Generally clean, quality sound
Big improvement over the stock iPhone earbuds
iPhone controls are useful and well-designed
Punchy bass
Great call quality
Not too shabby on the looks
Turn offs
Cord is pretty noisy (microphonic) as it moves
Doesn't feel very secure in your ear
Slightly thin mid-range and some harshness in the high frequencies
Final thoughts
Packing good sound, punchy bass, great isolation, excellent call quality, and decent looks, the SOL REPUBLIC Amps are a great buy. Audiophiles may want to spring a little more for the upgraded Amps "HD" version, which offers even better sound. But for anyone looking for a high quality, affordable replacement to the stock iPhone headphones, the SOL REPUBLIC Amps make a great choice.
Where to Buy SOL REPUBLIC AMPs Online:
Manufacturers Specifications
Connector. 1/8" (3.5mm) right-angle stereo mini-plug
Cable Length: 46"
Warranty: One Year (limited)
MSRP: $59.99
What's in the box?
1 Pair of SOL REPUBLIC Amps earbuds
3 sets of rubber tips (small, medium, large)
Amps users manual
3 SOL REPUBLIC stickers for your gear
Manufacturer's Contact Information:
SOL REPUBLIC9375 Commerce Circle, Suite 9Wilsonville. Oregon, 97070
Phone: 1-877-400-0310
On the web: www.solrepublic.com
Buy SOL REPUBLIC AMPs Online: