Rush: Snakes and Arrows Live Blu-ray Review
By Ian White
The Film
If Rock 'n roll is dead then Rush clearly missed the memo. Remaining relevant for more than thirty years as a power rock trio is nothing to sneeze at and ironically, Rush seems to be in its prime as the new decade begins. Being low key has certainly helped Rush survive, but something else has to explain their worldwide legion of fans and the popularity of the upcoming tour. Movie star looks? Nah. Tabloid covers? Nope. Reality show guest appearances? Not likely. The members of Rush genuinely like one another and their chemistry on stage makes for a very coherent presentation. Geddy, Neil, and Alex are incredibly talented musicians; three guys who have put in the years of sweat to achieve the sound that they have and it translates on film very well.
Filmed during a series of concerts in Holland during their 2007 tour, Snakes and Arrows Live is a captivating and beautifully shot concert video that captures the band at the top of its game. Every song transitions smoothly into the next and the immediacy of the cinematography just reaches out and puts you in the best seat in the house. The crowd lacks the electrifying energy of the tens of thousands in Brazil who made Rush in Rio such a hit, but they clearly enjoyed themselves.
The Picture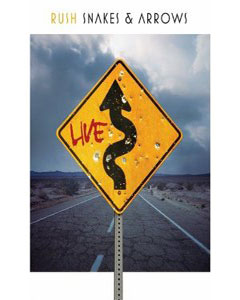 Shot in 1080p, Snakes and Arrows Live is one of the most impressive looking concert videos around. The camera work is outstanding. You rarely get to watch musicians perform on stage from so many different angles and it happens on this release with startling clarity. The image quality is vivid and detailed; Geddy, Neil, and Alex Lifeson have never looked better on camera than they do here. There was a lot of effort put into the filming of this concert and the proof is in the rotisserie chickens (look behind Geddy Lee and watch those delicious plump birds spin).
The Sound
The DTS-HD Master Audio 5.1 soundtrack is wonderfully clear and spacious sounding; you can pinpoint all three musicians on stage with your eyes closed. Geddy Lee's Fender Jazz bass dominates the soundstage from the right and you can hear him hitting every note with outstanding clarity and richness. Neil Peart pounds the skins better than anyone alive and there is both outstanding air on the top end and tautness in the bass as each song unfolds. Alex Lifeson's beautiful guitar work fills in the rest of the soundtrack from the left side of the stage creating an almost perfect sounding recording. The surround channels add ambience and crowd noise when appropriate. Superlative sound from start to finish.
The Extras
Rush tries its hand at acting on this Blu-ray release and while Geddy Lee is pretty convincing (and downright scary looking) as an angry Scotsman, the short films don't really go anywhere and get tedious rather quickly. Far more interesting and entertaining are a series of bootleg concert segments from a concert held earlier in the tour in Atlanta. Not only is the song selection outstanding; "2112", "The Trees", and "Ghost of a Chance", but the performances are Rush at its best. Thankfully, Rush focuses more on their music and less on themselves. The only gripe? The bootlegs are not in HD.
Final Thoughts
Rush has survived and remained relevant as a rock band for more than thirty years. Few bands can say the same. Not only has their music become more interesting, but they have clearly learned how to use technology to produce a stellar looking product. Few thought that they would top Rush in Rio; one of the finest concert videos of the decade. Not only have they pushed the envelope a tad further with Snakes and Arrows Live, but they have kept the rock 'n roll torch (which has nearly been extinguished as musical tastes change) burning just a little bit longer; something to be thankful for indeed.
Product Details
Actors: Rush
Directors: Pierre and Francois Lamoureux
Format: NTSC, Widescreen
Audio/Languages: English/DTS-HD Master Audio 5.1
Aspect Ratio: 1.78:1
Region: Region 1
Number of Discs: 1
Rating: Not Rated
Studio: Zoe Records/Pgd
DVD Release Date: November 24, 2008
Run Time: 221 minutes
List Price: $29.98
Extras:

What's That Smell?
2007 Tour Outtakes
What's That Smell? Outtakes
Far Cry (Alternative Cut)
The Way the Wind Blows (Alternative Cut)
Red Sector A (R-30 Tour)
Oh Atlanta! The Authorized Bootlegs