Ruminations on My First (But Not My Last!) Comic-Con
By Lora Grady
A mere week and a half ago I was on a plane to San Diego, preparing to write about my first trip to Comic-Con. My Big Picture Big Sound press credentials were confirmed by Comic-Con in mid-June, so I didn't have much time to adjust to the idea that I would be covering the annual pop-culture juggernaut.
With the credentials came a flood of emails as I was added to the Comic-Con press list and began receiving a staggering variety of press releases, announcements, notifications, reminders, and offers to participate in interviews, Q&As, round tables, premiers, parties, product demonstrations, and previews with comics artists and writers, model makers, filmmakers, tv cast members, producers, promoters, etc. It was madness.
Suddenly my plan to make leisurely selections from among the many panels and activities offered at Comic-Con turned into a crazy cross-hatch of email exchanges and appointment confirmations, frantic schedule coordination, and a newfound obsession with checking my email every ten minutes to see if something new was coming my way. On the Sunday before my departure I spent six hours perusing all of my received email to make follow-up lists and transfer everything I was booked for thus far to an offline schedule grid. I felt more or less ready, but also had no real idea of what to expect.
If you read my Comic-Con kickoff article for Big Picture Big Sound, and my subsequent coverage, you can see a list of what I planned to cover, and what I actually ended up covering. Attending the "Firefly" press panel was a huge, unexpected bonus. Missing the Stan Lee YouTube channel debut and a couple of movie-related promos were some of my disappointments. I didn't manage to coordinate any TV pilot previews with my already over-crowded schedule, so I had to nix my planned overview of genre-based offerings for the fall television season.
Overall, I learned a lot: how to attend a large festival, how to cover such an event as a member of the press, and how to begin diversifying my interests in pop culture and media. Below are some of the things I took away from Comic-Con 2012 (other than a bag full of swag).
The Good
It's a blast to spend four days surrounded by people that you're 98% likely to have something in common with. It was ridiculously easy to strike up a conversation with pretty much anyone in line, or in the press rooms, or camped out near a power outlet in the hallway, and hear about the cool things that they had seen so far at Comic-Con. I got tips from other attendees about stuff to check out (I may finally have to get on the "Fringe" bandwagon), and I learned about some things that I will be following up on post-con (Could I become a graphic novel fanatic? Maybe!).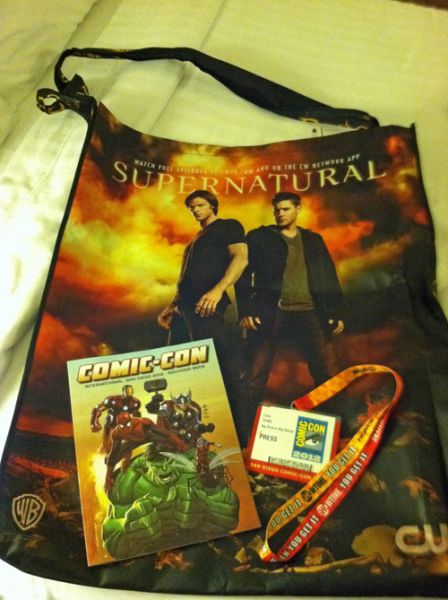 I was also able to visit various booths on the display floor and learn about some tech-related items that are genuinely exciting (see my writeups on the Dr. Who Sonic Screwdriver Universal Remote and LG's 3D technology). A chat with Ed Peters at the Anchor Bay booth made me realize that, as a movie lover, it may be time for me to embrace Blu-ray technology. And the "talent" I met at various press opportunities or saw at panels were refreshingly down to earth, amiable, and enthusiastic about the work they were promoting.
Roger Corman was a delight to listen to as he talked about his new film and filmmaking in general, as was documentary film-maker Morgan Spurlock. I met the cast of "Psych" and they seem like one big family. The folks behind FearNet's "Holliston", including creator/director Adam Green (Frozen), had so much fun at their panel that there's no way it can't carry over into their show.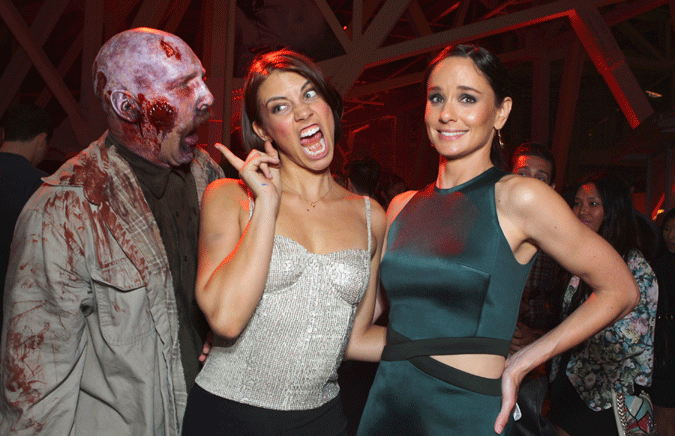 I haven't seen much of "Holliston," but the panel made me a fan, and I'm going to start watching it when season two begins. And a Sunday morning stroll down Artists Alley on the conference floor acquainted me with Los Angeles-based artist Jason Shawn Alexander, whose kinetic black and white sketchwork caught my eye. Knowing that he's doing the artwork for one of the new "Batman" releases (Arkham City: End Game) may be enough to ignite my interest in the DC Universe.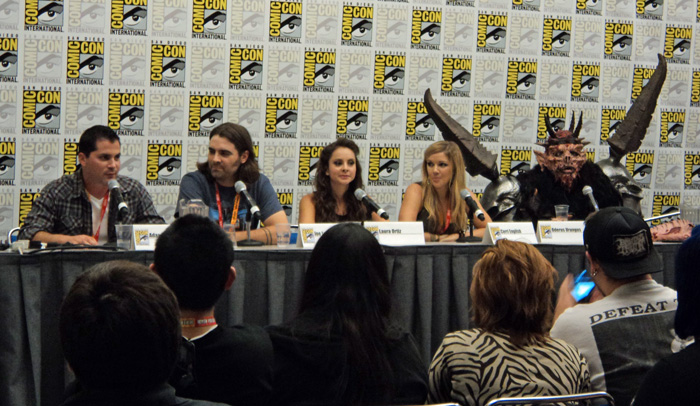 The Bad
I know that there are more terrible things in life than waiting in line for a ridiculous amount of time to attend a Comic-Con panel, only to have it close before you make it in the door, but when it happens in the oddly insular world of the Con it feels like the worst thing ever. After running around all day on Thursday chasing stories I finally decided to check out a panel, and I got in line for "Dexter." After winding my way past countless rope barriers, under a tent, past cement blockades, and down a long hallway, I was finally up front - and then they closed the line. Right in front of me. Literally, the people in front of me were the last two people they let in the door for the panel. That was a pretty low moment.  Oh well, I guess the show has enough publicity.
Other lows included becoming aware of the massive gap between all of the things I wanted to see and do at Comic-Con, and my own capacity to cover a limited amount of ground in the time I had. I think to have a fully satisfying time at Comic-Con you'd actually have to find a way to cheat the time-space continuum.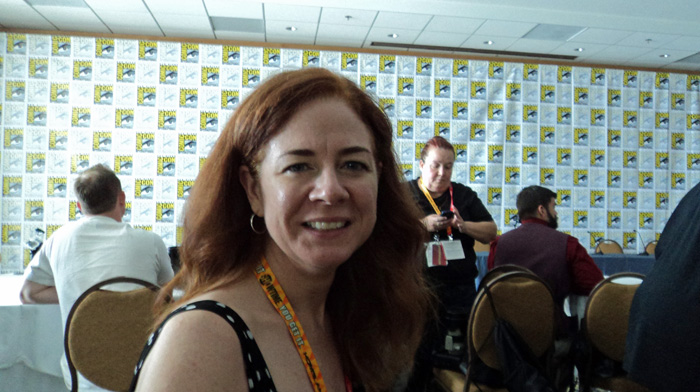 I was constantly busy in San Diego - I lived on protein bars and water and sometimes ate while running down the street - and still I could weep when I look back at the Comic-Con program and see all of the things that I didn't get a chance to experience. If I get to do this again next year - and I really hope I will - I would take a more structured approach and try to make sure that I anchor my experience by attending more of the panels and presentations. I would also make the most of the Wednesday preview night, when the conference floor is open and the booths are accessible but the crowds haven't really set in yet. That's the time, I learned, to check out products and have good conversations with booth staff so you can really get the low-down on what you're looking at.
The Ugly
Ugly? That was me, waking up on Saturday morning after two crazy nights of hustling around to various events and then rolling back to my hotel room around 2am. I had a great time and saw some neat stuff - the FearNet "Dawn of the Con" party, with roaming zombies, blaring techno music, and scary costumed characters, was a unique experience - but it was tough to get up and get back to work on schedule the next day.
Another tough thing about Comic-Con was the intermittent access to wireless. I knew it would be that way, but that didn't lessen the frustration of inadequate connections when I was trying to shoot some stories or photos to my editors back in New York. I eventually found a couple of reliable nooks to hunker down in when I really needed to connect, but it was tough to keep running to these places and still maintain my schedule.
Despite these relatively minor-in-the-scheme-of-things stresses, I had a fantastic time at Comic-Con. It was a real learning experience, and I hope I provided BPBS readers with a sense of how it was in San Diego, and some of the unique and fun stuff I saw and experienced. As one might expect, there were a handful of things I saw that I just didn't have a chance to write about:
Zachary Levi/The Nerd Machine's Nerd HQ and their Conversations for a Cause series; I attended the Sunday afternoon event with Jared Padalecki of "Supernatural"
The awesome display of all of the Batmobiles used in the previous "Batman" movies - these were parked on the lawn between the convention center and the Hilton Bayside, and you could walk right up to them to take photos and really check out the detail on each vehicle.
NeuroSky's Necomimi - neuro-sensitive "cat ears" that caused quite a stir at Comic-Con; it's a combo of futuristic EEG-based technology and fun cosplay accessory; proverbially, the product is "big in Japan"
The red carpet premier of "Bad Kids Go to Hell", based on the graphic novel of the same name, and starring Judd Nelson
The aforementioned "Holliston" panel, which included cast member Oderus Urungus, who also fronts the band Gwar
A stop by the After Dark Films booth to learn more about their two signature film series: After Dark Action and After Dark Horrorfest
IGN's Channel Surfing Podcast, recorded live at the Warner Bros. "Extra at Comic-Con" outdoor stage; serendipitously I happened to walk by in time to catch the interview segment with Jim Beaver, Mark Sheppard, and Misha Collins of "Supernatural"
The preview night event to promote "Shadow Walk", a new graphic novel release from Legendary Entertainment by Mark Waid, Shane Davis, and Max Brooks. At the time I had no idea who these folks were. Now I'm painfully aware of my missed opportunity.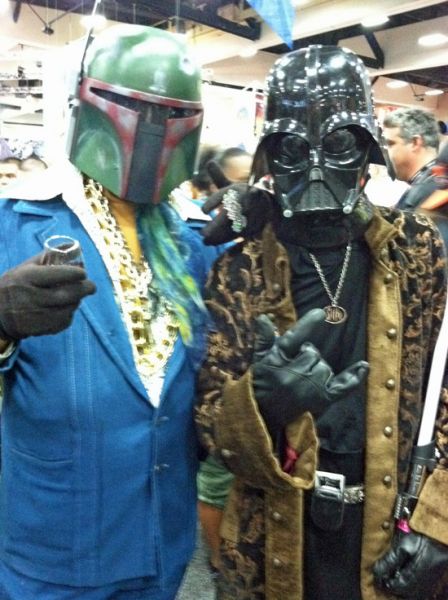 Here's what I did cover:
So, there you have it: my take on Comic-Con 2012. Am I ready to go back in 2013? Hell, yes! And by the time I'm ready for Comic-Con's 2013 Preview Night (Wednesday, July 17; mark your calendars) I might actually be caught up on my sleep.