Rumble: The Indians Who Rocked the World Review
By David Kempler
Rough and Tumble Rumble
How often do you see a documentary, or any film, whose story has previously been unexplored? Catherine Bainbridge's "Rumble: The Indians Who Rocked the World" examines the influence Native Americans have had on American music, and I was surprised to learn how pervasive the influence is. What makes the film so good is that the music thoroughly entertains you while you learn some fascinating things.

It opens with Link Wray, a Shawnee, performing the great instrumental, Rumble, a song I have heard countless times while never knowing much about it. It's a haunting song and we learn that a great many musicians regard it as a hallmark of their lives. Some, including Pete Townshend, Jimmy Page, and Iggy Pop, cite it as a reason they decided to become musicians.

The featured Native Americans include Delta blues master Charley Patton, "Queen of Swing" Mildred Bailey, The Band's Robbie Robertson, folk icon Buffy Saint-Marie, "guitarist to the greats" Jesse Ed Davis, and Jimi Hendrix. I already knew quite a bit about Robertson, Saint-Marie, and Hendrix, or at least I thought I did. What I learned about the others was eye-opening, especially Ms. Bailey. Her influence is monumental.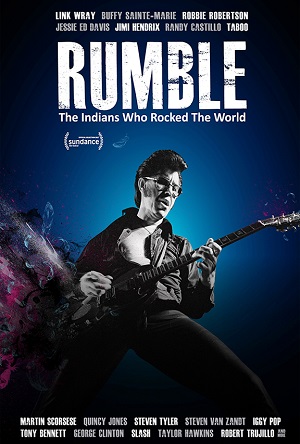 There's a who's who of a lineup offering up stories of the impact these artists had on their lives. Martin Scorsese, Quincy Jones, George Clinton, Taj Mahal, Steven Van Zandt, Slash, Steven Tyler, Buddy Guy, Derek Trucks, Jackson Browne, Marky Ramone, and Tony Bennett are among the luminaries singing the praises of those who influenced their respective careers. Their stories are great fun to listen to because they are all so happy to talk about it.

There are so many great moments in this documentary. One of these shows the young Rolling Stones on a television show introducing the great Howlin' Wolf before he performs. Watching Mick and Keith enjoying that performance portrays them on the other side of the idol and audience equation. We learn that Native Americans shared in the unpleasantries directed at black Americans. Depending on the situation, it could be worse to be perceived as either one. Many Native Americans pretended to be black because it made them feel safer.

Two stories from the documentary stood out to me. One was about how the United States and Mexico treated Native Americans. While both countries honored the southern border of the United States adjoining Mexico, with a nod and a wink, government officials of both countries could cross the border if it was to kill Native Americans in the other country.

The second story explains why so many black Americans claim Native American ancestry. The United States systematically murdered Native American men, with the women and children treated nominally better. Black male slaves were brought to the United States. This created a situation where black slaves ended up mating with Native American women.

Everyone will enjoy and learn from this documentary. If you're a music lover, I can't imagine that you won't love it. From Link Wray's opening notes of "Rumble" performed live, to the end of the film, I was glued to it. This is one rumble worth attending.