Roku XDS Review
By Ian White
Edited by Chris Boylan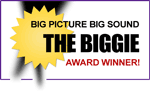 28 Days Later...
I must confess that I observed the recent shuttering of my local Blockbuster with a great deal of interest. It was worse than rubbernecking on the Garden State Parkway after a really horrendous accident because I actually pillaged through the remains. The "Going Out of Business" sign went up long before Blockbuster declared bankruptcy, but you sorta knew what was coming. After dropping my children off at school, I stopped for my morning cup of "New Orleans"(Rook Coffee Roasters) and made my way over to the Blockbuster location. I circled the building like a vulture and confidently made my way inside to pick and choose some Blu-ray treats at bargain basement prices. I could swear that I saw a Roku XDS wave at me from behind a tree.
The poor schleps behind the counter looked genuinely pained to be there. Losing your job in the middle of a recession and being forced to hang around for a few weeks while customers pilfer the shelves can't be a fun way to spend your day. I glanced at the posters explaining the liquidation sale and walked over to the Blu-ray section (I completely ignored the TiVo DVRs being sold for 66% off, what's the point when there's still that pesky monthly fee?) hoping to find a few decent titles on sale. Renters are often rather haphazard with their discs, so I had low expectations for the quality but luck was on my side that day. Forty minutes later, I walked out of Blockbuster with 50 Blu-ray titles (which I cleaned at home) for the ridiculously low price of $249. Not a bad day for a film fanatic. That being said, I will not miss Blockbuster at all. I know that I am not alone in that feeling.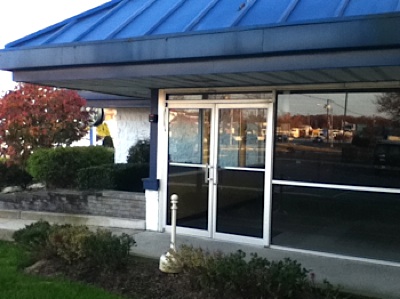 Their new advertising campaign (a rather sizable expenditure for a bankrupt company) is nothing but an attack on Netflix and it comes across as somewhat pathetic. Yes, we all know that Blockbuster offers new rentals 28 days before the competition (at least on some titles). Ask the folks at Redbox how that is hurting their business. Their $1/night rental price structure (my local box now offers Blu-ray for 50 cents more) is a huge hit with customers and their boxes are amazingly easy to find. Anybody here shop at a grocery store or visit 7-11? I thought so. When Blockbuster closed three stores within 15 minutes of our home, I expected to see "Blueboxes" pop up all over the area. It has been months and none have been delivered. I may live in the sticks, but our neck of the woods by the crisp blue sea is home to almost 650,000 people. There must be a few folks who watch films in that group. Nah, probably not.
You found What in the movie theater?
My wife and I venture over to our local AMC at least twice a week and it is something that we enjoy very much. We may disagree on what we are going to see (I never win), even as we are paying for our tickets, but we always go. Imagine our horror one evening finding a sign on the theater door that read "Theater Closed: Bedbug Infestation." Not only did I burn all of my clothing, but I threw myself in a bath of acid just to be safe (insert Crying Game theme). We avoided that particular theater for 8 weeks. What's a poor movie lover to do?  Enter high quality Video On Demand in the forms of Netflix, Amazon VOD, and VUDU.
Video-on-Demand (VOD) may not be new, but it seems to have taken on a life of its own thanks to the aforementioned streaming services and the proliferation of high bandwidth internet connections capable of delivering the detail-rich media streams. Throw Apple into the mix and you have a full-fledged battle royale. The reality is that most people don't work 9-5 jobs, and have children to raise. Getting to the movie theater (which people are still doing but in fewer numbers...ticket prices just got higher making Hollywood more dinero) has become a real chore. Who wants to sit in traffic (often in bad weather), pay $15 for a ticket to watch a 3D movie and almost $40 for snacks, and then have to pay a babysitter? You can't even sit in a theater without wearing an NBC suit (see above) these days.

Watching a film at home makes so much more sense. Some folks even enjoy watching movies and shows on their cell phone or
iPad
while sitting on the train or in their local coffee hut. I swore from the rooftops that I would never watch on such a small screen. That lasted for about five minutes. Netflix has a terrific app that makes watching films on a portable device (phone, tablet) so easy.
More so than film, television viewing habits have completely changed in the past few years and that has had a profound impact on the entire media steaming business. The days of organizing your entire week to watch your favorite show at the exact time that it is on, are over. People want to watch their favorite shows when it is convenient for them and as many times as they want.
Consumers also no longer turn on their television set only to watch their favorite shows, sports and movies. Access to the internet, news, weather, sports, gaming, shopping, and streamed music from the living room has become increasingly important. It should come as a surprise to no one that apps began appearing on Blu-ray players and television sets (see my recent review of the Samsung LN40C670) offering access to these categories of media. The boob tube has become a media hub for your home that allows you to stay in touch with friends via Facebook and Twitter, view films in HD (VUDU, Netflix, Amazon VOD), and listen to music (Pandora internet radio).
With all of that available through your existing Blu-ray player or television with media streaming apps, the question begging to be asked is "why would I need an Apple TV, Boxee Box, or the subject of our attention here, a Roku XDS strteaming media player at all?"
Good question. Fortunately, I have an answer.
It would be insane to assume that more than half of the population of the US actually owns a Blu-ray player (including a Sony PS3) or a television with media streaming apps, but they do own a TV. In fact, many homes have more than one television (bedroom, office, kids' room), but don't necessarily have more than one high definition playback device such as a Blu-ray player. It is also safe to assume that a majority of the population are also fed up with paying the cable companies their ridiculous monthly fees for dozens -- perhaps hundreds -- of channels that they never watch. People also want access to their music collection via the television and the myriad music streaming services that are available. Can you buy a Roku XDS and dump your cable box? Yes and no.
Once you go black, you never go back...
The Roku XDS looks a lot larger on your computer screen than it is in the flesh. Having recently played with the new Apple TV which is impressively small, I was hoping that Roku would match Apple in the size department. Pretty darn close. Other than the purple LED and Roku tag which sticks out of the side, it looks like a tiny black box. Tarzan like. The impressive part of the design is on the backside; component Y/Pb/Pr output (which requires an adapter), optical digital output, HDMI 1.3a output, Ethernet port, composite video output, analog audio output, and the power port. There is a USB 2.0 port on the right side of the box.
Roku offers three video players (HD, XD, and the XDS), but if you ask me the top of the line XDS makes the most sense. For an additional $40 (the XDS is $99.99, the HD $59.99), you get 1080p HD video playback (the HD supports only 720p output), an enhanced remote with instant replay, a USB port for local media playback from a connected drive, dual-band wireless-N WiFi, component video, and optical digital outputs.  The middle child XD ($79.99) is also a solid choice, lacking only dual-band WiFi (it supports standard 802.11n wireless) as well as the USB port.  1080p playback and the cool remote are included with the XD.

Set-up
The XDS is a piece of cake to install, but the set-up to use the multitude of apps left me quite frustrated. If you don't have a computer/laptop in the room where you are going to install the Roku, you may dislike the set-up as much as I did (and I had a laptop with a wireless connection on my lap). Most apps require going online and typing in an access code to get it to work on the XDS. I never had an issue after that, but I would be pissed off if I had to run upstairs for every single app. [editor's note: most CE devices require activation of the device with service providers, including Netflix, VUDU and Amazon VOD in order to view content on the device so this is nothing new or unique to the Roku.]
The unit's dual-band wireless-N support and integrated antenna worked quite well in my home; which I found surprising because I had major issues with the wireless adapter that came with the Samsung LN40C670 LCD TV (which is almost 20 feet closer to my router than the Roku). We recently installed Ethernet ports in our media room and living room, and I was not surprised to see that they offered even better performance than the wireless connection. The video quality was a bit better, as was the sound quality from music streaming services.
I tried all three video outputs and found that they all worked well with both my JVC projector and Samsung LCD TV. The XDS lets you select the output based on the type of video display that you are using (both of mine are 1080p devices), which I found quite useful. People who don't own a flat-panel TV can still use the XDS and have access to all of the content on their Jurassic Park-era set.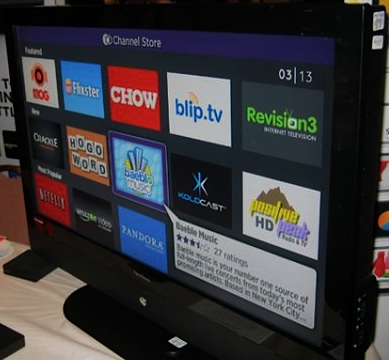 The XDS will output 5.1 surround sound (if it exists on the content that you are watching) and it will also output 1080p HD video. Aside from VUDU (which is not yet available on the Roku) and Vimeo, there is no 1080p content to watch through the XDS, but I suspect that over the next few months that situation is going to change. Vimeo has a number of short films which were shot in 1080p and I thought they looked very good via the Roku. The XDS had no streaming issues at all with 1080p content given a good solid high speed internet connection of suitable bandwidth.
My only real issue with the Roku XDS (aside from the app set-up procedure) was the user interface; a situation that resolved itself for the most part. I own far too many Apple products and I think I hit a brick wall with the Apple TV. Not only do I not care for its 720p video output limitation, but I've grown sick of the iTunes store. That being said, the user interface for the Apple TV is way slicker than the Roku's. It looks polished. By comparison, the Roku interface is very utilitarian and looks somewhat dated in 2010. However, as time went on and I used the XDS on a daily basis, I realized that its simplicity is one of its greatest strengths. Everything you need to see is on the screen and it is almost impossible to get lost. I could do without the advertisements on the bottom, however.
Content is king...

Building a better box does not necessarily mean than people are going to buy it. You actually have to offer them something to watch through it. From my perspective as a film fanatic and occasional viewer of select television programs, this is where the Roku XDS trounces the Apple TV. Pounds it like a 300-pound linebacker dropping a cocky rookie running back and then running into the crowd to hit his high school guidance counsellor and the guy in the play-by-play booth. John Madden would approve.
While it doesn't yet offer VUDU (rumored to be coming in 2011), the XDS offers Netflix, Amazon VOD, and Hulu Plus (it's about time), along with another 10 movie apps which focus on specific genres of film. Some of these apps are free, but most require a subscription. The price of Hulu Plus just fell to $7.99 a month, which makes it attractive to folks who don't watch a lot of television, but only select shows.
One thing that shocked me as I searched through all of the apps, was the presence of Al Jazeera. It's possible that forty years of right-wing Likudnik brainwashing has messed with my global outlook, but I was stunned to see the English-version of their news channel playing on my 100" screen. To be fair, there was only one mention of the Great Satan (U.S.A.) and of the Little Satan (Israel), but I can't say that I will be a regular viewer.
Roku does have a news app on the XDS, but it isn't a live feed from the various news outlets (hence the reason why you can't lose cable quite yet). All of the major American networks are present, but the content is usually from the night before or a few hours old.
I am a sports junkie. I live for my Tigers and Red Wings. The only problem is that I live in New Jersey where I am subjected to countless hours of Yankees/Mets/Rangers/Islanders/Knicks/Nets/Devils/Giants/Jets broadcasts. Phew. Roku has signed deals with not only MLB, and UFC, but also the NHL. While none of these subscriptions are free, they do offer almost unlimited access to out-of-area games and that has a lot of value to a sports junkie.
Music lovers will adore the XDS. Contrary to what some people think, you can access your iTunes library via the Roku players. The only rub is that you have to pay for it. MP3tunes offers various storage options (there is a free 2GB option, but that's rather small) for around $40/year.  This service allows you to host your iTunes library in the cloud and access it from any number of devices, including the Roku.  I suspect that many people will be put off by the cost but it is an available option if you want to access your iTunes library from the Roku.
Free music is available through Pandora, MOG, Roxwel, Tune in Radio, Radio Paradise, and many others. Pandora has become my favorite app on my Samsung LCD TV and on my iPod Touch, and it worked just as well through the XDS. The Roku XDS may not have all of the content that I need, but it is about 80% of the way there and I find that to be quite impressive. Nothing wrong with having to look forward to something.
Turn Ons
High-end media streamer for under $100

1080p HD video playback capability
Netflix, Amazon VOD, Hulu Plus and many other great apps
Excellent streaming quality using the dual-band wireless-N antenna
Remote does everything it needs to and nothing more
Easy to use
Turn Offs
Having to input codes for many apps during initial set-up
VUDU not currently available
Somewhat spartan interface
No cheap way to integrate iTunes music library
Will not play all video formats
Final Thoughts
The media streaming box category has some heavy hitters and I can understand why some people want to stay away until there is one box that will do everything and replace the evil cable box. However, if you want the most versatile and forward thinking product available for only $99, the Roku XDS is the video player to beat. If and when VUDU becomes available for the Roku, I plan on adding another one to my other home theater system. The review sample has found a new home in my system. Very highly recommended.
For more information:
Where to Buy:

Product Specifications:
Networking: 802.11n Wi-Fi, Dual-band 802.11n, 10/100 Base-T Ethernet
Video Outputs: Composite Video (480i), Component Video (480p, 720p), HDMI (1080p/720p/480p)
Video Modes: 1080p HD, 720p, 16:9 anamorphic, 4:3 standard
Audio Output: Analog stereo, Optical digital audio (5.1 and stereo), HDMI (5.1 surround)
Remote Control: Roku enhanced remote with instant replay
Power Input: External AC Adapter
Other Ports: USB 2.0 (enabled via software update December 2010)
Video Support: MP4, M4V
Audio Support: MP3, AAC, M4A
Image Support: JPG, PNG
Dimensions: 4.9" x 4.9" x 1.2"
Weight: 7.2 ounces
MSRP: $99.99
Company Information:
Roku
12980 Saratoga Avenue, Suite D
Saratoga, CA 95070
ph: 1-888-600-7658