Roku 3 Review
By Rachel Cericola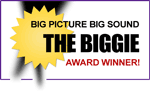 All Killer, No Filler
There are a lot of companies making media streamers these days. When you look at the sales numbers, however, there really only seems to be two major players: Apple and Roku.
That's pretty impressive, considering Apple's worldwide reach and the fact that Roku is a wee babe, at only 11 years old.
Of course, we loved the latest version of the Apple TV (and you can see what we had to say about the product in our Apple TV Review), but they definitely have a competitor in Roku -- especially with the company's latest streamer, the Roku 3. The new product's $99 price tag (which is the same as its predecessor) puts this box in direct competition with the Apple TV. That's just fine and dandy though, because the Roku 3 offers a lot of things you can't get from Apple.
First and foremost is the sheer volume of entertainment. Yeah, it's nice to have iTunes on the big screen. However, one of the Apple TV's shortcomings is the number of streaming services readily available. Roku doesn't have that problem. With over 750 channels of entertainment, you'll never have the chance to get bored.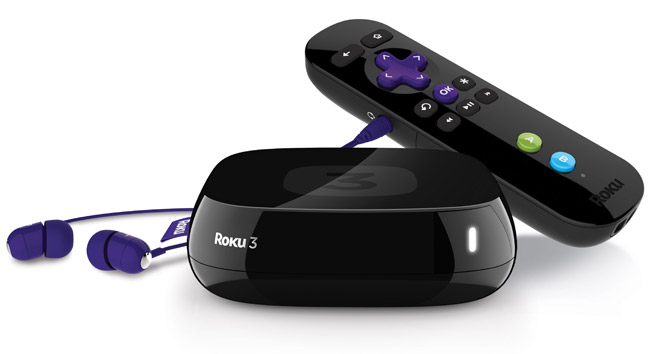 The real hook on this new box, however, is the included remote. Not only is the remote one of those fancy-schmancy remotes that includes motion control for gaming, but it also has a headphone jack. Yeah, that's right -- a headphone jack. Roku has included that, as well as a pair of earbuds for your personal listening pleasure. This is absolutely perfect for those of you looking to install the Roku in the bedroom or anywhere else you do your late-night viewing. Then if you, your significant other, or one of the kids wants to get some shut-eye, you can blast the Roku until your heart's content. That means that everything that you crank during the daytime, you can crank at night, without disturbing the house, the neighborhood, or even the dog. Well done, Roku!
Oh, It's So Cute!
Out of the box, the Roku 3 is tiny. At 3.5-by-3.5-by-1 inches, it's going to be like a fleck in your AV cabinet. Besides the actual box, there's a power cord, the remote, ear buds and extra ear tips. You're going to need to supply your own HDMI cable, which brings me to something sort of interesting.
One of the things that I really like about Roku is that it puts smart TV features on an older TV. However, the Roku 3 isn't really designed for older TVs because the box only offers HDMI as a hookup option. So that older TV that's in your bedroom (which is the prime spot for this thing) may be out of luck. If you've got a more recent TV with an available HDMI input, however, you're all set.
Otherwise, the device has a USB port and an Ethernet jack, but you don't even need the latter if you're planning to hook the Roku 3 to your WiFi network. It doesn't even have a power button, because this thing is always on. That's going to irk some of you out there, but Roku says that the box sucks up about as much power as a nightlight when idle. I don't know about you, but I don't have any nightlights that run all day. However, that's it -- and frankly, that's all that can fit on this device's tiny frame.
Roku says that the new box also has a faster processor than its predecessors, which should help you zip through content, as well as the setup process.
Setting up the Roku 3 seems like a lengthy process on paper, but the whole thing should take you all of 15 minutes. It involves picking a language, your preferred network, and checking for the latest software. From there, you'll be directed to the web, where you'll need to input an activation code and set up an online account, if you don't already have one.
Be aware that a Roku account does require a credit card or Paypal account. That may turn some people off, but Roku doesn't actually have any monthly fees. The credit card is required in case you decide to make any purchases in the company's Channel Store.
Next, you'll be asked what channels you'd like to start with, as none are actually on the device out of the box. Most of the initial options are freebies, such as Amazon Instant Video, VUDU, Angry Birds Space, and others. After you've made your selections, the box needs to update itself with these channels. As mentioned, this entire process takes maybe 15 minutes, but it may vary depending on how many channels you start with, as well as your web connection speed.

Where to Go?
It's important to note that a lot of the channels require you to sign up through a computer, so you may want to have that handy. Frankly, I find this a lot easier and quicker than typing in a code on-screen, especially when the remote doesn't have its own little keyboard.
Once you have your initial channel selections on-screen, find a comfy place to sit; it's going to be a while. Roku has so many selections to browse through. If you're not entirely sure which service will have the content you're looking for, you can search for a movie, TV show, actor, director, channel or game, all right from Roku's home menu. From there, the system will search across multiple channels and deliver a list of which channels have the content you're seeking out.
If you're looking for a random place to start your Roku journey, I highly recommend VUDU. VUDU is a subscription-free, pay-per-view service that offers a ton of movies and TV shows in 1080p, many with Dolby Digital Plus 7.1 channel surround sound, which is fully supported on the Roku 3. Even better, you can spend hours scoping out some of the trailers, clips and other freebies that VUDU offers. A free clip from The Art of Flight had my system shaking, complete with techno-style music and swarming helicopter sounds. Talk about a perfect way to kick off the system! The image was also crystal-clear, with absolutely no jitters or buffering from my WiFi, which connects out to the internet through Verizon's FiOS service.
From there, I checked out a few Breaking Bad episodes via Amazon Instant Video, as well as Captain America, Pearl Jam Twenty and countless others on Netflix. Both Amazon and Netflix support 5.1 channel Dolby Digital surround sound, and so does the Roku. The image was nice and so was the audio.
Speaking of audio, there are several music options, with two of the most popular being Pandora and VEVO. The image on VEVO seemed a little grainy, but the audio was just fine -- and free. Of course, Pandora only supports 2-channel sound, but if you have this box connected directly the TV, you won't even notice. Either way, the streaming quality was equal to what I had received with my video selections and I had zero complaints.
OK -- I have a few, and it's me being picky. First of all, even though Roku supports VUDU and the WealthTV 3D channel, the Roku 3 does not currently support 3D streaming.
Also, every web-based HDTV, Blu-ray player and other streaming box under the sun seems to carry YouTube right out of the box. Roku? Not so much. Out of the service's 750 or so channels, not one of them is the YouTube service.  It seems odd, but it's certainly worth mentioning.
UPDATE: Roku added an official YouTube channel a few months after this review was published so the below workaround is no longer needed.
However, there is a nice little workaround for that (isn't there for everything?). There's a private channel out there called VideoBuzz. Apparently, there's a whole list of Private Channels that are double-secret or something. These channels aren't public knowledge, so they don't show up in Roku's Channel Store -- on-screen or online.
If you Google "Roku Private Channels," you'll find a mess of additional goodies available. Like the public channels, a lot of these are freebies. With one Google search for "VideoBuzz on Roku," I found the option on a website called Roku Guide. Click the Add Channel button, and it will be added to your lineup.
VideoBuzz doesn't necessarily look like your standard YouTube, but much of the content is there. I've read that the content may be limited, but you'd hardly know it. I searched for random videos, movie trailers and TV clips. Nothing public was ever off-limits. Also, VideoBuzz users can add a YouTube user name and be privy to all of that user's public uploaded videos. That said, if you have any private videos (or want to check out someone else's), you won't be able to access them through this service, which may be why some call it "limited." In any case, until Roku gets an official YouTube channel or VideoBuzz gets decommissioned, you can use it to get your YouTube video fix on Roku.
[Rachel's Note: I was thrilled about the YouTube workaround, but that was fleeting. I went to check out VideoBuzz on my Roku tonight and it was gone! Apparently, Roku removed it from the lineup. For more information, CNET has the scoop on what happened.]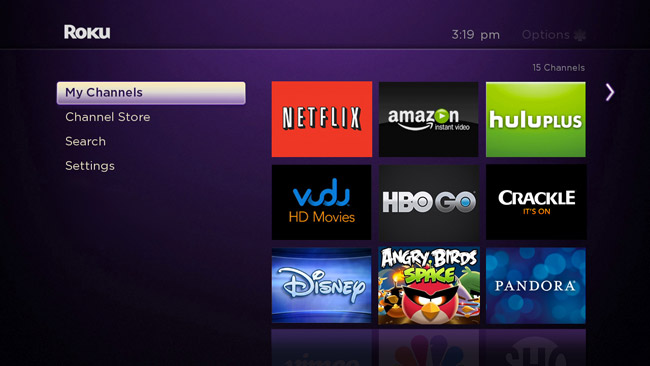 The Sounds of Silence
As mentioned, a huge bonus on this latest Roku box is that enhanced remote, which offers private, late-night viewing. I don't mean that in the "adult" viewing sense, but just that you can watch anything on the Roku 3 at any time, without having the TV or connected audio setup emit any actual sound. The included remote has a headphone jack right on the side and comes with a set of basic earbuds (we'd recommend using your own).
Once you plug in the headphones, the sound will immediately mute on the TV or connected audio system. If you decide that you need to wake the neighbors, just pull out that plug. There's no need to bother with buttons -- unless you count the volume ones, which control the headphone volume.  These are located on the side of the remote.
Now, I'm not a huge fan of earbuds -- and even less of the ones that typically come packaged with consumer electronic devices. The earbuds that come with the Roku 3 are really no exception. If you're a fan of the format, you may not mind the fit or the sound quality. In fact, you'll probably appreciate being able to get horizontal with this set and not worry about the cost after you roll over and/or drool on them in the middle of the night. However, I'm a stickler when it comes to things that I strap on my face or stick in my ears. I expect good sound quality and comfort for extended periods of time. I like a good headband and find the over-the-ear models more comfortable that in-ear 'phones. Thankfully, the Roku 3 works with pretty much any set of headphones. I tested this out using a pricey pair of Bose headphones and my cheapie Sony workout set. Both operated quite nicely, so just know that whatever set works for you, is also likely to work with the Roku 3.
Another nice perk about that remote is that it's also equipped with motion control. Sadly, this functionality hasn't been incorporated into any of the AV channels yet. However, it's a blast to use with the games. Roku gives users Angry Birds Space as a freebie out of the box, so you can sharpen your motion control skills -- and get addicted to having that option. Just remember that if you use the motion control and the headphone jack, your cursing and "yipee" noises will not be contained inside the remote.
More About That Remote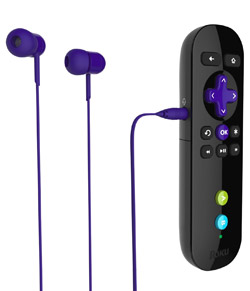 It would be awesome if Roku could incorporate a little keyboard on the back of the included, enhanced remote. However, it's hard to complain. The remote has the headphone jack and volume buttons, as well as a directional keypad, fast-forward and rewind buttons, and two keys that are dedicated to gaming.
It's also pretty awesome that this remote uses radio-frequency technology instead of the same infrared that most other devices use, so you don't need to worry about line of sight and pointing in a certain direction. In fact, I spent some time chopping veggies in my kitchen, all while listening to Pandora through the remote's headphone jack. It also makes it possible for you to squeeze this super-compact box into any available spot in your AV cabinet.
Turn Ons
Endless entertainment for under $100
Supports 1080p
7.1 and 5.1 sound for all (where available)
Hundreds of programming choices
Integrated headphone jack on the remote
Turn Offs
Plastic or a Paypal account is required for setup
No 3D support
No PC-based streaming
Device is always on
Final Thoughts
There are a lot of media streamers on the market. Without a doubt, every one of them has perks and provides a little something that your system didn't previously have. That said, it's hard to beat the options that are being offered under the tiny chassis of the Roku 3. Not all of them are freebies or selections that you'd actually be interested in, but there are just enough -- and you could spring for a few too, you cheap-o. Roku also offers boxes at lower price points, but this latest is worth the extra $20 to $50 over the older models, if only for that enhanced remote with the headphone jack. It can be tough punching in user names and passwords, but for everything else it's quick, easy, and offers a lot of fun in a compact, inexpensive package.

Manufacturer's Specifications:
Company Contact Information:
Roku
12980 Saratoga Avenue, Suite D
Saratoga, CA 95070
On the web: www.roku.com