Roger Corman Debuts New Film at Comic-Con
By Lora Grady
It's safe to say that director Roger Corman has a reputation for working with a particular type of material, so when you hear that his latest project is titled"The 50 Foot Cheerleader", it's not tough to figure out what to expect. In fact, actress Olivia Alexander, who was at Comic-Con to promote the film, was right up front about its content: "We have all the Corman elements. We have a monster, we have boobs..." Mr. Corman was the producer on the project, with the directing duties being fulfilled by Kevin O'Neill, who spoke during a round table interview Saturday about the film as, "a throwback to the 70s exploitation films, what Roger Corman did best."

The plot of the film involves a college coed who uses an experimental drug to become beautiful. Unfortunately, its sinister side effects cause her to begin to grow uncontrollably. As Mr. Corman noted during the press event, "A scientific experiment goes wrong. In this type of a picture a scientific experiment always goes wrong; otherwise you don't have a story."
Mr. Corman's interest in the project arose from his desire to try shooting in 3D. "I had never shot in 3D before, and I wanted to see what the experience was. Truly, there was not that much of a difference in shooting in 3D. What is difficult... the two lenses [needed to enable the 3D process] have to be in perfect alignment in every shot, so you take longer to set up a shot. But once you've done that, you just proceed like any other film."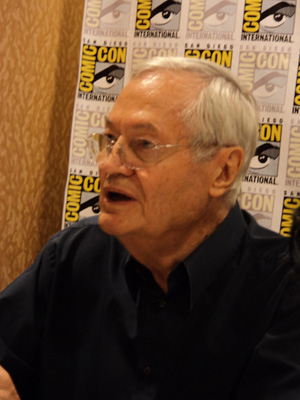 The editing was apparently something of a change for the 3D project: "In the cutting... we found that we were holding on cuts half a second or a second longer than normal, because [in 3D] it takes the eye a fraction of a second to adjust to the difference in the spectrum."
Mr. Corman has been making films since the 1950s, and it was fascinating to listen to him talk about the craft, which he obviously still loves. When asked what keeps his "brand" strong, he replied, "Fun! If it weren't fun, I would stop doing it."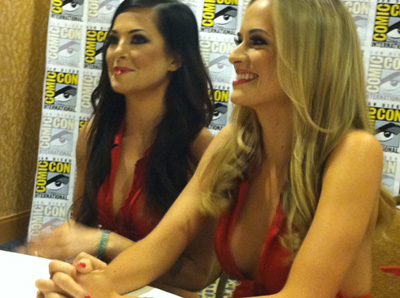 It was inevitable that Mr. Corman would be asked about nudity in films. "Nudity in films is no longer startling because of the internet." Nonetheless, "The 50 Foot Cheerleader" will be available in both a topless and a non-topless version. Additionally, it will be released in both 2D and 3D formats, so, it was noted, four versions of the film overall were made. That's quite a lot of bang for the buck... and there may be more to come, as the production team has already made a pitch for a sequel.
Roger Corman's "Attack of the 50 Foot Cheerleader" screened for audiences and the press on Saturday night at Comic-Con, and it will premiere on August 25 on the Epix network. Epix, which is jointly owned by Paramount Pictures, Lionsgate, and MGM, provides programming that includes movies, music and comedy specials, and originals. Its content is available across a range of platforms, including Xbox 360 consoles, smartphones, Blu-ray, and more. Epix is also available on most cable networks.