Rise of the Guardians Blu-ray 3D Review
By Rachel Cericola
The Film
Forget The Avengers. If anyone is going to back me up, I want it to be Santa Claus, the Easter Bunny and the Tooth Fairy. At least I do after seeing Rise of the Guardians.
Based on William Joyce's The Guardians of Childhood book series, Rise of the Guardians is a big-budget, all-star extravaganza. After all, DreamWorks should pull out all of the stops for some of the most famous, beloved children's characters of all time. The end result is something super-cool and kind of magical as well.
The movie has boogieman Pitch (voiced by Jude Law) bent on putting fear into the hearts and heads of children everywhere. So Santa Claus (Alec Baldwin) sends out a signal to assemble The Avengers -- er, Guardians. The crew includes Tooth the Tooth Fairy (Isla Fisher), E. Aster Bunnymund the Easter Bunny (Hugh Jackman) and Sandy the Sandman (no voice needed, since he never utters a word). However, the group could use some new blood, so the Man in the Moon chooses Jack Frost (Chris Pine), a mischievous teen who wants to have fun, but is also dying to be noticed. From there, the team bands together in an effort to defeat Pitch and keep kids everywhere from losing their faith (and belief) in the Guardians.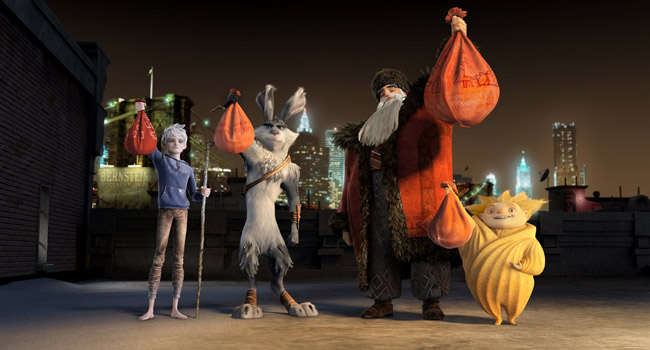 Now, it should be noted that all of these characters have received an update, making them fully capable of kicking ass, taking names and leaving presents. Expect to see a tatooed, knife-wielding Santa, an Easter Bunny that's proficient with a boomerang, and a creepy looking Tooth Fairy with an army of pint-sized fairy minions. That said, Rise of the Guardians is a fantastic fantasy with awesome animation, an interesting story and beloved characters. It just may make you a believer, too.
Need a little extra magic to make you into a true believer? Check out Chris Boylan's theatrical review of Rise of the Guardians.
The Picture
From the moment Jack Frost pops up prior to that DreamWorks logo and swats out a snowflake, you'll instantly know that the 3D was worth the extra money. Rise of the Guardians is a fun 3D film, but it's also a gorgeous one. Detail is nothing short of stellar, whether it's Frost's breath against the night air, Santa's beard, grains of sand, or an army of Easter eggs. It's a really sharp image. The 3D doesn't detract from that one bit, either. In fact, this 2.40:1 image has incredible depth and gorgeous imagery throughout. There is never a dull moment -- literally.
The Sound
DreamWorks has packed this release with a Dolby TrueHD 7.1 track, which is a perfect match for the image. All of the dialogue sounds very clear, even with all of the varied tones and accents. However, it's all of the sound effects that make this track truly exciting. Santa's chainsaw (!), the rumble of the sleigh, the crack of the ice, and Pitch's evil pixie dust all move about the soundfield to create an immersive, awesome experience.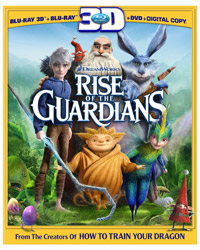 The Extras
Despite a stellar 3D presentation, there's very little 3D to ogle in the special features section. DreamWorks has included 3D trailers for upcoming films The Croods and Turbo, and nothing more (they look cool, though!). Otherwise, everything else is on the 2D Blu-ray. That includes a commentary track, a little chat with author William Joyce, an interactive peek at dreams, two featurettes about the making of the movie, and many promos for DreamWorks cartoons and other creations. There are also two games, which are exclusive to the Blu-ray. One has viewers playing as Jack in a snowball fight against the kids, with the other inviting you to take on Sandy in a game of Rock, Paper, Scissors.
Final Thoughts
Rise of the Guardians may not get you writing letters to Santa Claus and the Easter Bunny, but it should make you a true believer in the capabilities of DreamWorks Animation. This is a fun film, with a unique take on beloved characters, an excellent AV experience and a great use of 3D effects. Enjoy.
Product Details
Voice Actors: Chris Pine, Alec Baldwin, Hugh Jackman, Isla Fisher, Jude Law
Director: Peter Ramsey
Audio/Languages: Dolby TrueHD 7.1 (English), Dolby Digital 5.1 (French, Spanish), DVS 2.0 (English)
Subtitles: English, English SDH, French, Spanish
Aspect Ratio: 1.78:1
Number of Discs: 3
Rating: PG
Studio: DreamWorks
Blu-ray Disc Release Date: March 12, 2013
Run Time: 97 minutes
List Price: $54.99
Extras:

2D Blu-ray
Jack Frost Snowball Showdown!
Rock, Paper, Scissors with Sandy
Behind the Magic
The Man Behind the Guardians
Dreamers & Believers
Sandy's Dream Guide
Filmmakers' Commentary
Previews
World of DreamWorks Animation
Sneak Peeks
Standard-Def DVD
Digital Copy
UltraViolet Digital Copy
Where to Buy: