Rio 2 Blu-ray 3D Review
By Rachel Cericola
The Film
When any film is a success, a sequel is always a possibility. When it comes to animation, it's more like a lock. Hence, we have Rio 2.
After falling in love at the end of the original, Blu (voiced by Jesse Eisenberg) and Jewel (Anne Hathaway) seem to have settled into domestic life. However, it's not just the two love birds and all of their feathered friends (and foes). The couple now has a trio of kids, who obviously take after their domesticated dad, becoming accustomed to "iPods, TV and pancakes." When the feathered family finds out that they aren't actually the last macaws on Earth, Jewel comes up with the idea for a family vacation to the Amazon to help put the family in touch with their roots and possibly a few ancestors.
Of course, with that journey comes adventure, as well as a slew of new characters. Eisenberg, Hathaway, George Lopez, will.i.am, Jamie Foxx and Tracy Morgan all return, but they are far from the only famous voices featured in Rio 2. The hit sequel adds in Bruno Mars, Kristin Chenoweth, Andy Garcia, Rita Moreno, Miguel Ferrer and several others.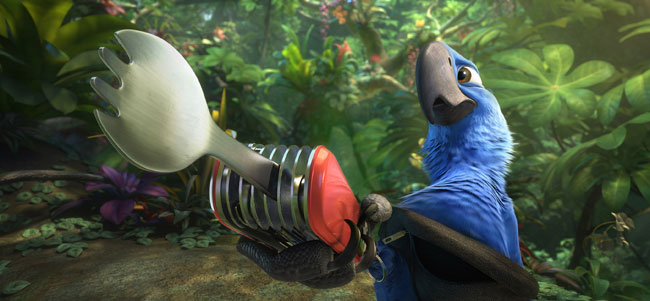 And that lengthy list is part of the film's problem. There are too many characters, as well as a subplot with humans Linda (Leslie Mann) and Tulio (Rodrigo Santoro) that probably could have been scaled back a bit. Still, everything ties together in a pretty package that's easy on the eyes and ears. Yes, Rio 2 also has more musical moments as well.
There's also a social message in there about killing forests and probably something else, but it doesn't really matter; Rio 2 is a feast of eye and ear candy.
The Picture
Love it or hate it, Rio 2 is one pretty bird. The 2.40:1 image dazzles in both 2D and 3D. There are gorgeous blues, reds, greens and plenty of other colors to be found in the bird plumage, as well as throughout the exotic scenery. Detail is just as impressive, with sharp imagery on feathers, eye lashes and fur, as well as in the water rapids, the leaves, the pancakes, and even Nigel's baggy eyes. The 3D effects do dim the image a teeny bit, but it's barely noticeable. It's also worth it to see those birds, feathers and Brazil nuts fly. The 3D delivers an excellent level of depth and makes Rio 2 a fun viewing experience.
The Sound
If you thought the original Rio was a musical movie, wait until you get an earful of the sequel. That opening number is like a test for your 7.1 sound system, making sure every speaker is awake and ready to rock out. From there, the DTS-HD Master Audio track does display a lot of ambience, and most of it is very bold. That includes everything from squawks to fireworks. However, the incredibly lively soundtrack is what makes this one a real standout.
The Extras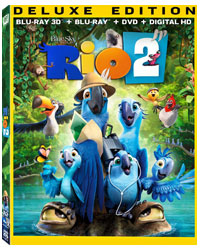 The lone 3D extra is a deleted scene that's titled, "Practice." That's also on the 2D Blu-ray, which includes a crop of other special features, such as photos, trailers, music videos, and even a "Rio Refresher." Most of the extras are focused on music, which is makes sense since it's such an important part of the film. However, Nigel (voiced by Jemaine Clement) also gets a spotlight here, which is nice considering he had to share his villain duties in the movie.
Final Thoughts
Is it possible for a movie to have too much plot? Such is the case with Rio 2, but it's probably better than having no plot at all. It all doesn't really matter though, because the audience for this G-rated extravaganza will enjoy seeing old characters as well as the flock of new ones. Oh. So. Many. New. Ones. Thankfully, there's no toy line for this franchise (is there?), because with the amount of possibilities in this movie, your home would probably look like a bird sanctuary. For what it lacks in toys and the ability to be concise, Rio 2 makes it up in gorgeous video and rump-shaking audio that will have you dancing well past the credits. Enjoy.
Product Details
Voice Actors: Jesse Eisenberg, Anne Hathaway, Leslie Mann, Bruno Mars, Jemaine Clement, George Lopez, Jamie Foxx, will.i.am, Kristin Chenoweth, Bruno Mars, Andy Garcia
Director: Carlos Saldanha
Audio/Languages (3D): DTS-HD Master Audio 7.1 (English), DVS 5.1 (English), Dolby Digital 5.1 (Bulgarian, Croatian, French, Portuguese, Serbian, Slovene, Spanish)
Audio/Languages (2D): DTS-HD Master Audio 7.1 (English), DVS 5.1 (English), Dolby Digital 5.1 (Bulgarian, Croatian, French, Greek, Portuguese, Romanian, Serbian, Slovene, Spanish, Turkish)
Subtitles (3D): English SDH, Bulgarian, Croatian, Portuguese, Serbian, Slovene, Spanish
Subtitles (2D): English SDH, Bulgarian, Croatian, Greek, Portuguese, Romanian, Serbian, Slovene, Spanish, Turkish
Aspect Ratio: 2.40:1
Number of Discs: 3
Rating: G
Studio: Fox
Blu-ray Disc Release Date: July 15, 2014
Run Time: 105 minutes
List Price: $49.99
Extras:

3D Blu-ray:

Deleted Scene: "Practice"

2D Blu-ray:

Rio Refresher
Deleted Scene: "Practice"
Boom, Shake, Snap: The Local Sounds of Brazil
Birds and Beats: The Singing Talents of Rio 2
Nigel the Shakespearean Cockatoo and Friends
Music, Dance, Sing-Along Machine
You Be the Judge
"What is Love" by Janelle Monáe
Still Gallery
Theatrical Trailers
"I Will Survive" Multi-language Sequence
Sneak Peek

Standard-Def DVD
Digital Copy
UltraViolet Digital Copy